The 2018 Pirelli calendar features an all-black cast in an "Alice in Wonderland" fantasy world, and the story behind it is powerful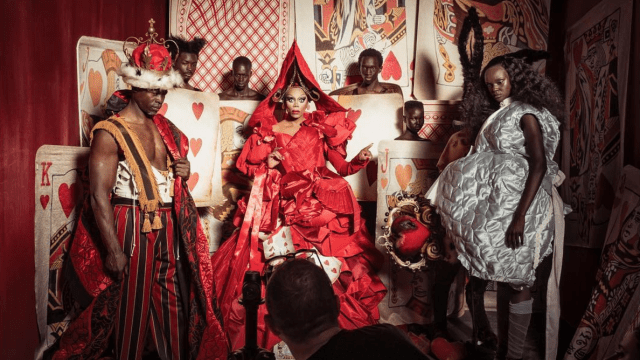 Look to your left and you'll spot Lupita Nyong'o as a dormouse. To your right, you'll see Naomi Campbell, flanked by P. Diddy, wielding an axe, at the ready for the queen's command — "Off with their heads!" You're looking at the 2018 Pirelli calendar, once a cutesy, pin-up collector's item packed with photos of busty blondes on motorcycles, now reimagined as a socially aware outlet of cultural criticism. And this year, it features an all-black cast in an Alice in Wonderland fantasy world.
The first Pirelli calendar was published in 1964 by its namesake Italian tire company, and never sold on the open market. It was filled with images of scantily clad women shot in a retro pin-up style, and given only to a short list of Pirelli's top clients, as well as industry tastemakers and celebrities. Over the years it remained a book of supermodels wearing next-to-nothing (if not nothing) shot by A-list photographers, and has always been about gazing on beautiful women's bodies (an ode to the firehouse pin-up calendars of yore).
In 2016, though, the calendar's creators took a decidedly different tack and cast women who were known for their "professional, social, cultural, sporting, and artistic accomplishment," rather than their hot bods. Among those featured were Serena Williams, Yoko Ono, and Ava DuVernay, and all were shot by Annie Liebowitz.
https://www.instagram.com/p/BWyHF9sBv6q
The following year, German photographer Peter Lindbergh shot Hollywood A-listers, including Uma Thurman and Penelope Cruz, sans makeup, in an effort to "not shoot a calendar about perfect bodies, but to capture sensitivity and emotion, laying bare the souls of the women in the images, rendering them more naked that a nude," he explained.
Which brings us to the all-black cast of Pirelli 2018.
Shot by photographer Tim Walker, the purpose of the calendar, explained "Alice" — aka South African model Thando Hopa — is for "any girl, whether she is black or Chinese or Indian, they should be able to have their own fairytale."
The calendar follows a growing commitment to diversity in fashion more broadly — this year's runway shows were the most diverse ever — and reflects a cultural ethos that demands better, broader representation for people of color.
"Given the state of the world we live in, sometimes I think we all feel like we've fallen down the rabbit hole. For me, a retelling of Alice for the modern world was a perfect project, particularly once the cast fell into place," said shoot stylist Edward Enninful, the new editor of British Vogue and the first journalist of color to hold the position. He added,
"A lot of this is about digital giving people voices, and a new generation who refuse to compromise and want answers to the questions that matter to them."
Some have suggested the calendar's change in tone might just represent a grab for attention, or an effort to remain relevant and grow sales (it is, after all, published by a tire company). But these photos are inarguably stunning, and as far as representation goes — we say: more, please.