Don't know what horse to bet on in the Kentucky Derby? These playful puppies will help you decide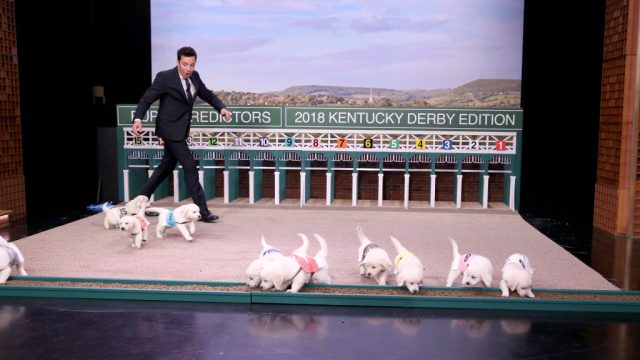 If you're like us, every Kentucky Derby Saturday starts the same. You wake up on the morning of the race, scroll through your Instagram or Facebook feed, and suddenly remember that today's the day. So you find a fancy Kentucky Derby Hat, tag along to party with a friend, and sip mint juleps while pretending to know what's going on.
Well, this year, Jimmy Fallon is here to help. During a segment on The Tonight Show on Friday, May 4th, he rounded up 15 Labrador puppies, one to represent each horse competing in the 2018 Kentucky Derby. And he put them to a test to help predict the race's winner. It's incredibly helpful and even more adorable. Thank you, Jimmy!
First, Fallon introduced the pups/horses. We have Justify, Mendelssohn, Magnum Moon, Audible, Bolt d'Oro, Good Magic, Vino Rosso, Hofburg, Free Drop Billy, Promises Fulfilled, Flameaway, My Boy Jack, Enticed, Solomini, and Noble Indy.
One of our favorites is Audible, because he looks zen but also ready to pounce.
We're also a fan of Noble Indy, the "long shot," because who doesn't love an underdog (especially when it's a literal dog)?
And of course, we love Flameaway, because he's feeling sleepy and a little bit overwhelmed and just needs a minute, and we 100% relate.
Then, Fallon put the puppies to the test.
Whichever dog reached the trough of kibble first would predict the winner of the 2018 Kentucky Derby. And they're off!
And the winner is…Mendelssohn!
Look at the way he beelines for that kibble trough. Let's watch it in slow motion.
A true talent. Well done, Mendelssohn.
Oddly enough, the horse Mendelssohn also appears to be one of the frontrunners in the 2018 Kentucky Derby. How did The Tonight Show know?! What kind of sorcery is this?! If the real Mendelssohn ends up winning the race today, he'll be the first European horse to ever do so, The Guardian reports.
Per the Washington Post, the horses most likely to win the 2018 Kentucky Derby include "Justify (7-2), My Boy Jack (5-1), Mendelssohn (5-1), Audible (6-1), Good Magic (8-1), Bolt d'Oro (8-1) and Magnum Moon (13-1)."
But, if you don't trust those odds and would rather rely on the Fallon method, you can watch the whole puppy derby below.
https://www.youtube.com/watch?v=wkxWlY6tlK4?feature=oembed
Win or lose, sleepy Flameaway will always be a winner in our hearts.