The 2018 Cannes Film Festival lineup is here, and it looks incredible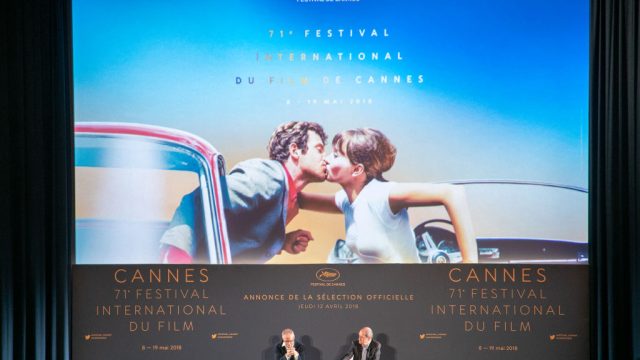 The 2018 Academy Awards may have only been a month ago, but the 2018 film festival season is about to kick off again. On April 12th, the official lineup for the 2018 Cannes Film Festival was released, and we're excited to hear more about these films — and the amazing festival fashion.
This year's festival will take place in Cannes, France from May 8th to May 19th. Films from directors around the world will compete for the festival's grand prize — the Palme d'Or. The selections will be judged by a panel of artists in the entertainment industry, led this year by Cate Blanchett.
The 2018 Cannes Film Festival is not without controversy. A change to the rules this year bars Netflix original movies, causing a posthumously finished film by revered director Orson Welles to be excluded. On top of this, only three movies by female filmmakers are featured in the competition, which is particularly problematic in the Time's Up era.
Spanish director Asghar Farhadi's Everybody Knows, starring Penélope Cruz and Javier Bardem will open the festival. Other movies include BlacKkKlansman from director Spike Lee (Do the Right Thing) and producer Jordan Peele, which chronicles the true story of a black police officer infiltrating the KKK. And Under the Silver Lake, the trippy thriller from It Follows director David Robert Mitchell, starring Andrew Garfield, will also be featured.
In addition to the films in competition, there will be screenings of Solo: A Star Wars Story and a special presentation of 2001: A Space Odyssey.
Without further ado, here is the full lineup for the 2018 Cannes Film Festival.
1 Everybody Knows, directed by Asghar Farhadi
https://www.youtube.com/watch?v=MnoBx999MZM?feature=oembed
2 At War, directed by Stéphane Brizé
3 Dogman, directed by Matteo Garrone
https://www.youtube.com/watch?v=eum93mpzpE0?feature=oembed
4 Le Livre d'Image, directed by Jean-Luc Godard
5 Asako I & II, directed by Ryusuke Hamaguchi
6 Sorry Angel, directed by Christophe Honoré
7 Girls of the Sun, directed by Eva Husson
8 Ash is Purest White, directed by Jia Zhang-Ke
9 Shoplifters, directed by Kore-Eda Hirokazu
https://www.youtube.com/watch?v=xZ2yd2zIw-w?feature=oembed
10 Capernaum, directed by Nadine Labaki
11 Burning, directed by Lee Chang-Dong
12 BlacKkKlansman, directed by Spike Lee
13 Under the Silver Lake, directed by David Robert Mitchell
https://www.youtube.com/watch?v=mwgUesU1pz4?feature=oembed
14 Three Faces, directed by Jafar Panahi
15 Cold War, directed by Pawel Pawlikowski
16 Lazzaro Felice, directed by Alice Rohrwacher
17 Leto, directed by Kirill Serebrennikov
18 Yomeddine, directed by A.B. Shawky
We're definitely intrigued by these 18 films. We can't wait to see who takes home the Palme d'Or at the 2018 Cannes Film Festival.