Everything you need to know about the 2018 ACM Awards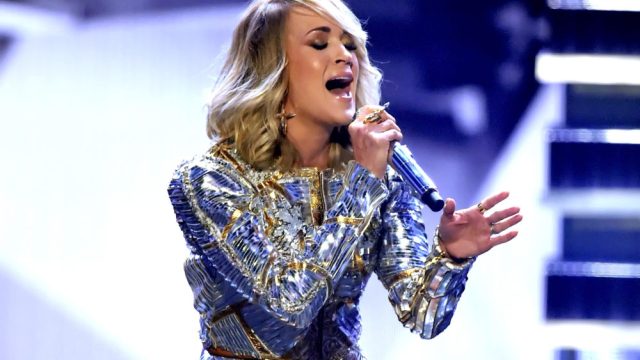 Calling all country music fans! This weekend, the biggest names in country music will gather in Las Vegas for the 53rd annual Academy of Country Music Awards on Sunday, April 15th.
Dubbed "Country Music's Party of the Year," the Reba McEntire-hosted award ceremony will feature a packed show full of performances by country superstars like Carrie Underwood, Jason Aldean, Thomas Rhett, and Maren Morris, as well as legendary performers such as Reba herself.
But while the ACM Awards will be the celebration we all know and love, this year will be a little bit different. During the three-hour telecast, the ACM Awards will reportedly take a sober turn to include a tribute to the 58 people killed and the several-hundred injured during the mass shooting at the Route 91 Harvest country music festival in Las Vegas in October.
With just days to go before the ACM Awards, here's everything you need to know:
The 2018 ACM Awards will be held this Sunday, April 15th, at 8 p.m. ET.
Where are the 2018 ACM Awards Held?
The ACM Awards will be held at the MGM Grand Garden Arena in Las Vegas, which previously housed the awards show from 2006-2014 and then again in 2016.
What Channel is the 2018 ACM Awards On?
The ACM Awards will air on CBS, its home since 1998, and will also be streaming on CBS All-Access. As of publishing, ACM hasn't announced plans for a televised red carpet pre-show.
Who is the 2018 ACM Awards Host?
After a five-year hiatus, Reba McEntire is returning to the stage to host the awards show. The legendary entertainer has a long history hosting the event, first co-hosting alongside Mac Davis and John Schneider in 1986. She returned to co-host with Hank Williams Jr. in 1988, again with Randy Owen and George Strait in 1993, and then with Alan Jackson in 1995.
Reba made her solo hosting debut in 1999, and subsequently hosted every ceremony from 2001-2012, sharing hosting duties with Blake Shelton in 2011 and 2012. During her hiatus, Shelton co-hosted the awards show with Luke Bryan from 2013-2015, with Dierks Bentley stepping in to co-host with Bryan in 2016 and 2017.
Who are the 2018 ACM Awards Nominees?
Chris Stapleton leads the pack with eight ACM nominations, including Entertainer of the Year, Album of the Year, and Song of the Year. Following right behind him is Thomas Rhett, who nabbed six nominations, including Male Vocalist of the Year and Album of the Year. Keith Urban and songwriter Shane McAnally each secured five nominations while Miranda Lambert and Maren Morris are each up for four awards. Tim McGraw and Faith Hill also earned their first nomination for Vocal Duo of the year.
But while most of the ACM Awards nominees will arrive at the MGM Grand Garden Arena not knowing if they'll be leaving with any awards, three of the nominees have already secured their first ACM trophies. On March 26th, ACM named the three winners of the best new artists categories, with Lauren Alaina picking up New Female Entertainer of the Year, Brett Young nabbing New Male Entertainer of the Year, and Midland winning New Vocal Duo or Group of the Year.
The full list of nominees can be found here.
Who are the 2018 ACM Awards Presenters?
Country singers Cam and Dustin Lynch will be on-hand to present awards, as well as Rebecca Romijn, and The Ranch stars Ashton Kutcher and Sam Elliot. From CBS, David Boreanaz, Max Thieriot, and A.J. Buckley of S.E.A.L. Team, performer and The Talk co-host Eve, and Entertainment Tonight's Nancy O'Dell will be presenting, as well as Olympian Lindsey Vonn and New Orleans Saints quarterback Drew Brees.
Who are the 2018 ACM Awards Performers?
During the ACM Awards, two of the biggest country stars are using the occasion to showcase new music. Carrie Underwood is set to perform her newest single "Cry Pretty" for the first time, while Kenny Chesney will debut "Get Along." Florida Georgia Line will be performing "Meant to Be" alongside Bebe Rexha, who will be making her ACM debut. The packed slate of performers also includes Maren Morris, Thomas Rhett, Little Big Town, Luke Bryan, Lady Antebellum, Keith Urban and Julia Michaels, Miranda Lambert, and Kelsea Ballerini.
Additionally, the show will feature a series of "ACM Flashbacks" honoring Alan Jackson, Toby Keith, and Reba. The trio, who are each celebrating the 25th anniversary of some of their biggest hits this year, are set to perform duets with Jon Pardi, Blake Shelton, and Kelly Clarkson, respectively.
How Does the 2018 ACM Awards Voting Work?
With so many award shows using different voting structures and eligibility patterns, following awards shows can be a very frustrating experience. Luckily, we're breaking down the ACM's voting structure, so you can understand why your favorite artist didn't receive more nominations or why an insanely popular song wasn't nominated at all. While each category comes with its own quirks and additional rules, here is, generally speaking, how it all breaks down…
In order to be eligible for consideration for the 2018 ACM Awards, the previously unreleased material up for consideration would have had to have been released between November 24th, 2016 and December 31st, 2017.  From there, members of the Academy of Country Music — which consists of professionals from all over the country music scene — can submit one nomination for each of the awards show's major categories, including the three Vocalist(s) of the Year categories and Album of the Year.
After all nominations are tallied by an independent accounting firm, the top 20 nominees in each category are subjected to a review to ensure eligibility and the minimum two percent or more of the total vote. When the top 20 in each category have been deemed eligible, they're sent out to the ACM voting body, where each voter is allowed up to two votes in each category. The top five in each category move on to the final round of voting — and they become the nominees we hear about. In the rare instance in which there are fewer than five eligible nominees, a committee can allow the category to move forward barring it has at least three nominees.
During the third and final round of voting, ACM voters each cast a single vote in each of the categories to be revealed during the ACM Awards. And if there's a tie? Both parties get the award.
From 2008 to 2016, Entertainer of the Year and the three Best New Artist categories were determined by fans, but after years of controversy and pushback by artists — including the inaugural fan-chosen winner for Entertainer of the Year, Kenny Chesney — the ACM resumed its previous practice of having ACM members choose the winners.
Who Should You Look Out for on the 2018 ACM Awards Red Carpet?
Carrie Underwood will most likely be making her first red carpet appearance since breaking her wrist and sustaining a serious facial injury in a fall last November. We can also expect newlyweds Maren Morris and Ryan Hurd to be making their first red carpet appearance since their wedding in late March. Meanwhile, Nicole Kidman will most likely be hitting the red carpet with husband Keith Urban and we expect nothing less than red carpet perfection from stunners like Miranda Lambert, Kelsea Ballerini, and country royalty Tim McGraw and Faith Hill.
Be sure to catch the ACM Awards this Sunday on CBS!