Rapper 2 Chainz just turned his pink "trap house" into an HIV testing clinic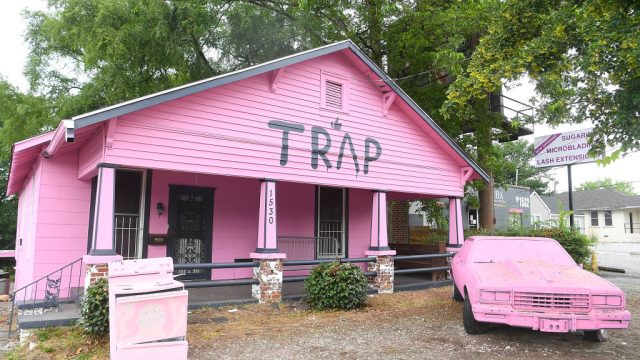 In the land of the unexpected, a pink trap house may be prime real estate. Especially considering that the trap house isn't really a trap house at all, but part of 2 Chainz's marketing for his latest album, Pretty Girls Like Trap Music. Specifically, the Atlanta-based rapper rented out a house and painted it pink, turning it into a community center and tourist attraction.
On July 4th, the rapper then made his trap house into a free HIV testing clinic for Atlanta residents. The clinic is supported by the Fulton County Board of Health, and charities Atlanta AIDS and Test Atlanta.
A trap house is typically where someone goes to buy drugs. The negative connotation isn't lost on 2 Chainz, who has used this house as a political statement about community, "church," and testing. In a caption on Instagram, he says,
"Inside the 'pink traphouse' something seldom shown ,, art , kids , music , good vibes , inspiration etc, The word TRAP is and was associated with a negative connotation  We will see after we get thru injected some cultural ideas the move the needle inch by inch #prettygirlsliketrapmusic album out now."
You can even buy artwork and get your nails or hair done at the house. Sadly, the lease at 1530 Howell Mill Road  is up on July 7th, so 2 Chainz and his team will be repainting the house white. Even though this didn't last forever, we're just happy that a major rapper took the time to create something for his community at all. And since Atlanta is the 5th highest city with new cases of HIV, we're thankful that there was free testing.
Here's to you, 2 Chainz!