19 adorable celebrity couples we hope never, ever break up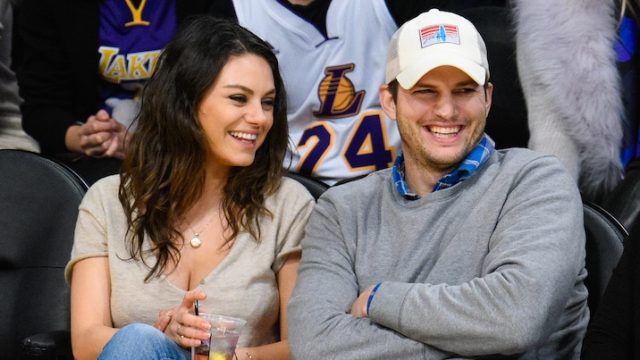 From the outside looking in, it would appear some people have just totally mastered this whole love thing. Whether it's your best friend and their partner or your favorite celebrity couples — these people make love look effortless. But based solely on the fact that Britney and Justin couldn't make it work in 2002 (yeah, we're still not over it), we know relationships are anything but easy. At least not all the time, and even the very best couples hit rough patches.
If we take a moment (of silence) to count all the seemingly perfect duos who have already split this year, it could be easy to lose hope. Fortunately, that tinge of hopelessness won't last too long, because when it comes to finding inspiring love stories in Hollywood, we never have to look too far.
There's a little bit of everything in Hollywood, proving that there is no one-size-fits-all approach to love. Some couples have been growing together over the years in beautiful marriages, while others are withstanding the test of time without the rings/official piece of paper.
Married or not, there are a few celebrity couples who we just couldn't stand to see call it quits.
Here are 19 of our current favorite celebrity loves!
1The Obamas
https://www.instagram.com/p/status
The former first couple got married on October 3rd, 1992, and twenty-five years later, he's still her best friend, and they've never looked more in love.
2Chrissy Teigen and John Legend
If there were an award for social media's best couple, John and Chrissy would take it 10 times over. The Grammy-winning singer-songwriter and his model wife have been documenting their many relatable adventures on social media throughout their relationship. And we can't get enough!
3Samira Wiley and Lauren Morelli
This sweet pair met in December of 2012 on the set of Orange Is the New Black, as Samira embodied the role of our beloved Poussey (which was then being written by Lauren). You'd think with such a perfect meet-cute things would immediately fall into place for these, but Morelli was married…to a man.
Obviously, things did eventually fall into place — the couple said "I do" after two years of dating, and we've been swooning ever since.
4Nick Offerman and Megan Mullally
If you're as obsessed with Parks and Recreation as we are, you probably know Nick Offerman as Ron Swanson, the Director of the Parks and Rec department of Pawnee, Indiana. And you'll remember Megan Mullally as his ex wife, Tammy #2. Their characters may have had a hard time making it work on screen (married and divorced twice) but IRL the hilarious duo has been married since 2003.
Megan's Instagram is filled with cute photos of the couple putting together giant puzzles and playing the guitar. #ultimategoals
5David Burtka and Neil Patrick Harris
This handsome pair got married in 2014, but they've been together for much, much longer. They actually celebrated thirteen years together this year. NPH posted the sweetest Insta snap to mark on their anniversary. He captioned a photo of David and their son with, "Thirteen years and one day ago, I crossed paths with the guy on the left. The adventures have never ceased. The love has never waned. The gifts are never ending (the guy on the right, e.g.). Happy Anniversary, @dbelicious. You're the best."
6Jay Z and Beyoncé
If you're looking for love and excellence in their purest form, look no further than this beautiful pair. Yes, we've heard the ups and downs on Beyoncé's Lemonade and Jay's 4:44 — but they're still together, and from the looks of it, stronger than ever.
7Mila Kunis and Ashton Kutcher
Long before they were Mila and Ashton, they were Jackie and Kelso on That '70s Show. "We started dating with the idea we're both never going to get married," Kunis said to Howard Stern on his show . "[Kutcher] just got out of a marriage. I got out of a long relationship. I was single and having the best time ever. I was totally dating, having a great time, and I was like, 'I'm never getting married.' He's like, 'Great, neither am I!' And we're like shaking hands on it and we're like, 'Life is great!' A year later, we're like, 'Tomorrow, let's get married.'"
8Amal Alamuddin and George Clooney
https://www.instagram.com/p/BLEupC0D72Y
The handsome actor met the accomplished human rights lawyer near Lake Como in July 2013. George recounted the story of the night he proposed. Over champagne after dinner, he asked Amal to get a lighter from the drawer to light a candle. When she reached for it, she pulled out a ring instead.
"I did all the stuff, got down on my knee and did all the things you're supposed to do," he told People Magazine. "I had a playlist with my Rosemary songs on it [his late aunt was singer Rosemary Clooney], and I was waiting for this song, 'Why Shouldn't I?' 'Why shouldn't I take a chance when romance passes by? / Why shouldn't I know of love?' It's a really good song about why can't I be in love?"
9Blake Lively and Ryan Reynolds
Rumors of this couple's coupling started swirling in October of 2011. Since then, the pair has gotten married and created two beautiful little girls. Ryan Reynolds and Blake Lively definitely seem to have one of the most idyllic relationships in Hollywood.
"She always responds with empathy," Reynolds told Humans of New York. "She meets anger with empathy. She meets hate with empathy. She'll take the time to imagine what happened to a person when they were 5 or 6 years old. And she's made me a more empathetic person. I had a very fractured relationship with my father. Before he died, she made me remember things I didn't want to remember. She made me remember the good times."
10Ryan Michelle Bathe and Sterling K. Brown
A wonderful friendship first blossomed between Sterling and his wife, fellow actress Ryan Michelle Bathe, while they were students at Stanford. The This is Us star and his wife met in their freshman year, where they lived in the same dorm and starred in a university play together. Sterling and Ryan's love endured multiple breakups, a three-year period where they didn't speak, and a long-distance stint — all in the name of love. The two have been married for ten years and have two sons.
11Serena Williams and Alexis Ohanian
The tennis superstar and the Reddit cofounder met in May of 2015 at the Hotel Cavalieri Hilton in Rome (fancy). But things were a little odd at first. Apparently when Ohanian sat down at the table next to Williams' outside, Serena and her friends tried to get him to leave by telling him there was a rat at his table. Thankfully, he stuck around and eventually joined Serena and her friends. Williams had never heard of Reddit before, and Ohanian knew very little about tennis, but the two fell in love, got married, and recently welcomed their first child.
12Sarah Paulson and Holland Taylor
The way Sarah gushes about her girlfriend Holland might be the cutest thing ever. The couple first met 10 years ago, and Paulson described how she thought then that the Two and a Half Men actress was "probably the most exquisitely beautiful woman I'd ever seen."
"What I can say absolutely is that I am in love," she told the New York Times.
13Solange and Alan Ferguson
Solange found her true love and #wokebae in video director Alan Ferguson. The pair perfectly complement each other — from their breathtaking all-white 2014 wedding to their most candid yet ultra fashionable romantic moments, The Fergusons are definitely one of our favorite couples.
14Meghan Markle and Prince Harry
https://www.instagram.com/p/BZeWUERDzlr
Are they engaged? Are they not? We don't know, but we can't wait to find out. In 2016, the Suits actress paid a visit to London for the summer and fell in love with her royal beau Prince Harry. The two have recently taken their relationship public, and the world has been waiting for the official engagement announcement ever since.
While talking to Vanity Fair about her newfound love, Markle said recently,
"We're a couple! We're in love. I'm sure there will be a time when we will have to come forward and present ourselves and have stories to tell, but I hope what people will understand is that this is our time. This is for us. It's part of what makes it so special, that it's just ours. But we're happy. Personally, I love a great love story."
We do too, Meghan!
15Jada Pinkett-Smith and Will Smith
https://www.instagram.com/p/BRmN_5EDfpb
Will Smith and Jada Pinkett-Smith became husband and wife in 1997, and since tying the knot they've become one of the most iconic couples in Hollywood. Will first met Jada when she auditioned for the role of his girlfriend on The Fresh Prince of Bel-Air. She didn't land the part, but she totally stole his heart. And over the years, Will and Jada have dropped many gems of wisdom on life, love, and marriage. Here's one of our favorites:
"I've learned what makes a happy union," Smith told People during a video interview. "You have to learn your happiness individually." Jada went on to stress the importance of finding personal happiness outside of your partner. We're taking notes.
16Rose Leslie and Kit Harington
The Game of Thrones lovebirds fell in love while filming the show in Iceland. We guess there's just something about the magic of the Northern Lights that makes falling in love with your on screen love interest IRL a lot easier. The couple recently announced their engagement in the…newspaper? Talk about old school. The announcement read:
"Mr. K.C. Harington and Miss R.E. Leslie. The engagement is announced between Kit, younger son of David and Deborah Harington of Worcestershire, and Rose, middle daughter of Sebastian and Candy Leslie of Aberdeenshire."
We can't wait to see the wedding photos.
17Sarah Michelle Gellar and Freddie Prinze Jr.
These two are our ultimate '90s couples goals. Meeting on the set of I Know What You Did Last Summer, the pair married in 2002 and have since had two adorable daughters. Prinze Jr. once told E! News, "We were just friends [before dating]. That's one of the reasons I think our relationship has always been so good. We were just friends for a good two years before we ever went on a date. She knew what kind of guy I was. She knew what my morals were, what my priorities were and vice versa. We already kind of knew all the faults in the other person."
18Gigi Hadid and Zayn Malik
Ah! Young love. Gigi and Zayn started dating in late 2015 and have given us some of the cutest, most love-filled moments of the last two years. They appeared together in the music video for Malik's hit single "Pillowtalk" and have graced the covers of a few magazines.
19Oprah Winfrey and Stedman Graham
https://www.instagram.com/p/8_ispStxLr
Oprah and Stedman have been together for what feels like forever (over 30 years), but the two never took the plunge into marriage. In a recent interview, the creator of all things Oprah opened up about what she thinks would have happened if they had made it down the aisle. "We would not have stayed together, because marriage requires a different way of being in this world. His interpretation of what it means to be a husband and what it would mean for me to be a wife would have been pretty traditional, and I would not have been able to fit into that."
And with all the madness and tragedy currently happening in the world, the last thing we need is Oprah and Stedman (or any of these other adorable celebrity couples) calling it quits.
Seriously! Don't go breaking our hearts, guys.