18 Flower Moon tattoos to inspire you while you wait for this month's full moon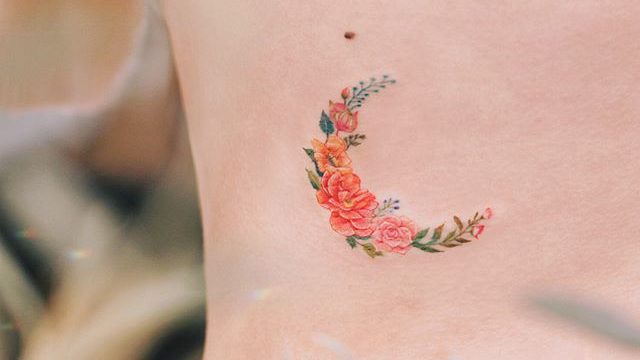 Now that May is finally here, there's something important you should add to your calendar: the Flower Moon. On May 29th, a full moon that's known as the Flower Moon will light up the sky and, as it turns out, it's actually the perfect inspiration for your next ink. Flower Moon tattoos can be ethereal and gorgeous, and are the perfect way to pay tribute to this month's symbolic full moon.
According to Inverse, the Flower Moon got its name from the Native Americans, thanks to the fact that it comes out when flowers are blooming in springtime. Makes sense, right? After the grueling winter most of the country has experienced, the Flower Moon is also a welcome sign that sunshine and warm weather are finally here.
Of course, most Flower Moon tattoos don't look like an actual moon — instead, they draw on the imagery this springtime moon evokes. When it comes to a tattoo like this one, there's so much room for creativity and personalizing your new art to make it extra meaningful to you. Plus, if the ideas below are any indication, Flower Moon tattoos tend to be stunning. And who doesn't love having a pretty piece of artwork to admire on their skin (and show off to their friends)?
1. The perfect tattoo to get with a BFF:
2. Accompanied by a favorite quote:
3. Tiny and delicate:
4. If you're looking for a pop of color:
5. Or if you're more into black and white:
https://www.instagram.com/p/BhVHGTxguLc
6. With pretty, intricate flowers:
7. Or just a simple lotus flower:
https://www.instagram.com/p/BgyaifxHTCH
8. One moon inside of the other:
9. Featuring a favorite furry friend:
10. With an actual full moon at the center:
11. This moon is almost a complete circle:
https://www.instagram.com/p/BgN_rUpBEkA
12. Super colorful and ornate:
13. Crystals, flowers, and the moon:
https://www.instagram.com/p/BfnGj6shcM2
14. An outline that celebrates Mother Nature:
https://www.instagram.com/p/BfYWKACB68o
15. The prettiest doodle:
https://www.instagram.com/p/Be80YnyH7me
16. So tiny, but so many colors:
17. This tattoo incorporates everything:
18. A moon filled with flowers:
https://www.instagram.com/p/BCi7UMgHN8K
Don't forget to check out the actual flower moon on May 29th — and make sure that if you want to recreate one of these babies on your own skin, pick the perfect tattoo artist for the job. Happy inking.