17 funny Instagram captions for date night that will only make you cringe a little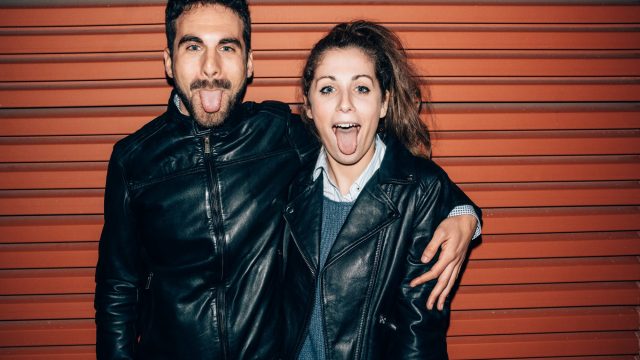 Valentine's Day might be over, but don't let the lack of holiday thwart you from posting about your significant other on social media. If you've got the love, flaunt it! In fact, to help you get inspired to post a photo of your partner, we've collected some hilarious Instagram captions for date night. And yes, these will make your friends and followers LOL.
Couples who love a good laugh together are actually scientifically proven to have a stronger relationship. A February 2017 study — which looked at 39 studies of 15,000 participants over 30 years — found that the humor couples create together is what makes for a lasting coupledom. What's more is that shared laughter is a sign of good chemistry and mutual attraction.
"If you meet someone who you can laugh with, it might mean your future relationship is going to be fun and filled with good cheer," researcher Jeffrey Hall from the University of Kansas stated to HuffPost.
With that being said, it's time to start making each other (and yourself) laugh. Snap a couple pics during your upcoming date night and let us help you find the perfect funny caption to pair with your Instagram post. Let the chuckles begin.
1And together we are double trouble.
https://www.instagram.com/p/Bd8o79AFXD2
2A great political leader once said,
3I love you, too, dumb-dumb.
4Sorry, butt…
5Us weirdos gotta stick together.
6It's pretty much a rumble in the jungle.
7And for that, I love you.
8No, really. It's a compliment.
9It's a give and take scenario.
10*Heart-eyes emoji*
11Well, crap.
12I love you as much as Rory loves coffee.
13And that's honestly saying a lot.
14Duh!
15Muahahaha.
16It's not easy being perfect, like us.
17A love that literally nourishes.
https://www.instagram.com/p/BZ0RGrmAgl5
Love each other, laugh together, and share your relationship wealth with the world. We'll see you on the 'gram.