17 empowering International Women's Day Instagram captions — because we go high when they go low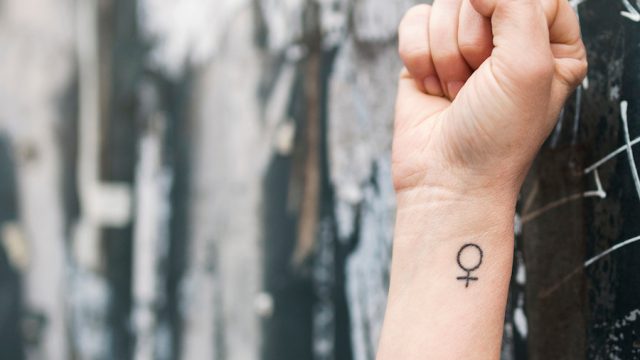 Thursday, March 8th, is International Women's Day and we're rightfully stoked. It's a day to call attention to gender inequality, stand up for our fellow women across the world, and be proud of the women we've become. To celebrate, we've compiled some empowering quotes to spice up your International Women's Day Instagram captions, so you can share the feminist wealth.
This year, the International Women's Day theme is #PressforProgress. According to the IWD organization website, the World Economic Forum's 2017 Global Gender Gap Report showed that gender parity is over 200 years away. Uh, what now? That's just not going to fly with us. The #PressforProgress campaign strives to unify gender equality activists and motivate communities to work towards achieving gender parity in less than 200 years — because that's an insane ways away.
You can share your activism and #PressforProgress by committing to one of the goals set on the IWD's site. You can choose to actively maintain a gender parity mindset, influence others' beliefs, challenge stereotypes and biases, and/or celebrate women's achievements throughout the entirety of 2018.
While you marinate on how you'll celebrate International Women's Day and #PressforProgress, check out these empowering quotes to share with your Instagram followers. Flaunt your femme self because this day is for you!
1*Snap snap snap*
2Getting this tattooed on our bodies, brb.
3New Year's resolution: Be like Malala.
4Glass slippers are impractical AF anyway.
5She can! She can!
6And we're better together.
7Cheers!
8This one goes out to our female tribe.
9Get out there and grab 'em.
10And it's possible for all of us to achieve it.
11The best kind of chain reaction there is.
12RBG's mom knows what's up.
13We repeat: our New Year's resolution is to be like Malala.
14And it's about to be the best century yet.
15Everything is possible.
16So if you don't mind stepping out of our way.
17~We'll be there for you~
Happy International Women's Day, everyone. Let's keep up the fight for gender equality and continue to be the badass women we are.