17 classic Hallmark Channel Christmas movies you simply MUST revisit this year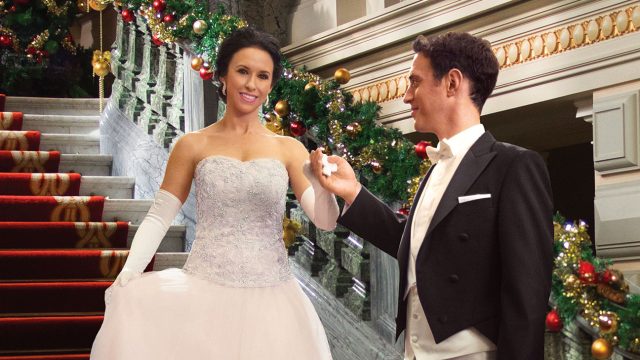 To us, nothing says "the holidays" like Hallmark. But we don't mean cards — no, we're talking Hallmark Channel Christmas movies. The channel airs a roster of original holiday films during their "Countdown to Christmas" every year. And every year, it's a can't-miss event.
Watching a Hallmark Channel original is the best way to pass a few hours while home for the holidays. All of these flicks are family-friendly, full of holiday cheer, and so simple to understand that it doesn't matter if you doze off in the middle after a few too many glasses of eggnog.
Plus, they contain the emotional range of a toaster oven. Even if they make you cry for a second in a moment of weakness, they'll make up for it with an ending so happy it hurts your teeth.
Not sure where to begin? Start by streaming these.
1Annie Claus Is Coming to Town
https://www.youtube.com/watch?v=9Lo9cb9-8kM?feature=oembed
This one is so good we watched it twice! It's the story of Santa's daughter, Annie, who goes on a North Pole Rumspringa and spends a month in the "real world." The ensuing plot line is naturally far-fetched, but it shakes up the traditional Hallmark formula a bit. And yes, it still revolves around a love triangle.
2Matchmaker Santa
https://www.youtube.com/watch?v=ufvhy_tmtEM?feature=oembed
This one stars Mean Girls alum Lacey Chabert, which is reason enough to watch as far as we're concerned. Matchmaker Santa really leans into the Christmas aspect, while remaining a typical romance story.
3Moonlight & Mistletoe
https://www.youtube.com/watch?v=C1TRv9mPcR8?feature=oembed
If anyone rivals Chabert for the title of Reigning Prom Queen of Hallmark, it's Candace Cameron Bure. This is one of the movies that first got us hooked on the network's holiday offerings.
4Christmas Magic
https://www.youtube.com/watch?v=q7wncXuu4_s?feature=oembed
Watch enough Hallmark and you'll notice that the whole "angel comes down from heaven to help a single dad and ends up falling in love with him" storyline is well-trodden. Christmas Angel follows the formula to a T, which is exactly why we love it.
5Single Santa Seeks Mrs. Claus
https://www.youtube.com/watch?v=xPcyOp-BNNw?feature=oembed
This movie is heavy-handed even by Hallmark Channel standard, but that makes it all the more fun to watch.
6Meet The Santas
https://www.youtube.com/watch?v=pFiHXcKqqBk?feature=oembed
Come on, you know you've wondered about what it'd be like to have Santa and Mrs. Claus as in-laws. No? Just us, then?
7The Santa Suit
https://www.youtube.com/watch?v=dtmFR3TsIWI?feature=oembed
Kevin Sorbo, of Hercules fame, stars as Drake Hunter, a marketing executive who swaps places with a mall Santa so he can learn the real meaning of Christmas.
8The Santa Incident
https://www.youtube.com/watch?v=aVM6hjQy7V4?feature=oembed
We'll let the official Hallmark description from their YouTube channel explain this one: "Mmmmmistletoe! Homeland Security may have some 'splainin' to do when its agents engage to destroy the Jolliest Old Elf in the world in The Santa Incident."
9Holiday Engagement
https://www.youtube.com/watch?v=o_l03PDdzLo?feature=oembed
We don't know who all these people hiring strangers to be their fiancés for the holidays are, but Hallmark is never in short supply. It's a good thing these fake relationships typically turn into real ones by the end, otherwise we don't know how they'd explain the lack of a wedding.
10It's Christmas, Carol!
https://www.youtube.com/watch?v=-ZrefmPuXDA?feature=oembed
Yes, this is an obvious play on A Christmas Carol. It's cheesy and involves yet another infuriating plot line wherein an ambitious woman learns what's "really" important in life (i.e. a man). But it's also deeply fun to watch.
11Naughty or Nice
https://www.youtube.com/watch?v=W9VgnoenO4g?feature=oembed
Her name is Krissy Kringle, what more could you want?
12Help For the Holidays
https://www.youtube.com/watch?v=04iqbtrzw5I?feature=oembed
Summer Glau plays an elf who leaves the North Pole to help a family in need. Along the way she — you guessed it — falls in love and teaches the family about the true meaning of Christmas. We wouldn't want it any other way.
13Northpole
https://www.youtube.com/watch?v=cSrxm5cIqag?feature=oembed
Elves again, this time with 100% more Tiffany Theissen.
14A Royal Christmas
https://www.youtube.com/watch?v=Kua76tb2W54?feature=oembed
Lacey Chabert returns! This time, she plays a woman who unwittingly ends up dating a prince and tries to impress his very royal family over the holidays. Shenanigans ensue.
15Crown for Christmas
https://www.youtube.com/watch?v=oRZf8-SoQ6I?feature=oembed
You didn't think we'd pass up the opportunity to put another royalty-themed Christmas movie on this list, did you? Especially not so soon after the IRL royal engagement!
16A Nutcracker Christmas
https://www.youtube.com/watch?v=kB7-TAxyhmg?feature=oembed
A Nutcracker Christmas only premiered last year, but it's already reached classic status in our book. It stars Sascha Radetsky, who you may have heard of from a little film called Center Stage. Oh yeah, and there's a whole lot of ballet.
17Let It Snow
https://www.youtube.com/watch?v=2_k0b7VQE_Q?feature=oembed
And we're signing off with another Candace Cameron Bure banger. It wouldn't be Christmas without her (or Hallmark)!