16 seasonal desserts you'll want to make all year round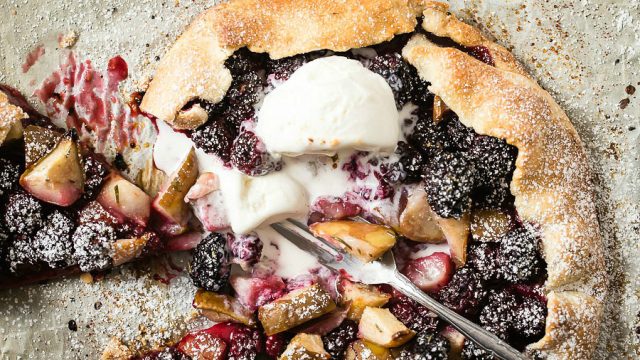 It's finally that time of year, friends. 'Tis the season for warm, comforting sweets! Whether you're on the search for vegan desserts even non-vegans can appreciate this holiday season or just want as many recipes for easy fall desserts as possible, we've got you covered. Because, seriously, as the temperature drops, our sweet tooth only gains ~power~ and we don't want to just keep eating the same things 24/7! The more variety in our seasonal desserts, the better. And these ones are so darn good you'll eat them all year round.
Here are a few of our favorite seasonal desserts to help you celebrate the ~most wonderful time of year~ the best way: with food!
1. These apple tarts with vegan cream cheese
2. These perfectly presented Paleo Vegan Chocolate Coconut Truffles
3. This decadent chocolate cake
4. These pumpkin pie jars
5. This caramel pecan cheesecake pie
6. This awe-inspiring spiced apple cider ice cream
7. This blackberry and pear galette
8. This pumpkin cheesecake with praline sauce
9. These chocolate peppermint bars
10. This butternut squash tart with pomegranate-cranberry glaze
11. This gluten-free chocolate cake with zucchini, and matcha frosting
12. These soft sugar cookies with vanilla cream cheese frosting
13. These snowflake pretzel pops
https://www.instagram.com/p/BNFC_pGDa1N
14. These super simple (and totally delicious) sugared cranberries
15. This crust-free custardy apple pie
https://www.instagram.com/p/BNCwwTlDoDH
16. This super fancy tiramisu with cranberries and orange mascarpone
We'll definitely be giving some of these seasonal desserts a try!