These are the 15 women who dominated the National Book Awards this year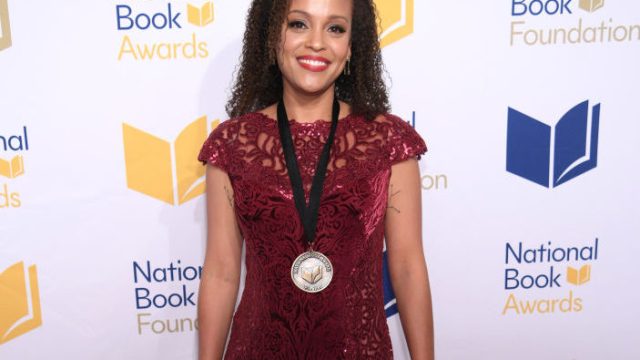 The National Book Awards is a huge deal for literature obsessives. It's an exciting event, and the 2017 iteration was especially thrilling. Why? Because the 2017 National Book Awards highlighted women in a big way. Fifteen out of the 20 nominees were women, according to Vox. This is pretty huge in and of itself.
But most noteworthy is the fact that The National Book Award winners were almost all women, as well. Jezebel reports that women won three out of the four categories.
It might not sound like much if you're not aware of the gender disparity in publishing. Not only do men tend to get published more readily, they also win more prizes and awards. According to a Quartz report published in 2016, "Since 1950, when the US National Book Awards were established, only one-quarter of the prizes in its fiction category have gone to women." Just last year, all four winners were men. It seems that the National Book Foundation really listened to critics when picking the finalists for this year's awards.
The 2017 event, which took place on Wednesday, November 15th, indicates a positive turning of the tide. Below, we highlight the 15 women who ruled the National Book Awards. They are worthy of celebration — and a place on your bookshelf.
1. Jesmyn Ward
https://twitter.com/udfredirect/status/928393562072469504
Ward took home the Fiction prize for her book Sing, Unburied, Sing. She is the author of several other books, including another award-winning title,  Salvage the Bones. 
2. Lisa Ko
Lisa Ko is a debut novelist. Her book The Leavers isa NBA 2017 finalist, and it also won a PEN/Bellwether Prize in 2016.
3. Min Jin Lee
Min Jin Lee is the author of Pachinko and Free Food for Millionaires. Per her online biography, she was a lawyer before she became a full-time author.
4. Carmen Maria Machado
Machado was nominated for her debut story collection Her Body and Other Parties: Stories. She has also written a memoir and published countless articles and short stories online.
5. Masha Gessen
Gessen is a journalist who frequently writes for The New Yorker, as well as other publications. She won the NBA Nonfiction prize for her book The Future Is History: How Totalitarianism Reclaimed Russia.
6. Erica Armstrong Dunbar
Erica Armstrong Dunbar's book Never Caught: The Washingtons' Relentless Pursuit of Their Runaway Slave, Ona Judge received a nomination in Nonfiction. In addition, she is the author of Fragile Freedom: African American Women and Emancipation in the Antebellum City and works as a professor.
7. Frances FitzGerald
Frances FitzGerald has penned six books, including the NBA-nominated The Evangelicals: The Struggle to Shape America. She graduated from Radcliffe College in 1962 and went on to write for the New York Herald Tribune and traveled to Vietnam to cover the war, according to her online bio. As a result, she published her debut — Fire in the Lake: the Vietnamese and the Americans in Vietnam.
8. Nancy MacLean
MacLean, author of Democracy in Chains: The Deep History of the Radical Right's Stealth Plan for America, is a distinguished history professor at Duke University.
9. Leslie Harrison
Poet Leslie Harrison earned a nomination for The Book of Endings. She is originally from Germany and now resides in New Hampshire, according to her online biography.
10. Layli Long Soldier
Long Soldier is the author of WHEREAS: Poems. According to the Poetry Foundation, she also published a chapbook titled Chromosomory in 2010 and teaches at Diné College in Arizona.
11. Robin Benway
false
Benway's Far From the Tree won the National Book Award for Young People's Literature. She is the author of five other books and resides in Los Angeles.
12. Elana K. Arnold
What Girls are Made Of is far from Arnold's debut work — she's written several YA novels, in addition to books for younger children. Her website also features a section for forthcoming picture books, although there's no information yet about specific projects.
13. Rita Williams-Garcia
false
Williams-Garcia has written a lot of books since her debut was published in 1987. Her latest, Clayton Byrd Goes Underground, was a finalist in the Young People's Literature category for the National Book Awards. Williams-Garcia has also won several awards, including a Coretta Scott King Award.
14. Ibi Zob0i
Zoboi's debut novel American Street may have just been released last February, but she already has two new projects in the works. In addition to a follow-up YA title (to be released in 2018), Zoboi also has a book for younger children in the works, according to her website.
15. Erika L. Sánchez
I Am Not Your Perfect Mexican Daughter is Sánchez's debut novel, published just shortly after her first poetry collection, Lessons on Expulsion. Her website notes that she is also a Princeton Arts Fellow for 2017-2019.