15 funny AF New Year's resolutions to make you smile at the end of this terrible year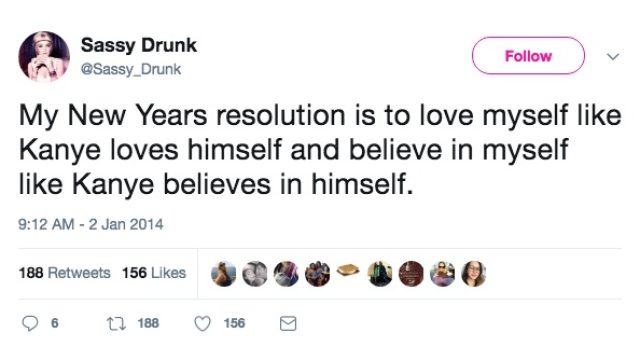 We made it. 2017 is (finally) drawing to a close. While we ponder what lies ahead, many of us are focused on improving something specific: ourselves. And that's where the old New Year's resolutions come in.
Resolutions can mark a time of renewal, re-commitment, and reflection. And — lucky for us, they can also just be amusing AF. In fact, many have taken to Twitter to share their funny New Year's resolutions for the next calendar year.
And while we commend all the people out there making real goals for the coming year in earnest (you know — the whole, "Be kinder," "eat healthier," "recycle more" stuff), we're also bowing down to the people sharing their funny New Year's resolution/not taking themselves too seriously. Because at the end of the day, this past year was kinda rough, and we are 100% here for anything and everything that puts a smile on our faces.
So without further ado, here are 15 funny News Year's resolutions that will make you laugh…or at least cheer you up.
1.
false
2.
3.
4.
5.
6.
https://twitter.com/udfredirect/status/943076952566583298
7.
8.
9.
10.
https://twitter.com/udfredirect/status/944331210242662400
11.
false
12.
13.
https://twitter.com/udfredirect/status/940510572205850624
14.
false
15.
false
16. (BONUS!)
false
Again, we thank all you social media comedians for sharing your funny New Year's resolutions. We needed this. And of course, we wish everyone a happy, healthy, and hopeful year ahead.
Here's to sticking to our resolutions, and saying goodbye to 2017 in style…and of course, with a smile.