15 eggnog desserts that you'll want to have year-round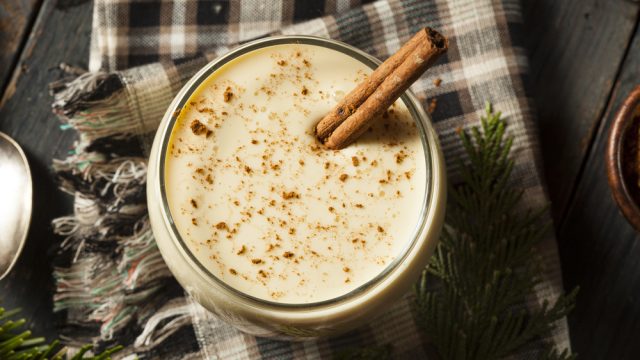 The holiday season is great for reminding us of lots of long-forgotten things. We get together with friends and family, and remember just how important spending time with our loved ones actually is.
But enjoying eggnog isn't something you have to save for a certain time of year. Sure, more people think about the tasty dessert in the winter months. But the creamy flavor can be savored year-round. And here are just a few DIY desserts that will inspire you to eat eggnog whenever your heart desires.
1This easy no bake eggnog cream pie will satisfy all your sweet teeth.
2There's no such thing as too much fudge. Especially when it's eggnog fudge.
3There's multiple layers to love in this eggnog tres leches cake.
4Combine three things you love with these decadent eggnog cheesecake cookie cups.
5These eggnog snickerdoodles are delicious and perfect for any occasion.
6Nothing is better than eggnog cake. Unless, of course, you're combining it with some amazing caramel eggnog sauce to really make it unforgettable.
7Bring the bakery with you with these adorable and tasty eggnog cupcakes.
8You've never enjoyed brownies as much as you'll enjoy these incredible eggnog brownies. 
9If you really feel like getting fancy, try this amazing eggnog crème brûlée. Your tastebuds will thank you for it.
10It's the shape of a brownie but the taste of cheesecake and eggnog. And that basically makes these eggnog cheesecake bars perfection.
11Eggnog scones are a perfect excuse to eat dessert for breakfast.
12Another way to sneak some eggnog into your breakfast is with this mouthwateringly good cinnamon french toast eggnog casserole.
13Eggnog donuts are basically our dreams come true into dessert form.
14Eggnogg mousse is light and fluffy and oh-so-wonderful.
15Take your pound cake to the next level but adding some eggnog to it.
Basically, the sky is the limit when it comes to finding creative ways to incorporate this delicious treat!