14 healthy fall desserts you'll actually want to eat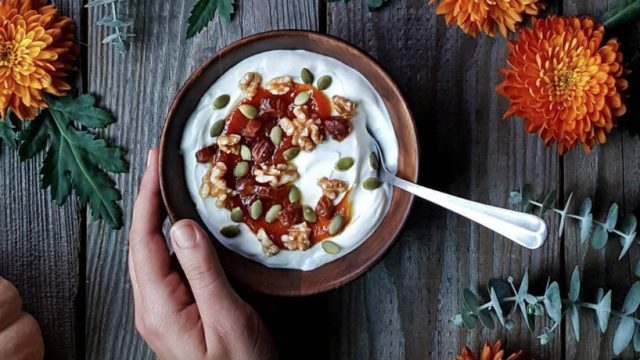 We love pretty much everything about fall, from sweaters to perfect weather to pumpkin everything. But for sure, the best part of fall is the food! All we wanna do is snack all day long, and if you have a sweet tooth like we do, that means loads and loads of desserts. We get sick of the heavy, gross feeling we get when we eat too many sweets, so we were thrilled to realize that yummy, healthy fall desserts are actually a thing! TG, friends!!
This Instagram is literally a treasure trove of healthy fall desserts. Whether you like your dessert loaded with chocolate or want your dessert fruit-filled and sweet, you'll find a new love for healthy, low calorie dessert you didn't know was possible.
1. This pumpkin mousse pie
2. These matcha mini bundt cakes
https://www.instagram.com/p/BMg8_vNB4BC
3. These pumpkin loukoumades, aka Greek donuts
https://www.instagram.com/p/BMMOKcqB3pu
4. This yogurt with pumpkin butter
5. These matcha cheesecake brownies
6. This apple pomegranate fizz
https://www.instagram.com/p/BLbXnG0hlfJ
7. This quince tarte tatin with cardamom creme fraiche
8. This fall fruit and cheese spread
9. This vegan chocolate layer cake
https://www.instagram.com/p/BLL_hB7hKLl
10. This passionfruit coconut tart
11. These vegan chocolate chip cookies
12. This gluten free pear pie
13. These maple chai cinnamon rolls
14. This grape and halva galette
BRB, time to round up all the necessary ingredients and give these healthy fall desserts a shot!