"Nevertheless, she persisted" memorabilia is now a major thing and we want them all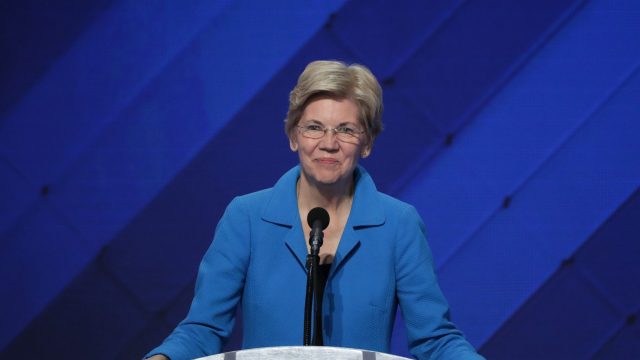 Senate Majority Leader Mitch McConnell gave Democrats an unexpected rallying cry yesterday—and a golden fundraising opportunity.
During Jeff Sessions' confirmation hearing for Attorney General, McConnell silenced Senator Elizabeth Warren after she read part of a letter written by civil rights leader Coretta Scott King, on the grounds that she had violated a seldom-invoked Senate rule called "Rule 19." The rule prohibits senators from impugning one another. She is not allowed to speak for the rest of the debate over Sessions' nomination.
Related article: The best lines from Elizabeth Warren's lashing of Wells Fargo CEO John Stumpf
"She was warned. She was given an explanation. Nevertheless, she persisted," McConnell said. With that line, the internet lit up. #LetLizSpeak began trending, and people tweeted the quote coupled with photos of feminist icons ranging from Rosa Parks to Ruth Bader Ginsburg to Malala Yousafzai.
For disillusioned Democrats, "Nevertheless, she persisted" immediately became the new "Nasty Woman." And just as President Donald Trump's nasty moniker for Hillary Clinton proliferated on t-shirts, pins, and other items ahead of the election, you can already find McConnell's words emblazoned on posters, stickers, and fitted tees. Not to mention mugs, iPad cases, and even more t-shirts. (So many t-shirts.) Though these retailers seem to be capitalizing on a hot trend, the Democratic Congressional Campaign Committee has used it as a call to raise funds for progressive causes.
Related article: Elizabeth Warren blasts bankers. Why would she want one running education?
The rallying cry could prove especially lucrative for Warren, whose new book "This Fight is Our Fight: The Battle to Save America's Middle Class" will be published in April.
Turns out a man silencing a powerful woman from reading another powerful woman's words on the Senate floor is a great way to get thousands of others to speak up.
https://twitter.com/udfredirect/status/829326141018275841
Related article: Why Elizabeth Warren is the GOP's least favorite financial advisor
https://www.instagram.com/p/BQPUA_Xgl5c
This article originally appeared in Money.