13 Valentine's Day dogs that would probably make better dates than humans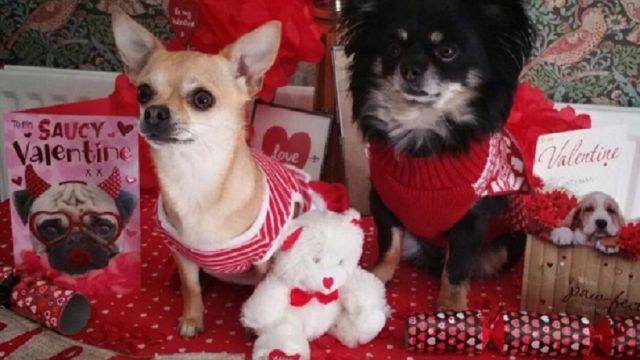 If the humans you know have a history of dropping the ball in the romance department, perhaps it's time for a drastic new approach. So, um, have you considered asking a dog to be your Valentine's Day date?
We know it sounds weird, but don't knock it 'til you've tried it. Ultimately, you're in charge of your own happiness, and sometimes that means getting a little creative. If you're looking to have an unconventional and awesome Valentine's Day date, courting a canine might be the best way to go. C'mon, many bright ideas were born from a struggle. (Why do you think Galentine's Day exists? Helloooo.)
Some naysayers may consider spending the day with an animal as peak desperation, but whatevs. We're convinced any of these dogs would make better V-Day (or G-Day) dates than humans.
Why YES, we will certainly accept your rose, doggie.
This doggie date is cute and in the mood for smooching.
Cards and stuffed animals? Total charmers, these two.
Only dogs get away with tongue-wagging on the first date.
https://www.instagram.com/p/BBvQA4JtsBw
New to dating outside your species? SAME, doggie.
It might not look like it, but trust us — this cat gets it.
Dog and bone are a package date deal.
Bring a friend and join this bowtie-wearing pair for dinner.
Because being dateless on Valentine's Day can get stressful.
This dog knows how to treat a date, and we love it.
A romantic stroll on the beach with a cutie = WIN WIN.
This adorable pooch definitely kisses on the first date.
Aw! This charming bulldog cooks for the one she loves.
GAH! So many wonderful options, so little time to choose. Whatever happens, we're sure your doggie date won't disappoint.