13 Thanksgiving meal fails on Instagram that will make you LOL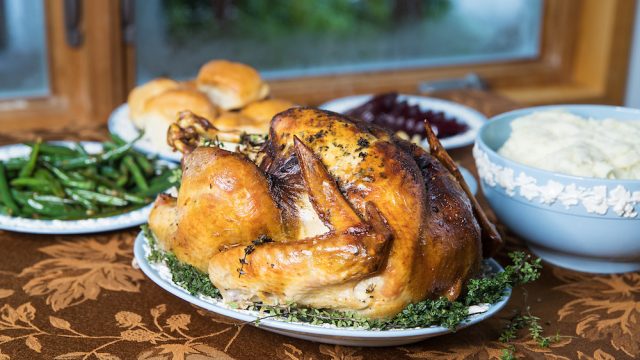 There are some holidays we all look forward to more than others and Thanksgiving is on that list. Being able to spend time with family is awesome, but let's be honest: Thanksgiving is really about the food. It's not every day we get to fill our bellies with perfectly cooked turkey, mashed potatoes with gravy, vegetables you actually want to eat, and all the dessert that we can handle. We're expected to overeat, and while that's not a good rule in general terms, it's basically the best thing about this holiday.
Sometimes, though, despite every best intention, the meal doesn't turn out quite like we'd hoped. We're left with Thanksgiving meal fails that are social media worthy, and best of all — they give us a good laugh.
If you've ever cooked a Thanksgiving dish, you know a lot of time goes into it. Not only do you have to plan what you're serving, and then head to the crazy-busy grocery store to buy everything, you must be an expert at timing each dish.
Sometimes, we make simples mistakes like prepping everything, and then forgetting to turn the stove on.
This family missed out on some potentially awesome cranberry sauce because someone failed to turn on the stove.
Of course, you do run the risk of burning the sauce, too.
Not sure which is more of a fail…
Yams with marshmallow topping is arguably one of the best parts of Thanksgiving, but not if it's charred.
https://www.instagram.com/p/BLZlQ1CB7sS
Then of course there's the main part of the meal, the turkey. Apparently, it's easy to burn.
https://www.instagram.com/p/v7k_D8lAk9
Or you spend hours cooking the turkey for friends and family, only to remove from the oven and see you forgot to take off the plastic.
And the meal will be a big fail if your food catches on fire, right?
But it happens to the best of us.
It turns out you can have a Thanksgiving fail at any point.
Just when you think your meal is perfection only to see it fall apart before your eyes.
https://www.instagram.com/p/v7h_YaRc6c
It can crumble just when you're about to move it from the oven to the table or out of the fridge while you are eyeballing your superior cooking skills.
https://www.instagram.com/p/-hyDirLw4V
https://www.instagram.com/p/v6o4zOvL9A
And, because life is not fair sometimes, your pepper shaker can fail you at the last moment.
Either way, Thanksgiving is still our favorite holiday!