Selena Gomez and the "13 Reasons Why" cast got matching tattoos, and we're not crying, you're crying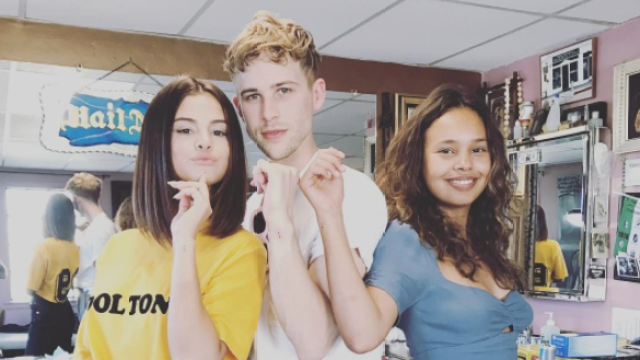 There's a high chance you've binged (and cried over) Netflix's latest, 13 Reasons Why. The show has hit a strong chord with viewers, as it heartachingly portrays some heavy topics like suicide, bullying, rape, and depression. The show has completely taken the internet by storm, and now, it's gone ahead and inked itself on executive producer Selena Gomez forever. She, along with a few of the cast members, just got matching 13 Reasons Why tattoos.
Already, you're probably crying, but OH THERE'S MORE.
Over the weekend, Selena posted on Instagram that she, along with Alisha Boe (Jessica) and Tommy Doorman (Ryan), were getting a semicolon tattoo. Alisha perfectly explained why on her Instagram:
Today- Tommy, Selena and I got tattoos of a semicolon. Project semicolon is a movement dedicated to presenting hope for those suffering from depression, thoughts of suicide, addiction, and self-injury.
https://www.instagram.com/p/BSr-hBcB5dN
Tommy also wrote a touching and moving caption, and we're not crying, you're crying. Actually, you know what, we're ALL CRYING.
https://www.instagram.com/p/BSsBAQjgcq3
Conveniently, there happened to be a giant 13 Reasons Why billboard right by the tattoo studio, so the three then headed there for a perfect group picture.
While it might just be a small tattoo, it's got a big meaning and impact. Friendly reminder that you can binge all of 13 Reasons Why right now on Netflix.