The 13 Reasons Why trailer reveals the chilling way Hannah's back for Season 2 — she's literally a ghost haunting Clay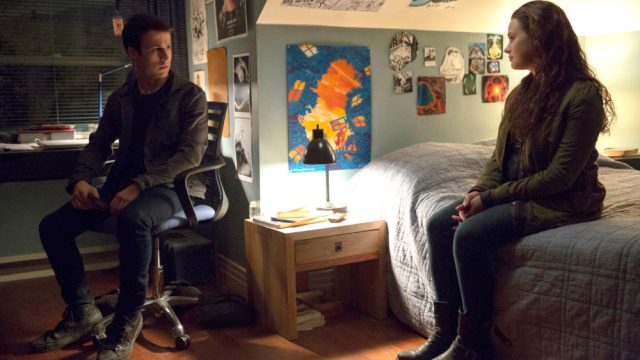 The road to justice looks like it's about to get darker and much messier in the newly released trailer for Season 2 of 13 Reasons Why. After teasing the intense new season last week, Netflix has officially released the final look at the new season and it seems in order to find answers, Clay and company are going to have to dive headfirst into some pretty dark secrets.
In the opening seconds of the trailer, the new mystery is revealed as Clay opens his locker to find a polaroid with "Hannah wasn't the only one," ominously written on the back. The season teases him teaming up with Justin Foley and a few of the other tape recipients to uncover the dark secret behind the polaroids. But as Clay attempts to find justice for Hannah, it seems he begins to unravel and we catch him ready to take matters into his own hands — and it may involve a gun.
Meanwhile, Hannah's mom, Olivia Baker will stop at nothing to see the responsible parties held accountable for Hannah's death. But as students are called to testify at the trial between the Bakers and Liberty High School, it seems someone is trying to keep them quiet.
If the tapes were only the beginning, it seems like we're in for a doozy of a second season.
https://www.youtube.com/watch?v=0XuOkYlUWIs?feature=oembed
Yep, Hannah Baker is back and it appears she's a manifestation of Clay's imagination — aka, a ghost.
The trailer also previews the relentless bullying that could potentially bring Tyler Down over the edge and teases the predatory nature of the baseball team that'll seemingly come to light this season. Sheri tells a clueless Mr. Porter, "Don't you know about what goes on at this school?"
And while Bryce may think he's invincible, the walls may be finally crumbling around him in Season 2.
Season 2 of 13 Reasons Why will begin streaming on Netflix on May 18th.