13 Reasons Why almost cut that powerful #MeToo scene in the finale, and literally WTF, why would they even consider that?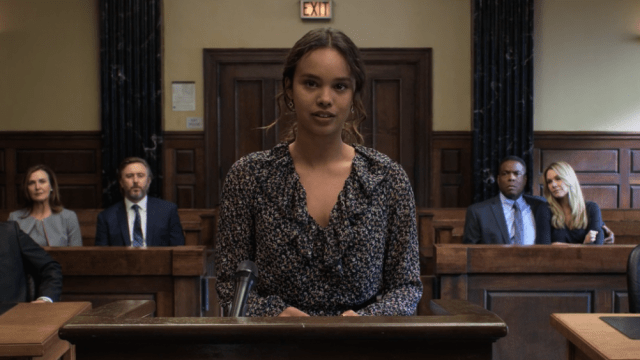 It would be a gross understatement to say that at the very least, the Season 2 finale of 13 Reasons Why was profoundly controversial. But amid yet another controversial — and needlessly graphic — season of the Netflix series, the finale featured an incredibly poignant nod to the real-life instances of sexual assault and harassment so many women face every day.
Prior to Bryce Walker (Justin Prentice) receiving a painfully realistic slap on the wrist for raping Jessica Davis (Alisha Boe), she makes a statement in court, to the judge and to Bryce, recounting the traumatic experience. The scene then shifts, and each of the other female characters on the series are suddenly on the stand, one by one recounting their own experiences being sexually assaulted or harassed.
It's a short but remarkable scene, ironically conceived before the #MeToo movement took off — but it turns out, it almost didn't make the final cut of the episode.
Showrunner Brian Yorkey recently revealed to Entertainment Weekly that he initially removed the scene from the finale out of fear that it would be received as a "parody" of the #MeToo movement. However, after the female producers and executives associated with the series pushed back, he reinserted the scene into the finale.
"We broke the whole season's story over a year ago, long before the surge in the #MeToo movement, long before all the revelations of last summer and last fall. So when we finally got to the producers' cut of [episode] 213, I actually took that sequence out because I felt like it would seem like we were parodying the #MeToo movement," Yorkey explained to EW. "What happened in real life was so much more powerful than anything we could do dramatically that I felt like I didn't want to seem to be piling on. But there was an outcry from our executive producers and our executives, many of whom are women. They were right, and I'm really glad it's in there because it's such a cool moment."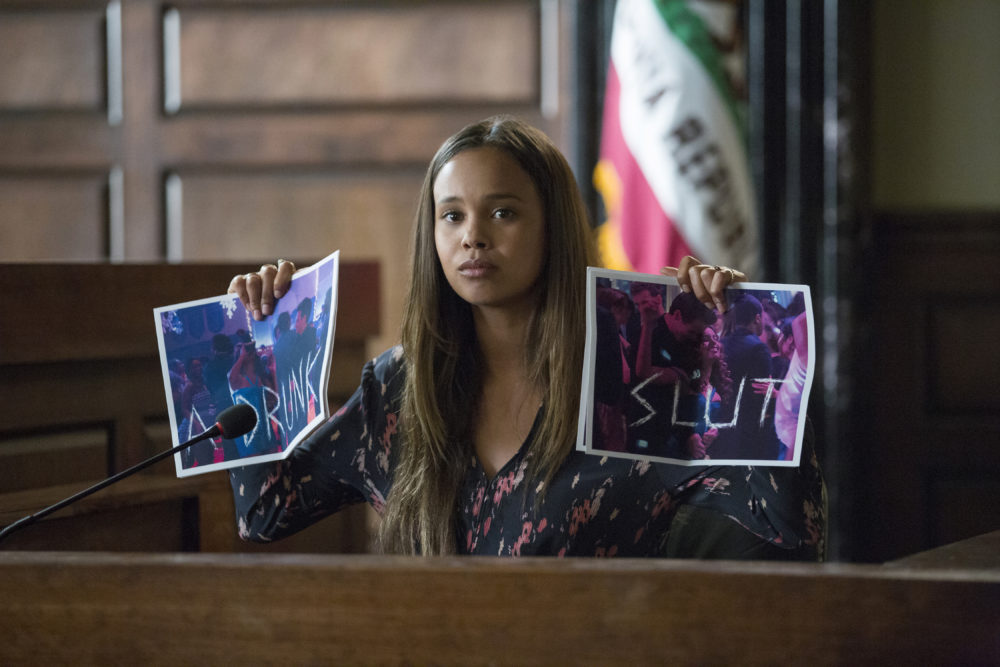 Yorkey added that the scene initially saw Jessica stumble during her testimony and look over to her mom and Mrs. Baker for support before the writers had the idea to "break reality" and include the instances of sexual assault and harassment other female characters on the show may have faced.
He said, "In some way, they're the ones who give Jessica the strength to go on. It's not that she literally imagines each of those women testifying, but that on some emotional level she understood that she was speaking for many women who hadn't had a chance or hadn't been able to speak for themselves."
We're glad the women in the room — who likely would have told him if the scene was a bad idea — pushed back against Yorkey's cut. The scene is especially moving and sad because no two stories told during the scene are alike and are emblematic of the wide-ranging experiences of sexual harassment and assault too many women face every day.
Yorkey is hopeful that the scene will encourage young women to speak to an adult woman in their own lives about sexual assault and harassment. He said, "Whether they've experienced something like this or not, it's a reminder that even the adult women in your life probably have had some sort of experience, and they will probably understand if you want to talk to them about what you've been through. You may think that they're strong and this has never happened to them, but it very likely has."
Season 2 of 13 Reasons Why is currently streaming on Netflix.