The "13 Reasons Why" showrunner has one *very* specific request for Bryce in Season 2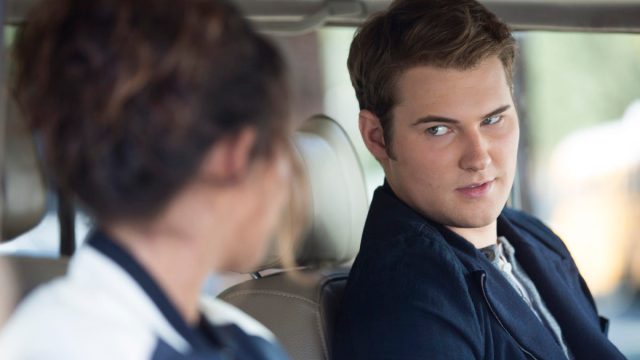 On the count of three, go ahead and yell out your *least* favorite 13 Reasons Why character. Okay…1, 2, 3, BRYCE.
Season 2 of Netflix's 13 Reasons Why is coming, and we are pumped. The events of Season 2 will pick up a few months after the ending of Season 1, and it'll tie up loose ends, bring closure to a lot of storylines, and also address the Bryce in the room. If we're going to call someone the "villain" of the story, it's Bryce. He is a jerk. He is a rapist. He deserves to be brought to justice, and Season 2 is going to try and make that happen.
And if he has it his way, the showrunner of 13 Reasons Why has one very specific request for him: He needs to be punched in the face.
?
Talking to Entertainment Weekly about Season 2, showrunner Brian Yorkey wants to tackle Bryce's actions, and the fallout. While Hannah might not be around anymore, Clay got Bryce to confess to her rape, and Jessica is still coping with what happened to her.
"When people intimate that Jessica's story is done, I find that a horrific thought because Jessica is just beginning the process of recovering from her rape, and we have a rapist who has not in any way been brought to justice," Yorkey explained. "To leave those two things hanging out there in the world would be upsetting."
"I want to see how that at least starts to play out, and I want to do Jessica's story the deserved justice of following her as she goes back to school, as she tries to begin to recover from what happened to her, because it's something that millions of young women go through," Yorkey continued. "And also [I want to] see somebody punch Bryce in the face."
??
Clay tried, and horribly failed, to face Bryce. But now that Tape #14 is out there in the world, and Mr. Porter has it. Is he going to do the right thing and get the ball rolling when it comes to taking action against Bryce? Can Jessica ever catch a break? Even though there's no way to bring Hannah back, can that chapter of her story receive some sort of peace and closure?
Well, if there's anyone who can make Bryce get punched in the face, it's Yorkey. He's in charge of Bryce's character, you know. So, cross your fingers.
Save