"13 Reasons Why" star Katherine Langford opened up about what it was like filming the show's darkest moments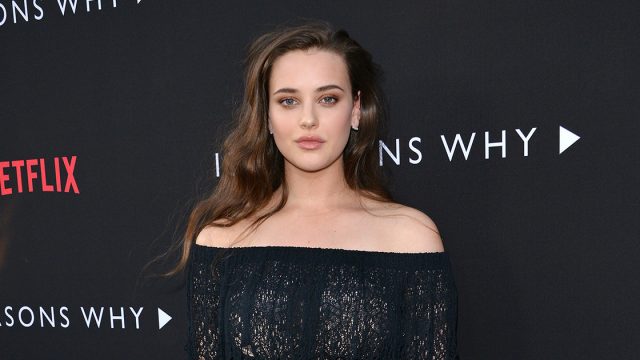 It's quickly become our brand new TV obsession, and now 13 Reasons Why star Katherine Langford (aka Hannah) has spoken about what it was like filming some of the show's tougher moments, and it sounds pretty emotional.
In case you weren't aware, 13 Reasons Why is the new Netflix show that is being executive produced by Selena Gomez an her mom, and is an adaptation of the novel of the same name. The show is an emotional one that deals with the lead up and aftermath of the suicide of Hannah Baker, and it's a show that has left us completely heartbroken.
Now Katherine Langford has opened up about what it was like to film some of the show's tougher scenes.
Be warned, the below contains spoilers for the first season of 13 Reasons Why.
As Entertainment Weekly originally reported, we see the character of Hannah Baker slowly begin to unravel until things reach a climax in the show's final two episodes.
Most notably are episodes 12 and 13 in which Hannah is raped and then kills herself, which Langford said presented her with her biggest difficulties.
"The further you go along, the more involved you become with Hannah and the closer I felt to her. And also the acts that happen are increasingly harsh," she explained. "Episodes 12 and 13 made me a little bit nervous because as a young adult playing a young adult, these issues are so relevant."
Continuing, Langford noted that she wanted the depictions on screen to feel as real as possible, and said that she wanted to avoid romanticizing them or for them to feel like a plot device, which is what often is the case when handling such issues on TV shows.
In fact, Langford even met with a psychiatrist and Rebecca Kaplan from It's On Us to talk about how best to approach the scenes.
"There was a lot of discussion that went into that about how we were going to shoot it," she said, talking about Episode 12. "When we did it, I felt super supported and absolutely comfortable on set, but it was very strange because that act makes me sick to my stomach. It's so sickening and it's uncomfortable and it's ugly, but that's also why we needed to show it."
https://www.instagram.com/p/BQ9BMZMjTyr
Finally, the rising actor, who hails from Australia, spoke about filming Hannah's inevitable suicide scenes were the toughest and stuck with her the longest.
"Playing [Hannah] for six months, you develop a memory and a history for what she's gone through and by that point, I felt very close to her and I felt like she was a person," she said. "The story is so personal that when it came to that scene, not so much the acting side of it, but more the having to let her go was really difficult.
You can catch 13 Reasons Why streaming on Netflix now.