13 Foolproof Things to Bring to Thanksgiving When You Have No Clue What Everyone Is Making
These dishes are unique, delicious, and easy crowdpleasers to bring to Thanksgiving dinner.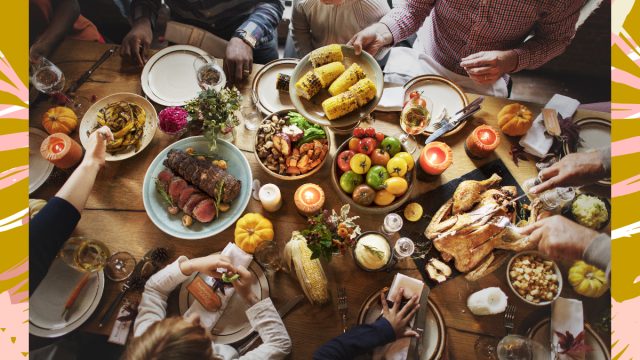 Even if you're not hosting Thanksgiving dinner this year, simply attending a gathering at someone else's place comes with its own stresses. You worry about whether or not your outfit is too dressy, if you'll make it there on time (hello, traffic), and if your S.O. will get along with your weird cousins.
Perhaps the biggest concern, though, is what food you're supposed to bring. After all, you don't want to be the only guest whose dish is completely untouched at the end of Thanksgiving.
A safe rule to follow when you're blindly deciding what to bring to Thanksgiving is to steer clear of the classic main dishes. Things like turkey, stuffing, cranberry sauce, and pumpkin pie are going to be covered already, either by the host or other guests who have been assigned those staples. Instead of trying to go down that road, brainstorm which Thanksgiving side dishes and desserts are a bit more off the beaten path and yet will go with all the other flavors being served up.
You can also think about bringing a dish that's got a unique twist — odds are, it won't rep with anything else people are walking in with. No matter what your cooking level is or how much time you've got on your hands, there's something in the list below that's right for you.
Here are 13 foolproof things to bring to Thanksgiving when you have no clue what everyone else is bringing.
1. Creamed Spinach Gratin With Chive Drop Biscuits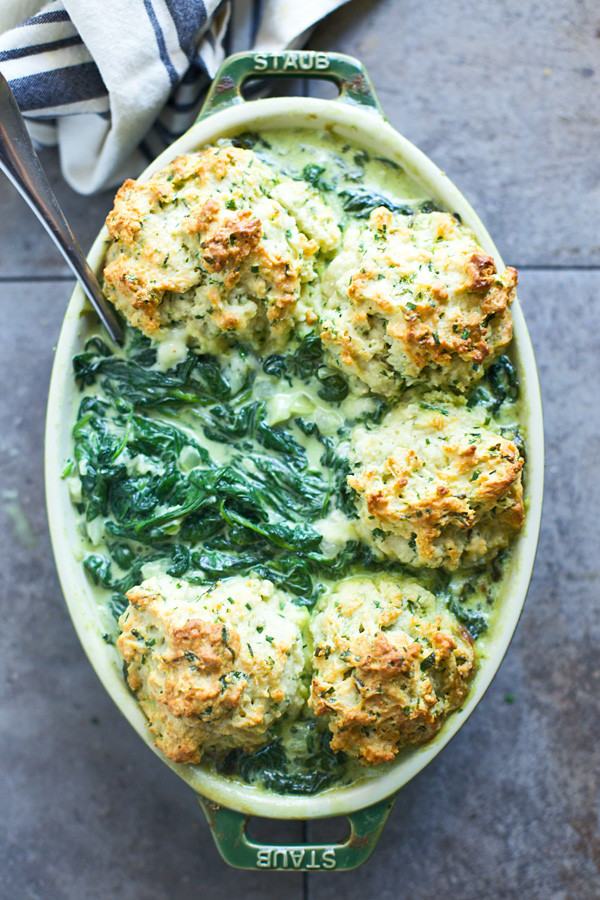 We guarantee none of your friends are going to show up with Cooking For Keeps' creamed spinach side dish at Thanksgiving dinner. Cream, spinach, cheese, chives, and biscuits?
Yeah, that pretty much hits every comfort food group. Besides, it all comes together in one casserole dish, so it's easy to cart from one place to the next.
2. Pumpkin Chocolate Chip Cookies
Nobody hates chocolate chip cookies. And nobody hates pumpkin on Thanksgiving day. Put the two together and you've got a sweet recipe for success.
These unique cookies from Foodie Crush are said to be pillowy and cakey, and you could potentially make 60 of them in a single batch. Sorry, but we doubt you'll go home with any leftovers.
3. Gluten Free Cornbread Muffins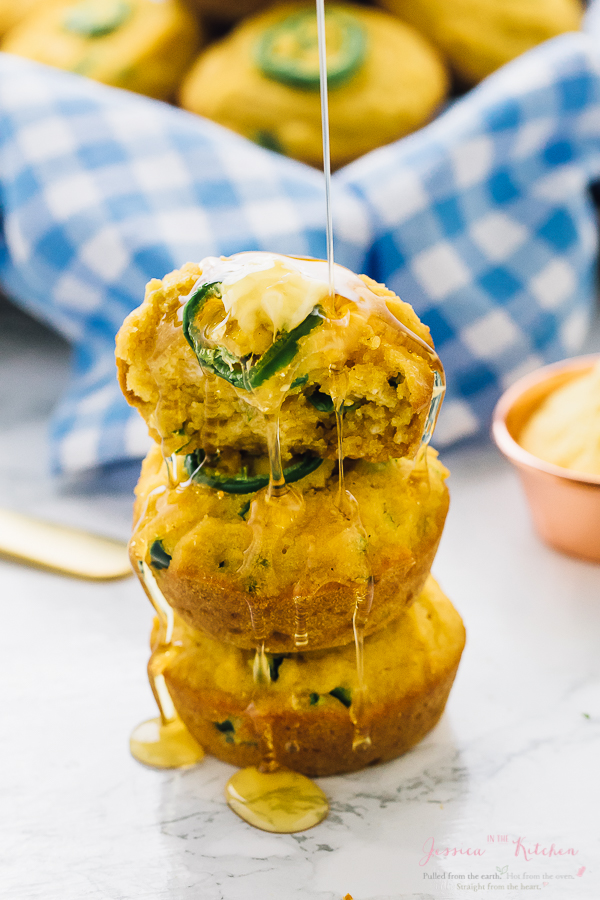 There's bound to be someone at Thanksgiving who is gluten-intolerant and/or vegan. These lovely cornbread muffins from Jessica In the Kitchen will bring a smile to anyone's face, no matter their dietary restrictions.
They're also a really healthy option to bring, made with a lot less sugar and almond milk instead of heavy dairy.
4. Roasted Cauliflower Soup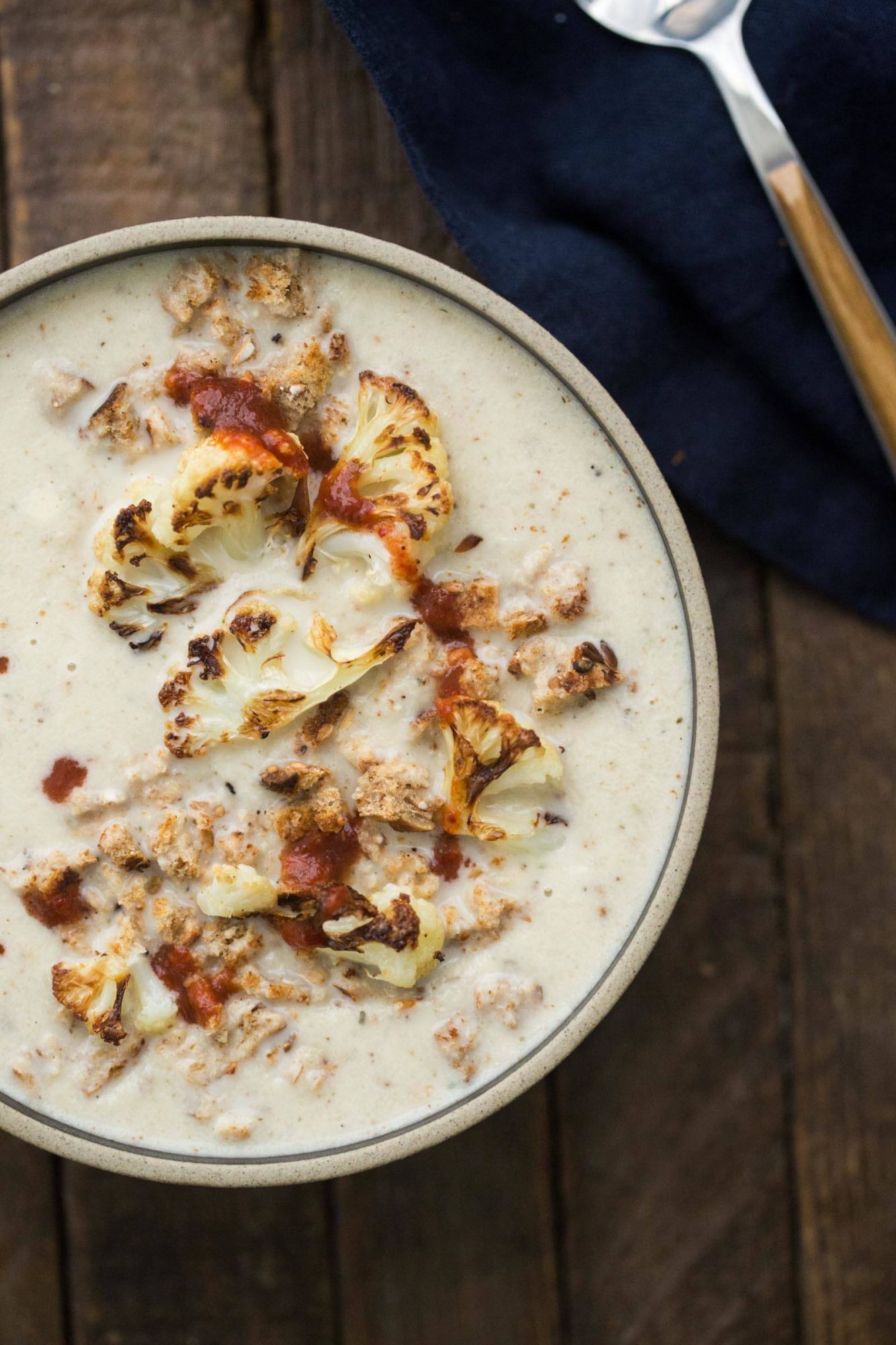 Sometimes, when you have no idea what to bring, it's best to stick to simple dishes that will go well with any Thanksgiving menu. That's where this cauliflower soup comes into play.
It's an easy one-pot recipe from Naturally Ella, but it only makes two servings, so make sure you adjust the ingredients to suit your needs. If you want to keep it vegan, just omit the heavy cream.
5. Arugula, Dried Cherry, and Wild Rice Salad With A Zippy Lemon Dressing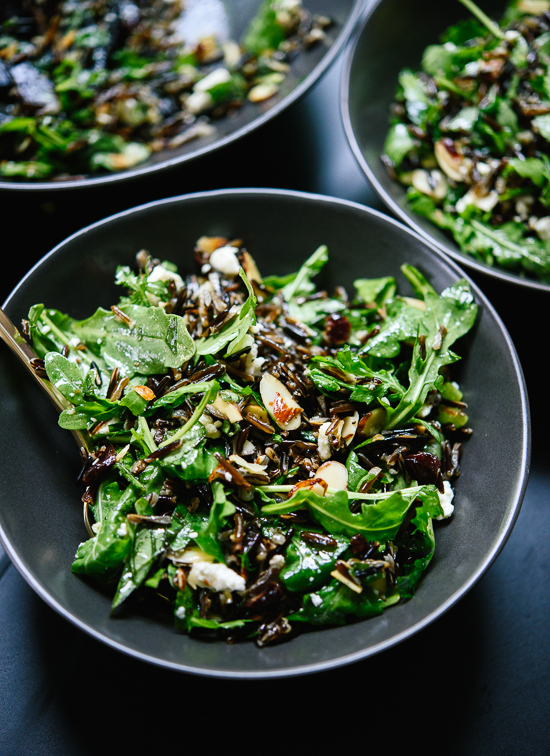 A crisp, healthy salad is a smart thing to bring, since almost everything else on the table will probably be on the heavier side. You might be pleasantly surprised to see how glad people are to have some fresh greens appear on their plate.
Cookie and Kate is responsible for this bright, multi-colored salad, and she recommends you don't hold back on the salt. It'll bring out all the flavors.
6. Pumpkin Bread Stuffed With Chai Cheesecake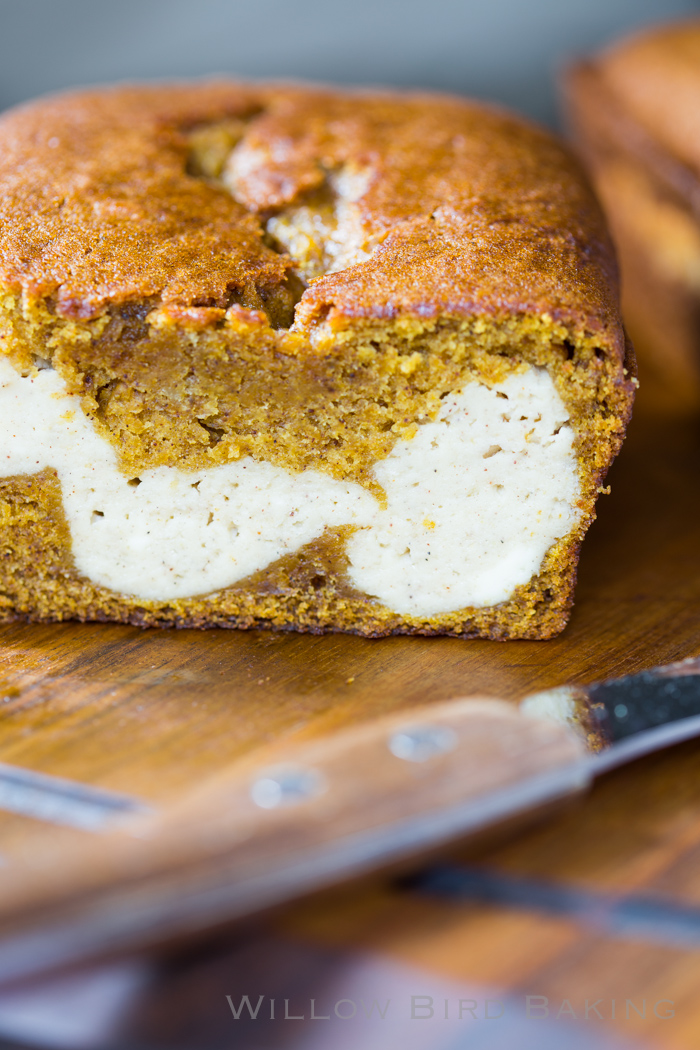 We didn't even know this combination was possible, but man, are we glad it is! Whoever you're celebrating Thanksgiving with will be thrilled when you show up with this moist, creamy pumpkin bread from Willowbird Baking.
The chai spiced cream cheese filling adds a special layer of flavor that most likely won't show up at the dessert table, so it'll definitely stand out.
7. Cranberry Brie Bites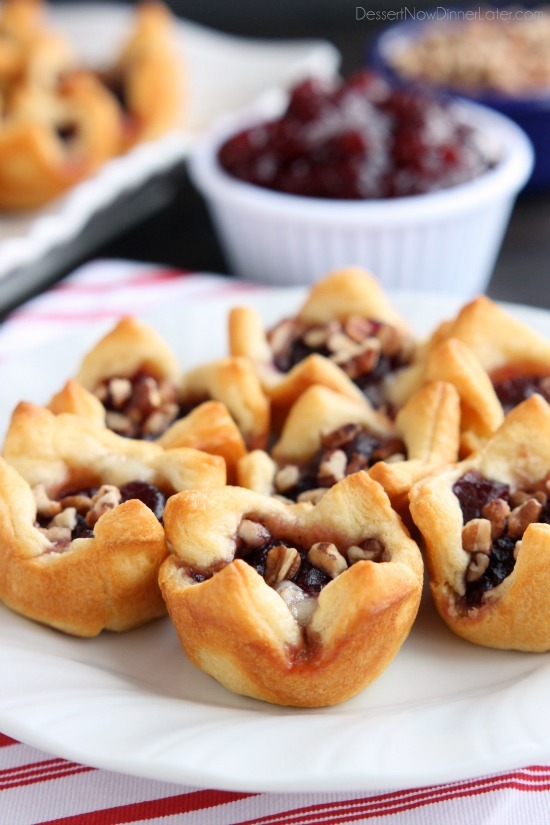 Cranberry is the unsung hero of Thanksgiving meals across the country. It's not normally the star of the show, but you can't really have Thanksgiving without it; the main dishes would be utterly boring if there weren't some kind of cranberry on the side to pick them up.
You might as well tap into everyone's love for this fall-appropriate flavor and bring an appetizer like these cranberry brie bites from Dessert Now Dinner Later. All it takes is four simple ingredients to whip up these bite-sized crowdpleasers.
8. Sweet Tea Sparkling Apple Cider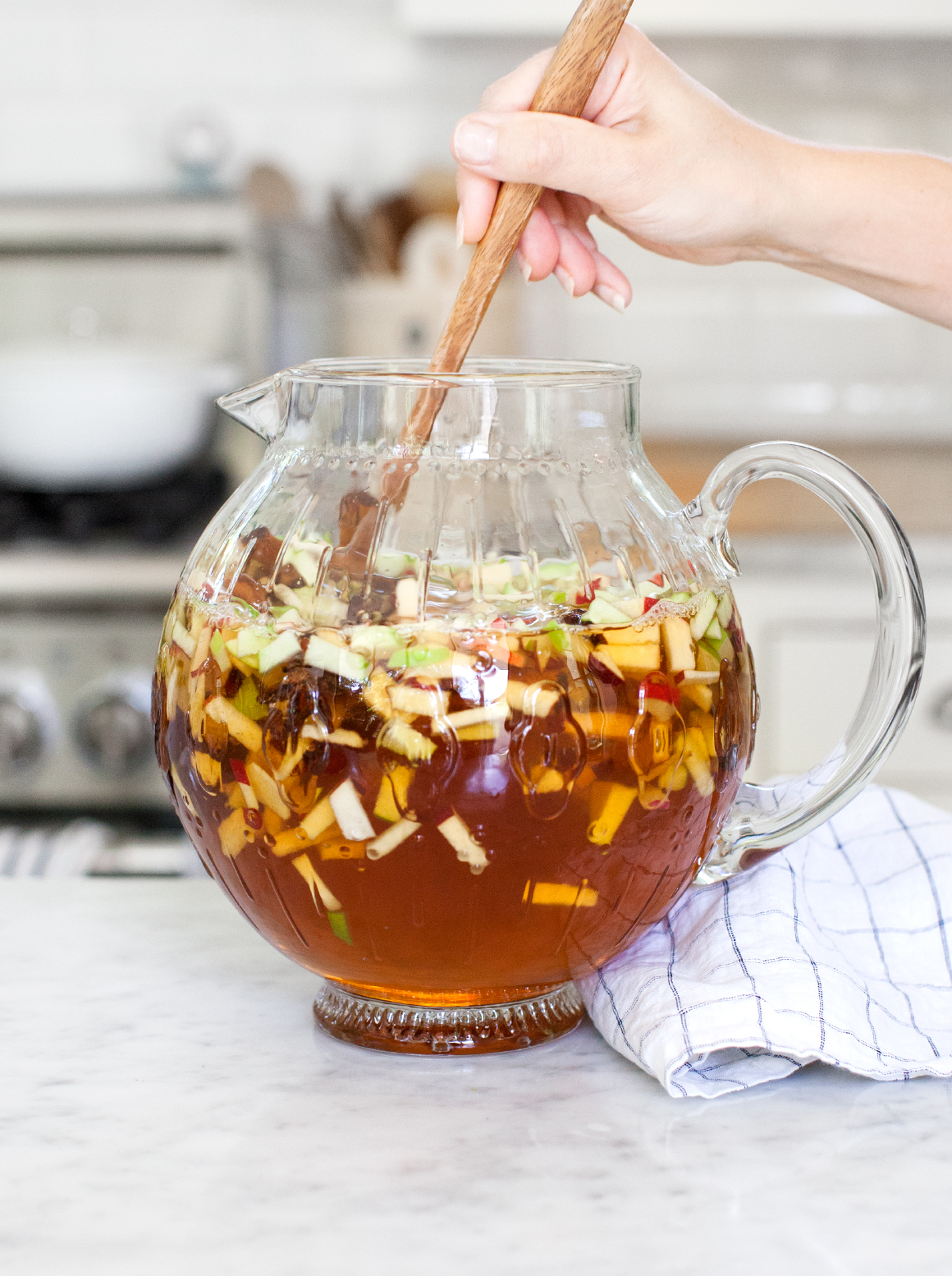 It's probably never occurred to you to bring a sweet tea to Thanksgiving. Well, allow Love and Lemons to convince you that there's no better gift to show up with than this sparkling apple cider. It's made with the quintessential fall flavors — apple and cinnamon — and then topped off with sparkling wine (just make sure you grab a dry variation rather than a fruity one).
This light, tantalizing bevvie will go wonderfully with whatever food is on the menu, and people won't be able to stop commenting on how festive it looks.
9. Garlic Parmesan Top Knots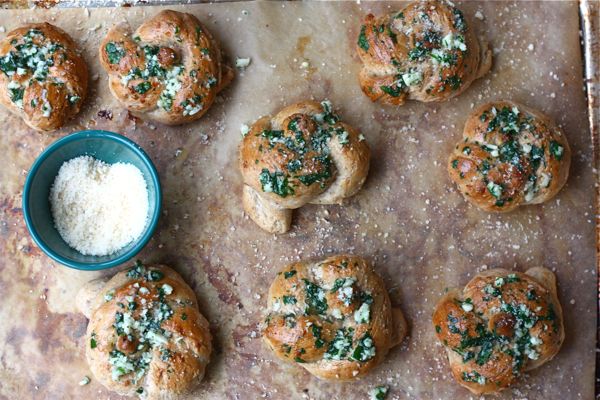 Bread is a safe, all-around-loved food that will either be gobbled up as an appetizer or as a side dish with the main meal. A Cozy Kitchen shows you the visual step-by-step process to make the kind of homemade garlic knots that will knock people's socks off — totally from scratch. With garlic, parmesan, and parsley on top, you just can't go wrong.
10. Pumpkin Spice Marshmallow Dip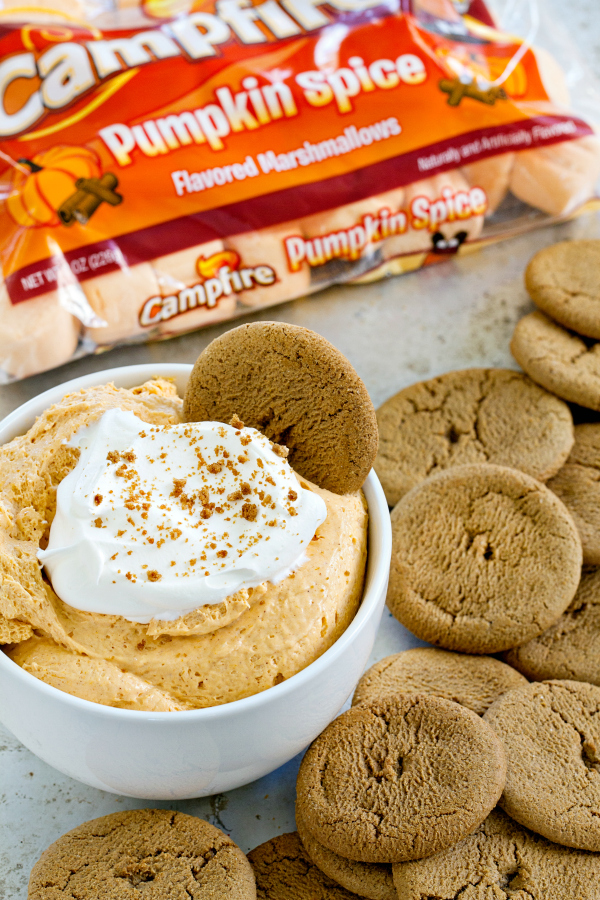 Adults and kids alike will go crazy for this sweet pumpkin dip from My Baking Addiction. It's got the traditional foundation of pumpkin going on, but the fact that it's made with marshmallows just brings a whole new whimsy to the dish.
It takes six simple ingredients to make, but don't forget to bring the cookies on the side so folks have something to dip with!
11. Turkey Cake Pops
Bakerella has combined caramel candy corn, espresso beans, and pretzels to make an adorable Thanksgiving treat that will bring a smile to even the grumpiest uncle's face.
Even if these turkey cake pops don't get eaten the night of Thanksgiving, they'll surely be a lovely decoration in your host's home, and we're pretty sure they'll be gobbled up the next day anyway.
12. Pistachio Crusted Vegan Cheese Ball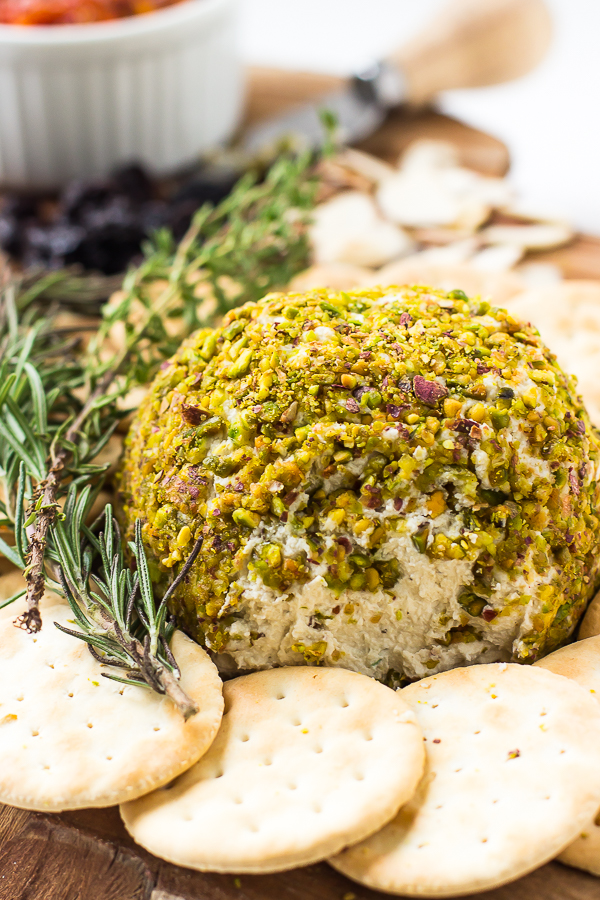 Here's a Thanksgiving appetizer for the win, no matter if you're vegan or a carnivore. Jessica In the Kitchen sure does know how to make vegan cheese taste (and look) incredible, so you can trust her to help you create a dish that'll be eaten up in minutes.
Made with cashews and covered in pistachios, it's a creamy yet crunchy dish that will be the prettiest centerpiece on the table.
13. Lemon Poppyseed Bread With Cranberries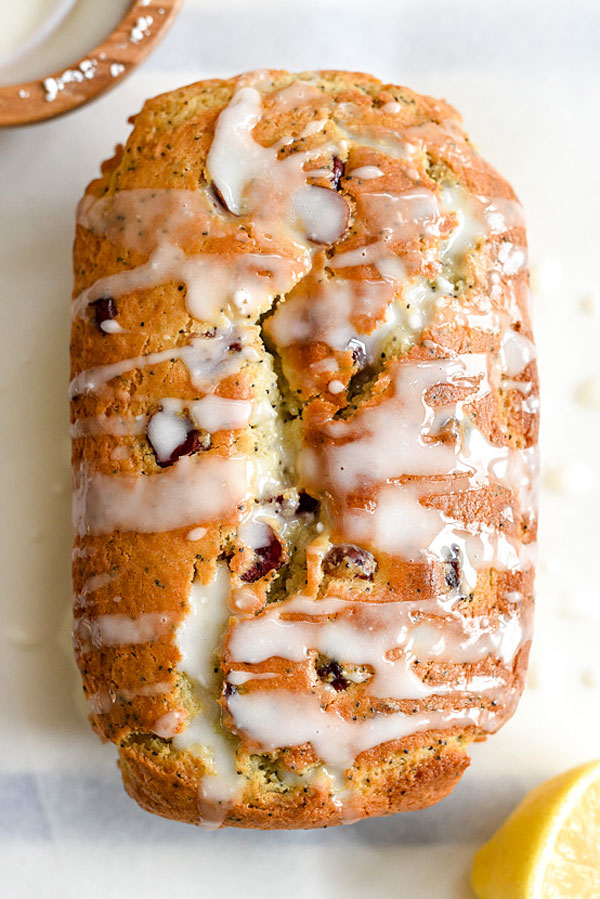 Here's another chance to let the cranberries shine. This easy loaf of bread may seem basic, but the cranberries, lemon flavor, and sinful drizzle on top make it a real hit, especially when paired with post-Thanksgiving-meal tea.
Foodie Crush says the Greek yogurt is the secret weapon, lending the bread an irresistibly moist texture.
And there you have it! Thirteen pretty genius dishes to bring to Thanksgiving that will have the host saying, "Really, truly, thank you!"
Editor's Note: The original version of this story was published on November 22, 2016. We've updated the content with even more delectable Thanksgiving goodness.