13 beauty brands owned by Latinas that are dominating the cosmetic industry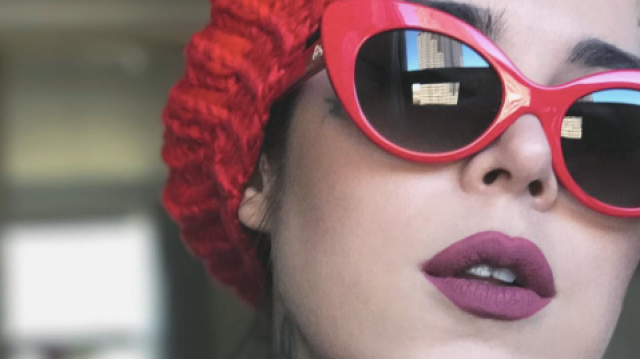 There's a pretty good chance that if you're Latina, the women in your life taught you their best beauty tips and tricks. Whether it was applying Vicks on your lips for extra gloss, or using plants like Aloe and Agave for your skincare needs, the chicas in your life showed you a thing or two about cosmetics!
It's no wonder that Latinas are leading the beauty industry with their innovative products, bold and eccentric makeup brands, and skincare items that are loved by celebs!
Here are 13 Latina beauty brands that we can't get enough of! You'll probably want to add a few of these products to your cart by the time you scroll to the bottom!
https://www.instagram.com/p/BOIc7qeBGJj
This vintage beauty-inspired brand was created by Gabriela Hernandez, who is an artist, cosmetic historian, and all around boss babe! Next time you're feeling like Zsa Zsa Gabor, or simply just want to add something glamorous to your vanity, pick up one of their gorgeous lipsticks or popular cake mascara!
Founder Regina Merson's cosmetic brand shows extreme passion and pride for the Latinx culture. With vivid, bright designs that are mixed with a little bit of edge, Reina Rebelde is truly the essence of what it means to be a strong, sassy, and bonita Latina.
We'll use whatever Eva Mendes is using because she is one radiant Latina! Her beauty brand is affordable, too! Circa Beauty exudes Hollywood glamour, but for a fraction of the cost. Might as well pick up the Ultrasuede Cream Blush($13), which was named Allure's best of beauty, the next time you're at Walgreens!
https://www.instagram.com/p/BNe4YIKBayD
Kat Von D is a triple threat! Not only is she an incredible artist, but she's killing it in the makeup industry, and we're anxiously awaiting to shop her shoe line. From her coveted Lolita lipstick ($21) to her wildly popular Shade and Light contour palette ($49), there's nothing this Latina can't do.
Tata Harper's toxin-free skincare is beloved among celebs, including Gwenyth Paltrow! The brand's super popular Honey Blossom Mask ($65) is great for those stressful days since it includes natural ingredients! According to Byrdie, Tata, who is a Columbian native, also has a background in engineering. Talk about girl boss!
Rae Ann Silva created one of the most important beauty tools known to the makeup industry! She seriously revolutionized the way we apply our foundation and contour our face. Her little pink sponge was just a simple idea in order for her to make extra income, she told Racked. But now it has become a makeup staple!
Co-founder Lora Arellano is such a boss babe! Not only was she doing Rihanna's makeup while the singer was on tour, but she started Melt Cosmetics with Dana Bomer! The cosmetics brand has such a cult following that products constantly sell out! Their makeup is eccentric, bold, and fun!
This isn't your basic beauty brand, but then again neither is Salma Hayek. Her cosmetic line Nuance is sold exclusively through CVS (hello, savings) and most of the products have natural ingredients in them that helps to nourish your skin. The best part about Nuance? It's super affordable and the Long Lasting Eyeliner pencil ($9.99) just won People's beauty award!
Texas native and co-founder Katia Beauchamp created Birchbox, one of the most popular makeup subscription boxes on the market! You can receive up to four or five samples of the best products, for $10 a month, and best of all? Your box is tailored to you, your skin, hair, and beauty interests.
Simone Oliveira Xavier is behind the iconic brand that has truly transformed the way we clean our makeup tools! From the Spa Express Cleaning Glove ($25) to the genius Dry'n Shape Tower ($49), this beauty brand keeps creating innovative products. We're just patiently waiting for their makeup sponges to launch and for their holographic lip glosses to come back!
https://www.instagram.com/p/BNUto3vA7Yd
This is beauty vlogger Kathleen Lights's first cosmetic line and we couldn't be more proud of her accomplishments! After successful collaborations with ColourPop, MakeupGeek, and Morphe Brushes, this Latina is venturing out. You can snag one of her polishes for under $10 and trust, they are super chic!
Leave it to TV host Liliana Vasquez to create one of the most luxurious falsies! If you're Latina, you know how important it is to have drama in your eyes (and lives — wink)! Her lashes that are 100 percent silk, cruelty-free, and most importantly, reusable! Take those falsies out on the town the next time you have a girls night out! For $25, these babies are waiting for you to add them to your cart!
Joanna Vargas is a skincare guru and she is beloved by many celebs! Her passion for science and plant-based ingredients is what sets her apart from other skincare brands! Plus, she has one of the best deep moisturizing cleansing soap ($22) that leaves your skin looking and feeling flawless!
What are your favorite Latina beauty brands? We definitely can't name one!