12 New Year's Eve ideas for you and your besties if watching the ball drop is so 2016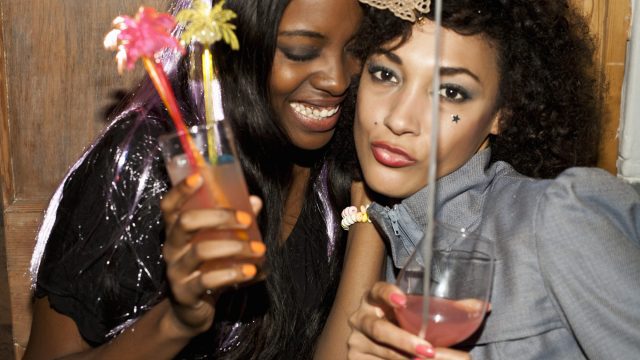 New Year's Eve is the last hurrah of the holiday season. Whether you want to hang at home and recoup from the holidays or hit the town to end the season on a high note, either option is best celebrated with your best friends. We've thought up some fun and unique ways to celebrate New Year's Eve with your BFFs that will cap off your holiday season with a bang!
New Year's Eve is a great excuse to party with your friends. You're usually coming off of a full family-filled week and in need of some of socialization with people who aren't Dad and Grandma Mary. Plan your New Year's before the holiday rush sets in so your stress levels don't spike again while you scramble to pull something together on the morning of the 31st.
Depending on what you all get up to, make sure you have a designated driver or are taking public transportation. Planning out how everyone is getting to the location is vital on the craziest night of the year.
Send word to all your besties that you're hanging out and ringing in the New Year together. Pop the champagne and let's get into this list.
1Throw a formal dress-up party.
Even if you're just planning on gossiping, drinking wine, and eating cheese, dressing up in formal attire can make the evening that much more enjoyable — and the gossip that much more dramatic.
Better yet, cohost a formal-themed party with your friends and ask guests to arrive in cocktail dresses and suits, or tell them to take their old prom dress out of the closet. You can decorate your place with cool-toned party lights, a shimmery photo backdrop, and play some classy Frank Sinatra tunes.
But you can buy the cheap wine. We won't tell!
2Plan a classic game night.
When you're planning on spending more than a few hours with your BFFs, having a games on tap is a great way to pass time until midnight. Boardgames like Monopoly and Settlers of Catan can keep you occupied for hours. Or get physical with Twister.
You could even take things outside and plan a city-wide scavenger hunt if the weather permits. Your teams can all meet up at your local late-night hangout to watch the ball drop.
3Hold a mixologist contest.
Think Iron Chef but with a lot more booze. Tell your friends to bring their A-game and a drink recipe that they think will reign supreme. Throw a New Year's Eve-related theme or a special ingredient into the mix to make the challenge more, well, challenging!
Have your friends bring their own ingredients to make the game fair and create a rating system depending on how many people are competing (1 to 5, etc.). Then assign each number in your rating system a point value with 1 being the highest amount of points and the highest number the least. Rank the drinks according to your rating system, tally up the points, and see who wins!
4Host a real-life Chopped.
Similar to the mixologist contest, hosting a real-life New Year's Eve-themed Chopped in your kitchen would be so much fun. Your mystery ingredients could include quintessential NYE party samplings like champagne, crackers and cheese, bacon-wrapped anything, and shrimp cocktail.
To make things easier, you could assign your friends with their ingredients beforehand and let them bring their final product to your party. Then other friends can judge, or you can use a similar rating system to the mixologist contest.
5Play a resolution guessing game.
Tell each of your BFFs to write a certain number of New Year's resolutions down on little pieces of paper. Fold each resolution up and put them all in a hat, making sure they are all anonymous.
Pass the hat around and have each friend pick a resolution from the hat and read it aloud. Each friend votes as to who he or she thinks the resolution belongs to. If their guess is right, they get a point. Whoever ends up with the most points based on correct resolution to friend matching wins!
6Toast to your proudest accomplishment of the year.
This is the perfect touch to a New Year's Eve dinner party. Once you have your closest friends around your dining table ask your friends to share their proudest accomplishment from the past year.
After each person announces their accomplishment and explains why that makes them proud, raise your glasses and toast to them. Friends who support each other are the best kind, and this small but profound activity will make everyone feel spectacular about themselves and each other.
7Slumber party like it's 2002.
When we were kids our parents let us have some bomb slumber parties with our besties on New Year's Eve. It was one of the rare occasions we could stay up after midnight and not be scolded. Bring back those nostalgic memories with a living room slumber party this New Year's Eve.
Tell friends to bring their best onesie pajamas, fave stuffed animals, and stock up on the popcorn and soda. The best part is — you're actually adults so mom and dad can't tell you to go to sleep when 12:30 AM rolls around!
8Check out your nearest firework display.
Finally, if you're itching to get out of the house and experience New Year's Eve to the fullest, head outside to your nearest fireworks display. Call up that friend with rooftop access and get comfy.
If there's nothing big happening near your area, plan ahead and book an airbnb for the night in a town or city with a display. That way not only are you getting the most of your New Year's celebration, but you get to get out of dodge for an overnight too.
9Host a murder mystery party.
This may seem like a more Halloween appropriate activity. But hosting a New Year's Eve-themed murder mystery party could be a creative and fun way to pass the hours before midnight. A few websites offer murder mystery kits that you can buy like "As The Ball Drops on Times Square," from MysteryParty.com.
You and your friends can assume different characters and dress up accordingly, which will only add laughs and hilarity to the occasion.
10Take a girls trip.
Pack up the car and take a weekend trip in order to catch up and spend quality time with one another. If you and your gal pals are the Vegas types, head to the strip. Or you can bunker down in a cute cottage and drink wine while watching movies all weekend.
You can also take yourselves on a spa retreat and calm yourselves after a chaotic year. You could always set up the spa at home, but it's always nice to get out of dodge and treat yourselves.
11Sign up for a local bar crawl.
Don all your sequins and head out to your favorite pubs and bars. Many cities offer pub crawls where you and your pals can get discounted drinks and appetizers at each location. A good way to map out your bar crawl is to figure out where you want to watch the ball drop and end the night. Then work your way there!
12Get glammed up and go out on the town.
This is the one night in the year that you can wear your flashiest outfit, the heels, the done up hair — and all that glittery makeup — and get away with it. Invite your friends over for a "getting-ready party" with the intent to go out and cause a scene with your good looks.
You can start early and make dinner, do face masks, and then spend extra time on makeup and hair. Sip champagne like the classy ladies you are and then hit the town. It's simple, yet super fun.
Remember that best friends always look out for each other, so stay safe come New Year's Eve! Whatever you get up to, have fun and appreciate the ones your with.