12 incredible geode cookies that prove this is the prettiest baking trend imaginable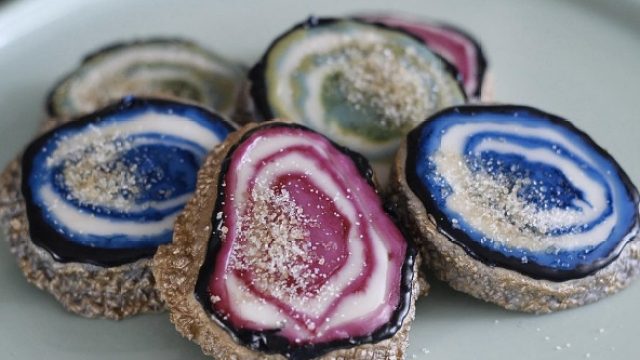 "Wait, WTF is a geode cookie?" is a question you may be asking yourself. OK fine, I'm the one who's asking, but forgive me for not taking the time to closely study cookies. The last time I baked something was half-past never plus I'm way more interested in eating cookies, thankyouverymuch.
As it turns out, geode cookies are part of a dessert baking trend that incorporates ingredients like sanding sugar, edible glitter and rock candy to recreate the pattern of a geode rock's crystal-lined insides. The beautiful end result looks something like what a Disney princess would probably have for dessert.
So now that I know precisely what a geode cookie is, it's time to stare and drool and pretty pictures of them.
*drools*
These kind of resemble potato chips, but I'd probably eat 'em anyway:
Turquoise yumminess:
Name your cookie:
Never thought I'd say this about cookie, but these rainbow geodes may be too pretty to eat:
https://www.instagram.com/p/3XCRrTE2tL
Delish:
https://www.instagram.com/p/BGNp83mOD42
Bring on the birthday bellyache because these look too good to share:
WANT:
Swirly and sumptuous:
https://www.instagram.com/p/BFNWSshPgNc
I might actually arm wrestle a kid over one of these:
These are beautiful and amazingly accurate:
https://www.instagram.com/p/6Z9rwXq7nK
#NOMNOMNOM
When art and cookies collide:
Happy baking!