12 gifts for your favorite unicorn addict (PS, it's fine if that's you)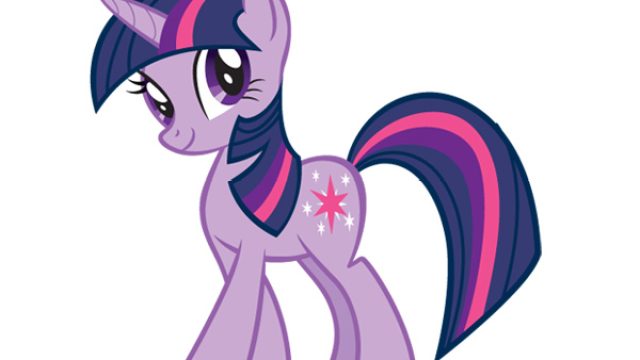 Calling all unicorn lovers, we've got your perfect gift. We've found 12 gifts for your favorite unicorn addict, aka yourself, and they are all fabulous.
With Christmas just around the corner, it's time to really finalize all the presents for your favorite people. Sure, it's more likely that these presents are actually for you, but no judgement here, we all love these creatures.
In our opinion, anyone and everyone who loves unicorns is deserving of a gift with that horse-like creature on it — especially if it's freaking adorable.
1. Unicorn Sunnies
Everyone needs sunglasses on a sunny day, so why not make them unicorn queen shades? These Nylon shop glasses are like a trip to another, fantastic world and we just love them. They're available for $48.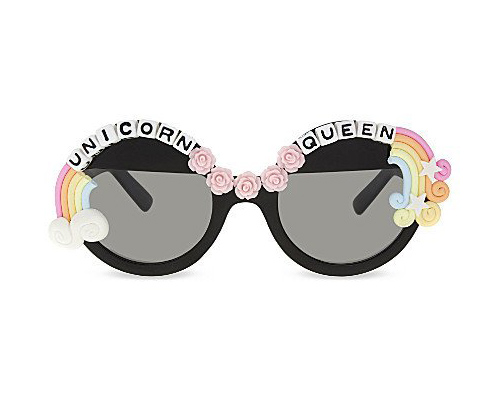 2. Wino Horned Horse
Wine lovers and unicorn fans unite! This is the ideal gift for anyone who believes in mythical creatures and enjoys a nice glass of wine to unwind. It's by ATL and available at Amazon now for only $26.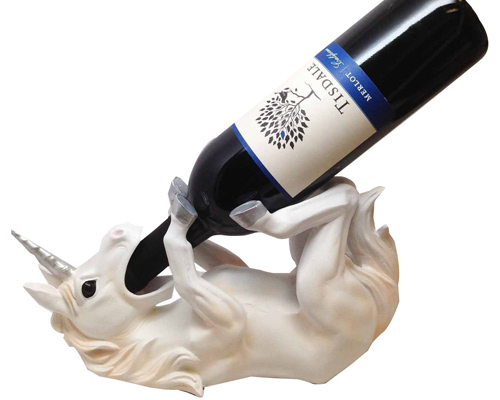 3. You Wish Robe
Dare to dream in this sassy, embroidered robe by Out From Under. This beautiful robe is great for a day of lounging around the house or pampering yourself. It's priced at $79 and can be bought at Urban Outfitters.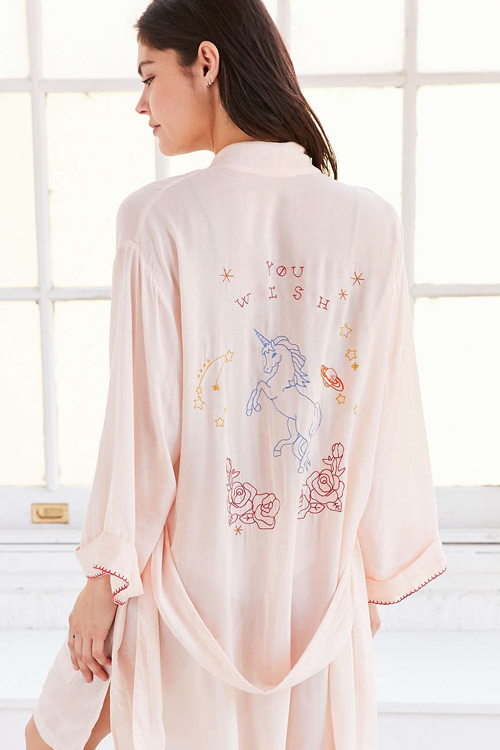 4. Glitter Socks
We've decided these glitter socks are the perfect stocking stuffer for kids and adults alike. They come in three different colors on Topshop and only cost $6. It's pretty much a no-brainer.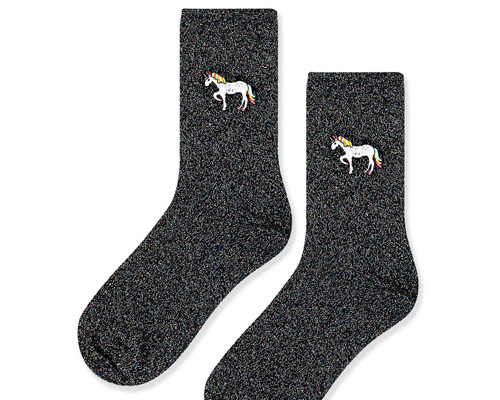 5. Silver Stud Earrings
You can pick up these darling earrings on Etsy for only $12. They are adorable, fun and a great price for the jewelry lover in your life.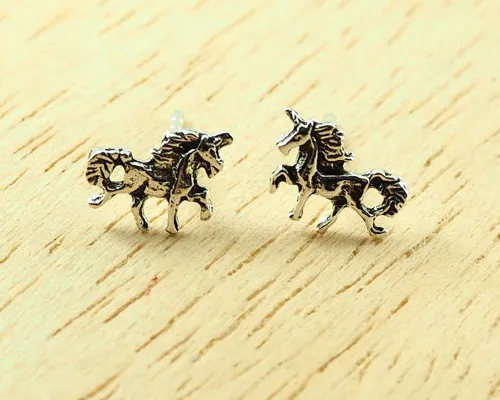 6. Gold Horn Ring Holder
All you jewelry addicts out there, this one's for you. You can now put your rings on display with this Balvi ring holder on Amazon for $12. It is not only functional, but it's so freaking cute.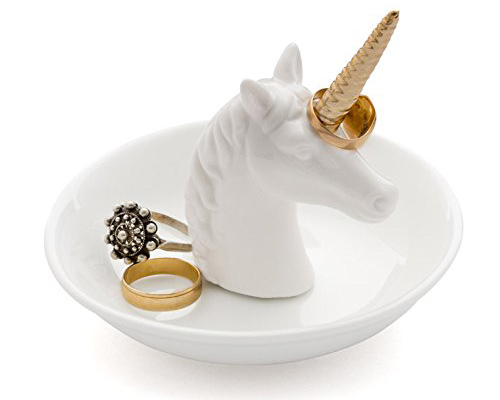 7. Surfing Unicorn Tee
Wildfox just really gets us, you know? Their "Who said unicorns can't surf" oversized tee is SO amazing. We want to wear it all day, every day. You can get yours on Wildfox's website for $62.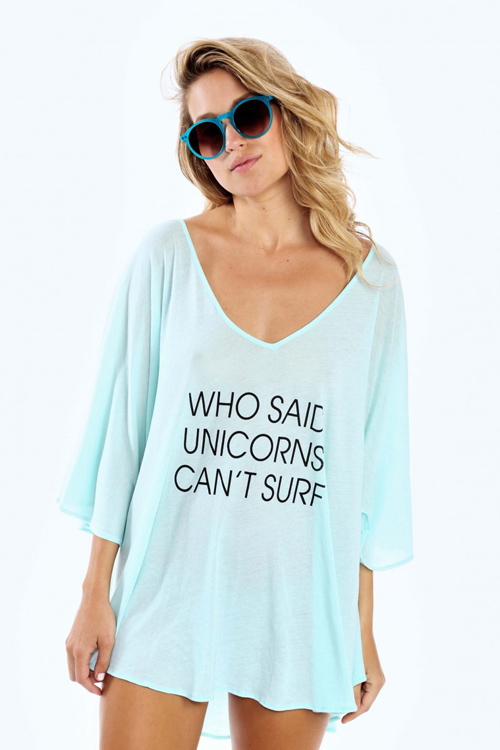 8. Colorful Coozie
Coozie alert, we repeat, unicorn coozie alert! This super funky coozie is the drink holder of our dreams. It's only $12 on Nylon and we basically want 10…just for ourselves.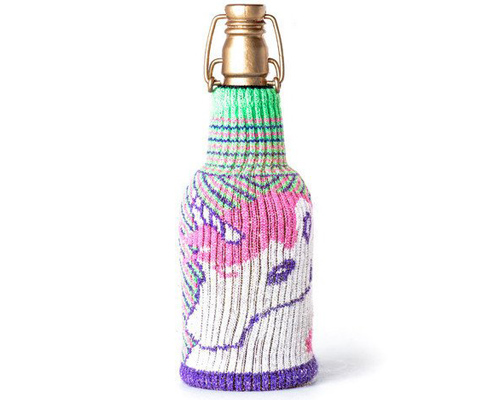 9. Coffee Drinking Unicorn Mug
What's cuter than a unicorn mug? A unicorn drinking coffee on a coffee mug, duh! This pretty mug is available on Etsy for $17 and it's a great gift for the coffee addict in your life — or just to brighten your morning drink experience.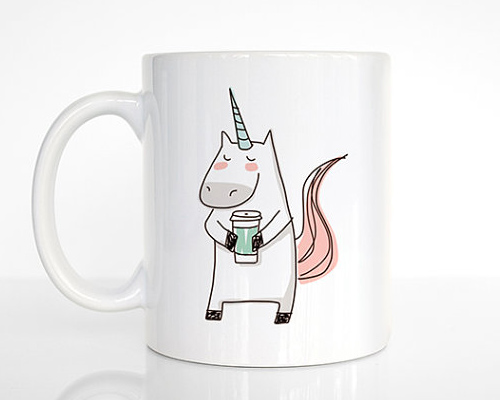 10. Magical Creature Slippers
Ugh, these are just too cute for words! Firebox created these sweet slippers and they just look SO comfortable. They cost $40, which is a great price and can be worn throughout the holiday season — or any, and every, day at home on the couch.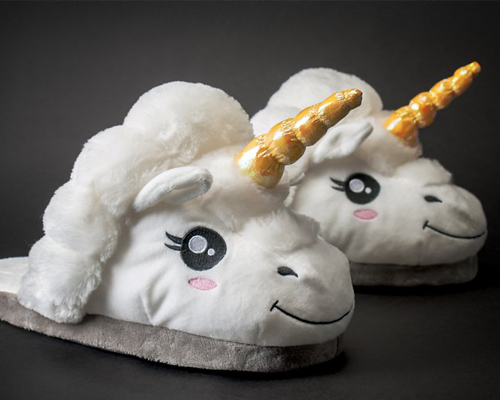 11. You Are Magic Journal
Esty is nailing it with the unicorn gear this year. You can find this artistic journal on the shopping site for $7. We're pretty sure it would be the best place to write down all your hopes and dreams — it's a dream journal after all.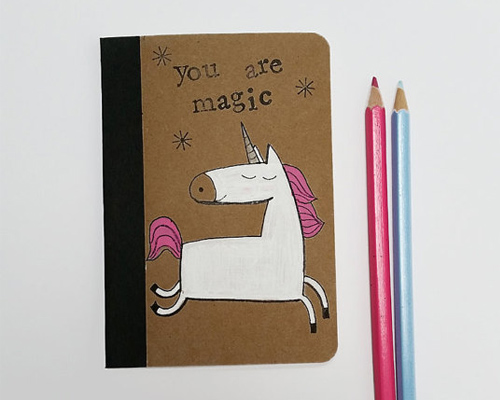 12. Mythical Creature In a Jar
You NEED this terrarium in your life ASAP. It's so random, but we can't help but love it. You can find yours at Nylon shop now for $38. We vote for you adorning your office space with at least one of these habitats. It's a definite show stopper.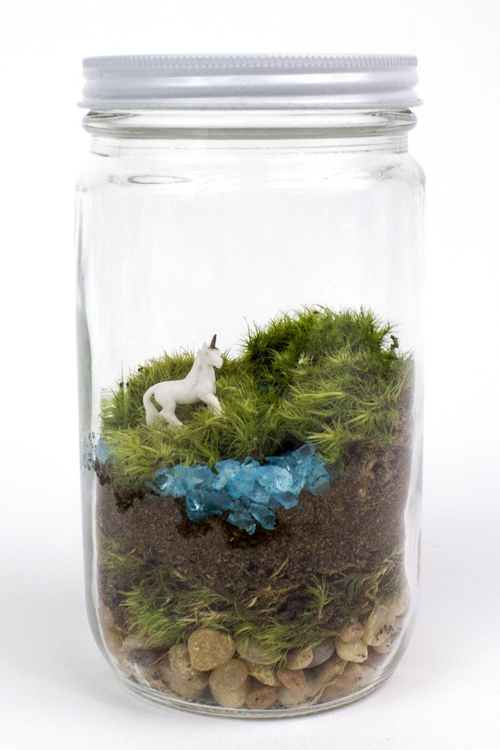 What unicorn item are you going to buy first? We vote for the slippers, or the earrings — ah, they're all so great, it's too hard to choose.