11 winter wedding cakes that are worth going out in the cold to find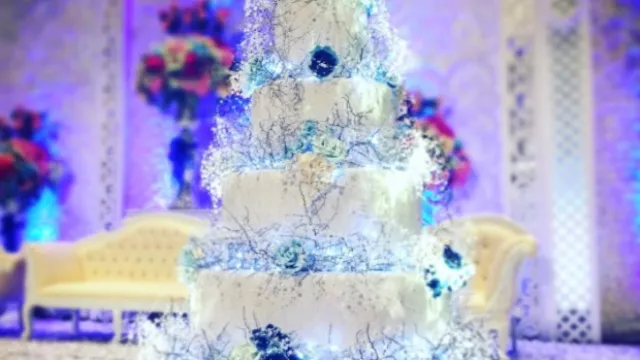 Aaaaaand it's freezing outside. Literally. So what better way to spend a chilly Sunday than by looking at wintery wedding cakes? Especially if you happen to be getting married this winter and are in need of a stunningly beautiful winter wedding cake that probably tastes as good as it looks.
Even if you're not getting married anytime soon (or ever), these winter wedding cakes will at least make you want to find them and eat them.
Just take out the word "wedding," and you're left with cake.
And cake is all you need. Cake is obviously delicious, but these cakes specifically are perfect in every way.
1. Like this ridiculously adorable sky blue three-tiered wedding cake with a snowflake topper:
2. And this ethereal cake that looks like it was made out of fairy dust and unicorn dreams:
3. A wedding cake in the center of a tiny pine cone forrest? Yes, please.
4. This classy wedding cake looks like it's dressed and ready for a black-tie-optional holiday party.
5. This gorgeous snowy cake has an actual snow globe as a topper.
6. We love this playful and delicious looking Christmas-inspired wedding cake. Even if the bow isn't edible, we'd still probably try to eat it.
7. Um, whoever thought of creating an actual cake ball tower as a wedding cake is an absolute genius. We want to eat all of it.
8. The simplicity and elegance of this cake is perfection.
9. When your last name is Blizzard, you don't choose your wedding theme — your wedding theme chooses you.
10. This Cinderella's castle cake looks so magical and almost too detailed and pretty to eat. Almost.
11. Well now this is just the cutest wintery wedding cake every created.
Who wants cake?