11 things on Netflix to watch when you need to feel more creative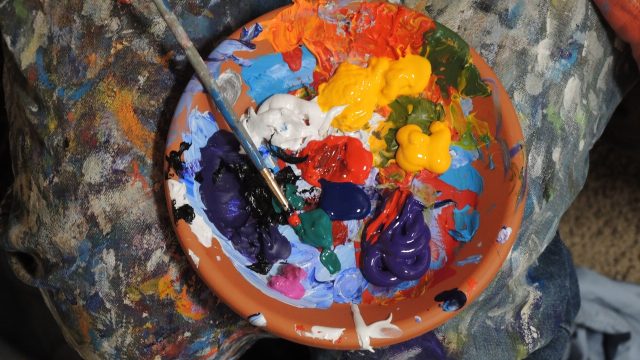 Any artist will tell you: There comes a time when creative block happens. No matter your craft — art, writing, filmmaking — it takes the right set of elements to get into the zone. Sometimes, we need help to feel more creative, even when everything seems to be in its place.
The right playlist or a change of location can do the trick — or maybe we need a productive break to find out more about someone else's story. If you're struggling to start that collage or write that personal essay, there are actually a few things you can watch on Netflix to help. (Yes, Netflix.) It helps to learn more about the stories of people we admire and creative minds we might not even know yet.
Here's a quick guide to some of the amazing documentaries, series, and more that you can watch on Netflix when you need to reinvigorate that creative spark.
1Iris
https://www.youtube.com/watch?v=Fo8jwJ_2l0c?feature=oembed
Iris Apfel is a style icon — and she's about dressing how you want. Watch Iris if you need to remember the value in being yourself and taking risks.
2Beautiful Losers
https://www.youtube.com/watch?v=JyRAHKTy6hI?feature=oembed
Following the journeys of creatives like Shepard Fairey, Margaret Kilgallen, Barry McGee, and Ed Templeton, Beautiful Losers will remind you why making art is so fulfilling. Expect lots of shots of the artists at work, which will inspire you to make something of your own.
3Dior and I
https://www.youtube.com/watch?v=-AbdLH9-wGg?feature=oembed
Watching Raf Simons obsess over every detail for his first haute couture collection — and learning about his amazing team — will motivate you to take on that next big project. And you get a fascinating peek into the high-fashion world.
4Bob Ross: Beauty is Everywhere
https://www.youtube.com/watch?v=lLWEXRAnQd0?feature=oembed
It's here. It's finally here. Take a trip back down memory lane and get ready to turn those mistakes into glorious art thanks to the timeless wisdom of Bob Ross.
5Chef's Table
https://www.youtube.com/watch?v=qKqj85oo2wI?feature=oembed
Winner of the James Beard Award for Visual and Technical Excellence, Chef's Table chronicles the culinary journeys of chefs with exceptional restaurants (think Michelin-rated and nearly-impossible-to-book). Besides its gorgeous shots of food and cooking, the series sucks you in with stories that prove the power of following your passion and practicing your craft.
6Abstract
https://www.youtube.com/watch?v=DYaq2sWTWAA?feature=oembed
Not sure how exactly you want to use your imagination? Abstract features a photographer, architect, Nike shoe designer, stage designer, and more talented people as they create amazing things. It's also a testament to the power of design to change our daily lives.
7Ballet 422
https://www.youtube.com/watch?v=2f-AvMve1NU?feature=oembed
A look at the intense world of ballet and what it takes to pull off a production, Ballet 422 tells the story of 25-year-old Justin Peck. He has the daunting task of choreographing a piece for the New York City Ballet and watching the whole process will inspire you to dream a little bigger.
8Jiro Dreams of Sushi
https://www.youtube.com/watch?v=M-aGPniFvS0?feature=oembed
If you're feeling like all your hard work isn't paying off, take into consideration that many greats have been doing what they do for a while. Case in point: 91-year-old renowned sushi chef Jiro Ono. Jiro Dreams of Sushi shows what happens when you dedicate your life to doing what you love.
9Frances Ha
https://www.youtube.com/watch?v=YBn5dgXFMis?feature=oembed
If you want a movie that keeps it real when it comes to false starts, Frances Ha is for you. Not only do you get to watch Greta Gerwig in a super memorable role, but you get an honest account of what it means to chase your dream. This is a dancer's story, but it applies to so many other creative fields.
10Ai Weiwei: Never Sorry
https://www.youtube.com/watch?v=0MYFOzP6Xns?feature=oembed
Ai Weiwei can be quite the divisive artist. But his pieces can serve as inspiration for how to take art outside of the gallery/museum and into relevant conversations like censorship. Watch Ai Weiwei: Never Sorry if you want to watch an artist not afraid of making what he wants.
11What Happened Miss Simone?
https://www.youtube.com/watch?v=moOQXZxriKY?feature=oembed
An honest and up-close documentary, What Happened Miss Simone captures the legendary Nina Simone's life — including her most difficult moments. Watch this to learn how she turned political events, personal pain, and more into beautiful and harrowing music.