11 recipes even the pickiest of eaters will love on Thanksgiving
Our only job is to think about food, now that Thanksgiving is just around the corner. Morning, day, and night, no matter who you are or what you do, there's a high probability that you're fantasizing about what holiday dish you're going to dig into next. This time of year isn't all about your taste buds, though. You have to also think about what your friends and family want to eat for Thanksgiving, because more likely than not you'll be celebrating the holiday with your loved ones. Whoever is planning the Thanksgiving menu has a big task on their hands: they have to try to please every single person, each of whom has completely different taste in food.
If you're playing host this Thanksgiving season, you're in luck, because we've rounded up some of the best recipes out there that your fussiest friends won't even think twice about. When it comes to picky eaters, your best bet is to offer classic dishes, sometimes with a special (but safe) twist. No matter what, though, don't stress about what you're going to put on the table. Pair it all with a few bottles of wine or some Thanksgiving-inspired cocktails, and everyone will be so happy to just be in the same room that all the food will taste nothing short of divine.
Here are 11 recipes even the pickiest of eaters will love on Thanksgiving.
1. Green Bean Casserole With Crispy Onions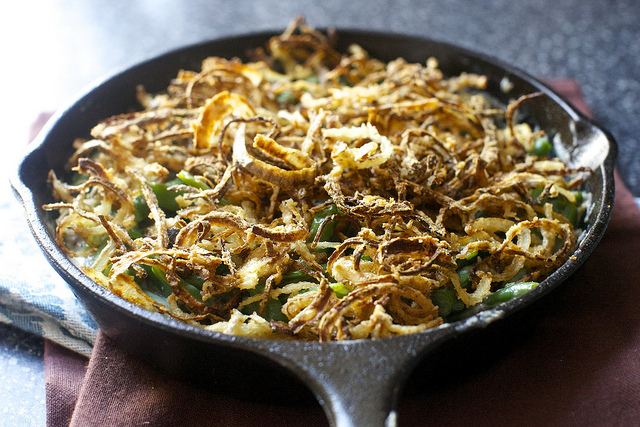 The traditional green bean casserole has been around for ages for a reason (um, it's delicious), but this isn't the kind where the ingredients come out of a can. You'll make your very own mushroom sauce, as well as fry your own crispy onions. Plus, grab yourself some fresh green beans to make this a homemade Thanksgiving dream. Smitten Kitchen makes it all too easy for you.
2. Slow Cooker Creamed Corn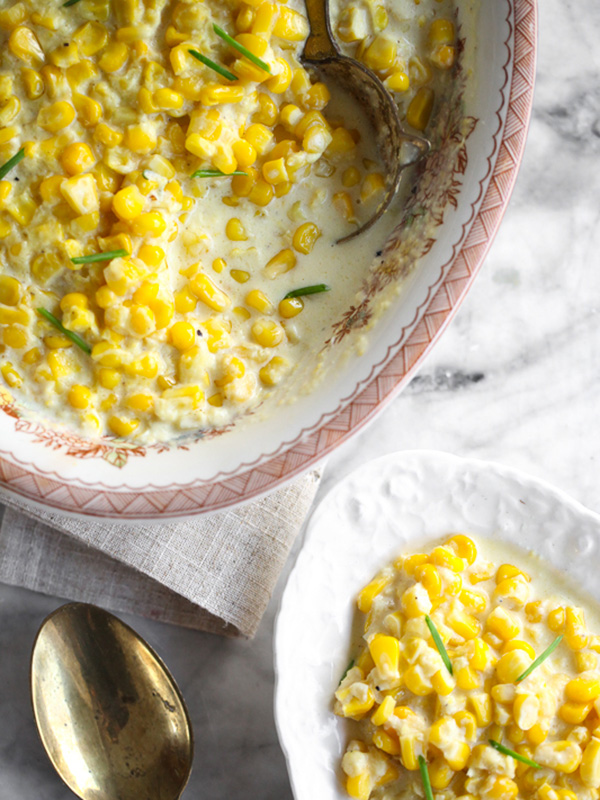 This decadent side dish only takes five ingredients to whip together, and it's all tossed in a slow cooker so it's super low-maintenance. Because it's so uncomplicated, pretty much anybody will like it. Also, it's the ultimate comfort food — creamy, warm, and nourishing. Take a cue from Foodie Crush and put this creamed corn right next to the turkey on the dinner table.
3. Herb Butter Rotisserie Turkey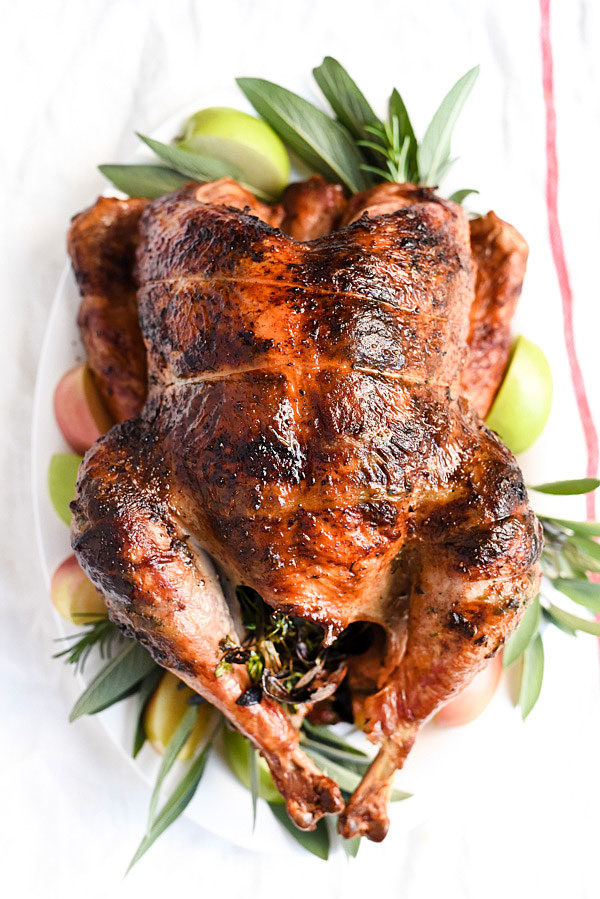 This is exactly the kind of turkey you want to offer people who get freaked out by the new-age Thanksgiving concoctions, like that buffalo-flavored turkey your friend has been talking about. Only made with the most basic of herbs (sage, thyme, rosemary), as well as onions, butter, and apple, you'll give everyone a dreamy Thanksgiving experience, thanks to Foodie Crush.
4. Sweet Potato Gratin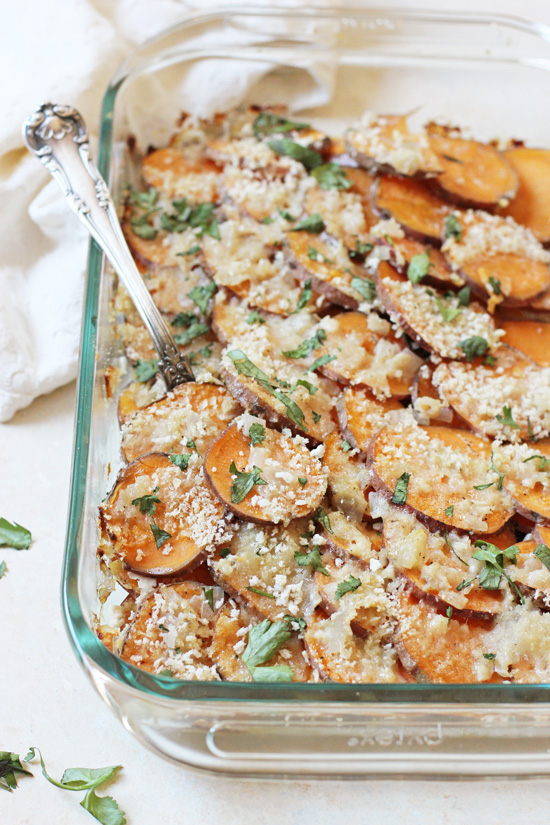 Panko breadcrumbs, parmesan cheese, and nutmeg accompany a hunk of sliced sweet potato in this hearty side dish. Cook Nourish Bliss suggests you leave the skin on the potatoes, but if you know you're dealing with extra picky eaters, maybe peel off the skin beforehand. Either way, the flavors in this recipe make it taste dynamite for anyone.
5. Fluffy Pumpkin Pie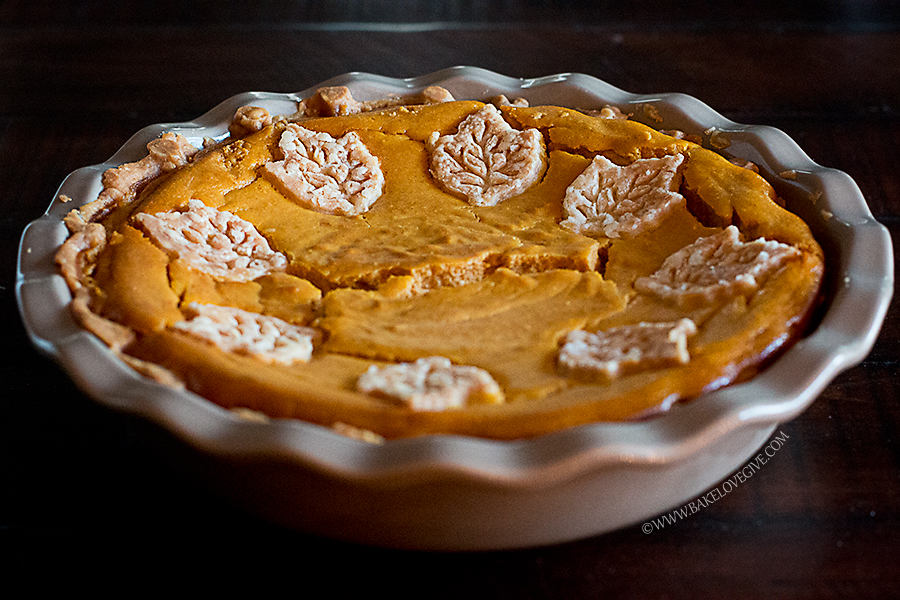 Bake Love Give has maybe created the fluffiest pumpkin pie you'll ever eat, and anyone who complains about the texture of whatever they're eating shouldn't have a thing to to say about this dessert. It's made with pretty safe ingredients: cream cheese, pumpkin puree, nutmeg, cinnamon, and cloves. You may want to bake two to make sure there's enough to go around.
6. Roasted Butternut Squash Risotto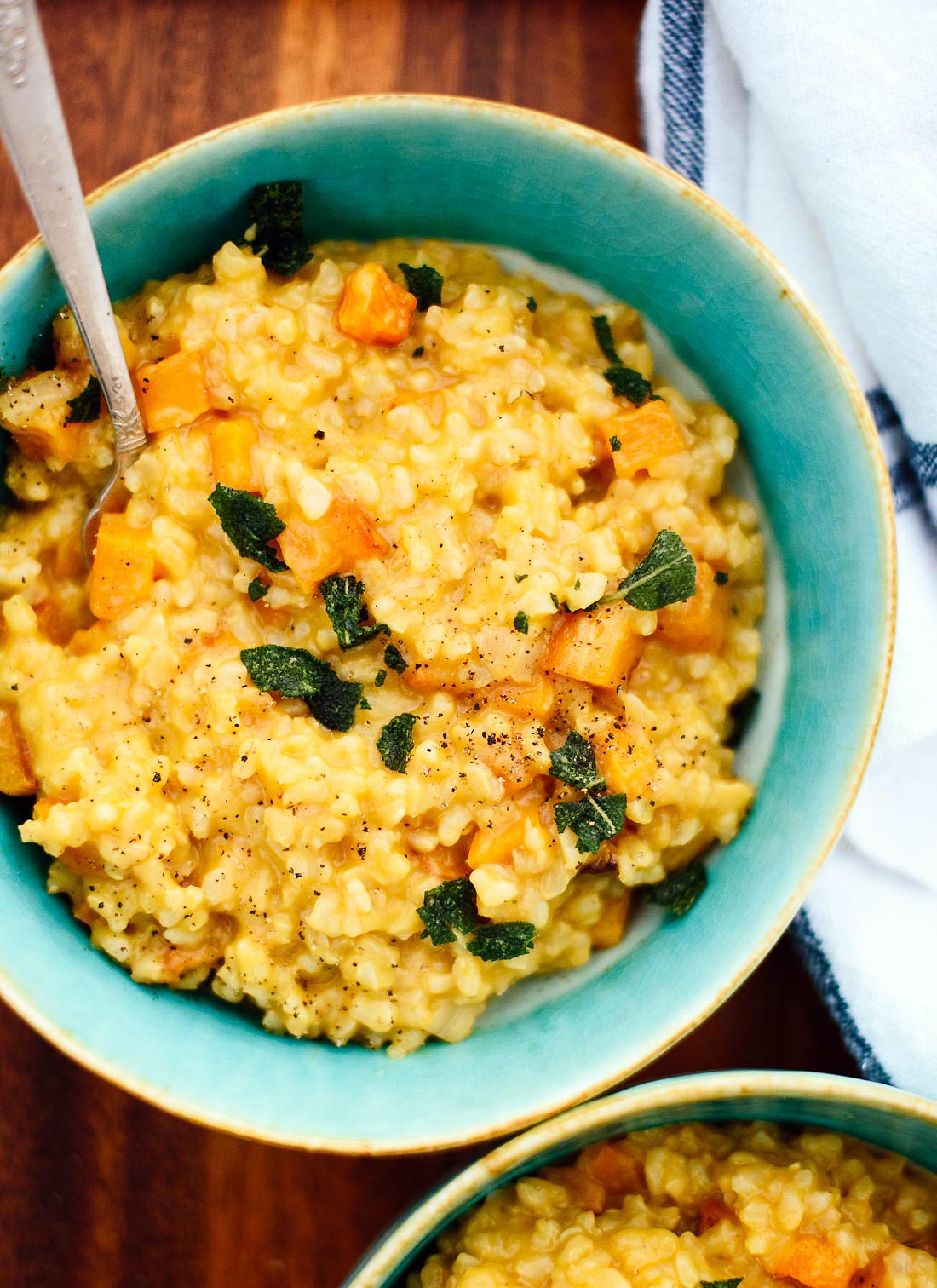 It never hurts to have a vegetarian dish waiting for your guests at the table, and this butternut squash risotto from Cookie and Kate is as healthy as it is mouthwatering. Risotto isn't generally a dish that makes picky eaters think twice, and the soothing flavors in this recipe will do nothing more than make them ask for seconds.
7. Simple Sage and Leek Stuffing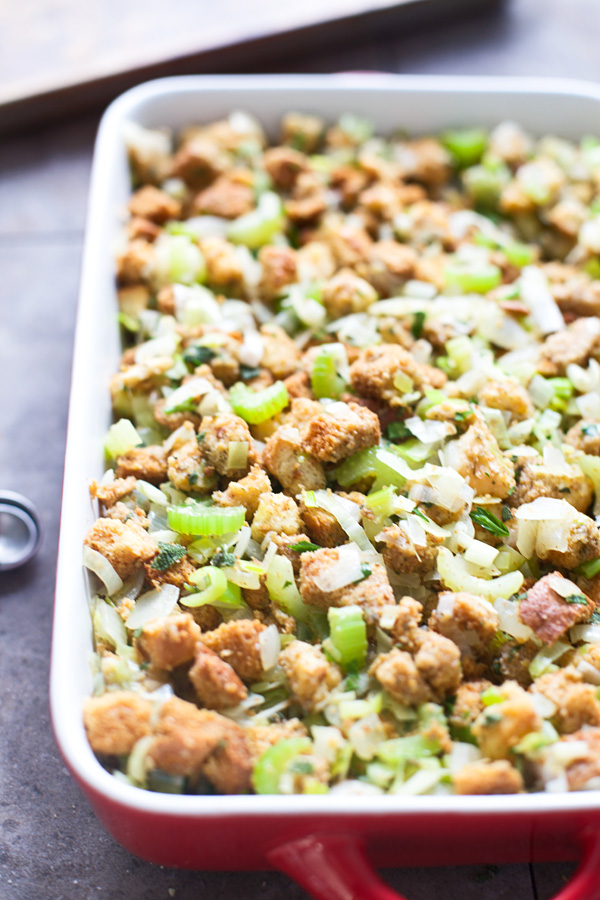 You might think stuffing is an annual crowd pleaser, but some folks have trouble with the unique flavors in this staple Thanksgiving dish, or they just don't like some of the ingredients thrown in there. Well, the word simple is in the title of this stuffing from Cooking For Keeps, so it's safe to say this is going to be a home run for all the finicky eaters at the table. Made with sage, leek, onion, and celery, it won't cause any trouble in the tastebud arena. There's always room to add some meat as well if you know there are going to be carnivores arriving at your door.
8. Cranberry Ice Cream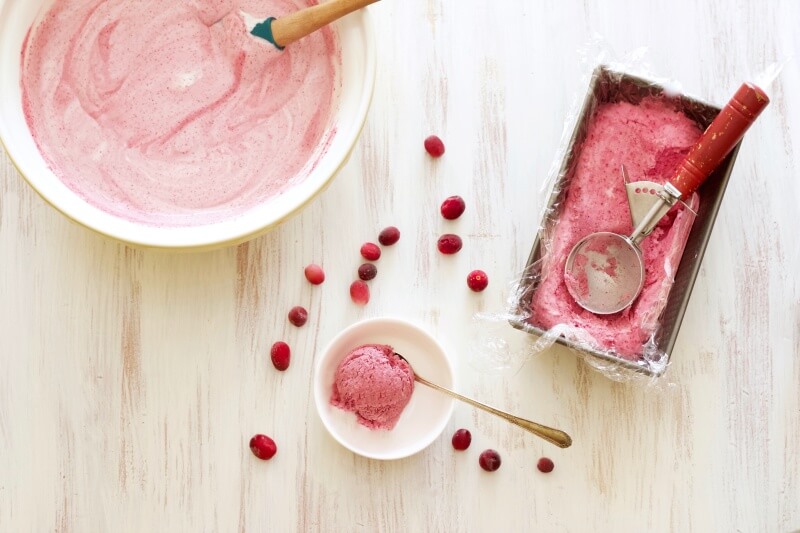 The Messy Baker is here to convince you that cranberry doesn't just belong as a sauce alongside the turkey. For those people who aren't exactly fond of said cranberry sauce, you can offer a wildly delicious cranberry ice cream as a dessert alternative. If you've got a Vitamix blender, you don't even need to churn this sucker. The secret ingredient is orange liquer; you could use vodka instead, but the orange adds a nice zest to it.
9. Roasted Turkey Breast With Lemon and Oregano
A clean, elegant turkey dish coming at you from Foodie Crush. You'll use just six ingredients to make it, and if you follow the easy directions, there's no way you'll end up with a dry, dull turkey. Besides, that would be a Thanksgiving tragedy.
10. Pumpkin Chocolate Chip Muffins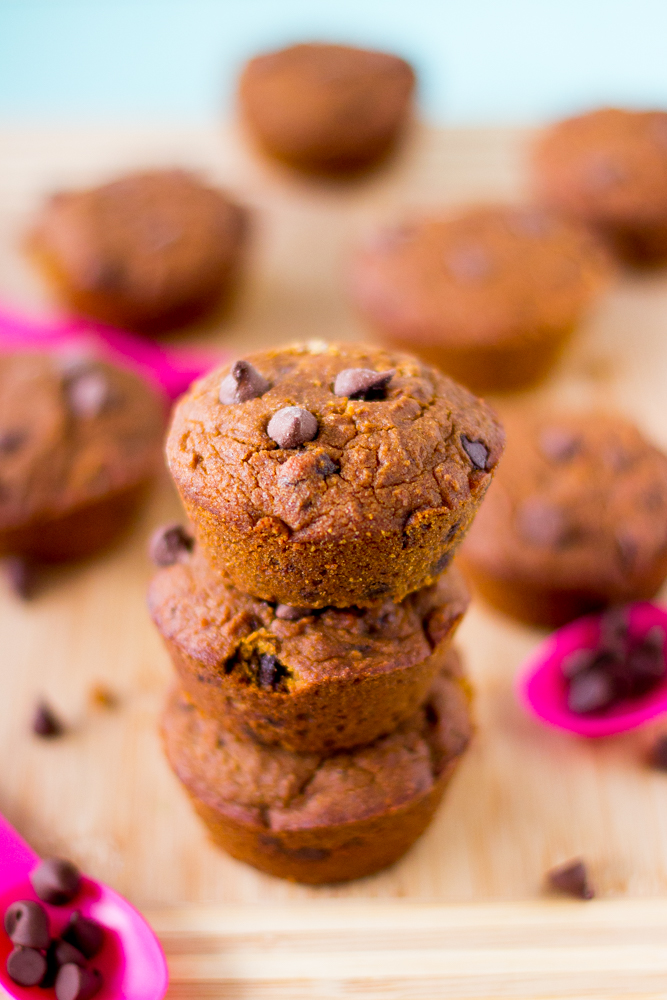 You can't go wrong with pumpkin when it comes to dessert, and these vegan pumpkin chocolate chip muffins from Jessica In the Kitchen combine all the best fall flavors — cinnamon, nutmeg, cardamom — with coconut milk and chocolate chips. Your pickiest guests won't have any idea that you've thrown a coconut curveball in there. They'll just wonder why those muffins are so damn moist and decadent.
11. Garlic Parmesan Pull-Apart Bread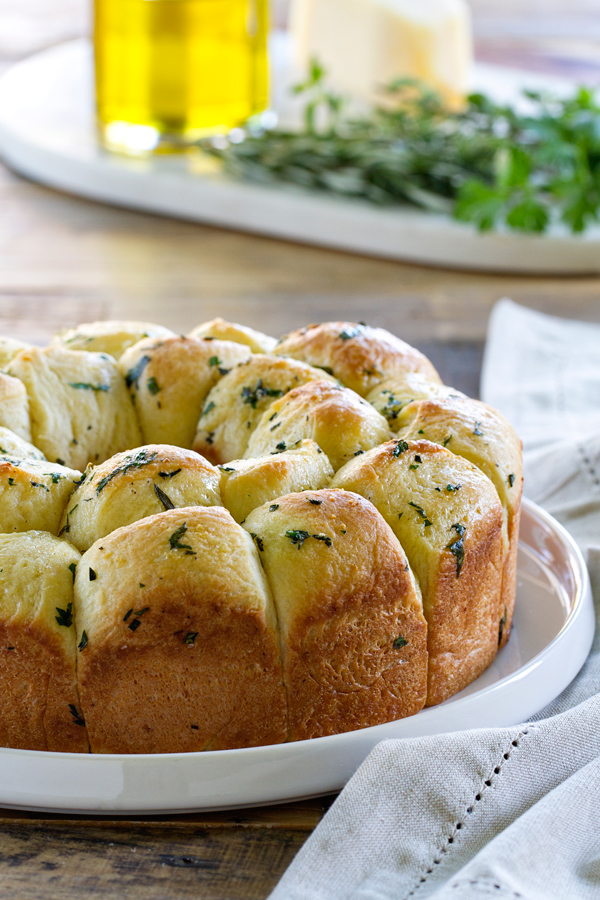 Who doesn't love bread? In fact, who doesn't love garlic bread?! If you've never made your own dough before, you may as well give it a shot this Thanksgiving. My Baking Addiction walks you through the process, and the end result looks so yummy it's bound to be gobbled up within seconds.