11 Adorable fireplace decor ideas just in time for the holidays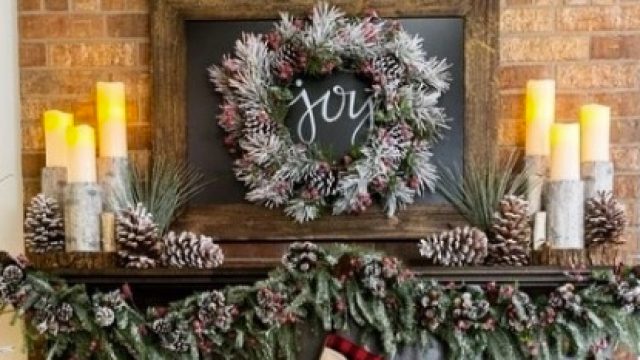 2016 has been kinda rough. Which means now, more than ever, it's super important to focus on the positives. And we can't think of a better, more mood-enhancing activity than preparing for the holiday season. And nothing says "IT'S THE HOLIDAYS!" like super cute fireplace decorations!
In our humble opinion, holiday decorations should be cheap but festive, because let's face it, we have more important things to spend our money on (presents, duh)! Maybe you've already started decorating or maybe you've been putting it off 'till the very last minute, but either way we've got some amazing fireplace inspiration to make your home a little cozier this year.
Happy decorating!
1. We're definitely loving the white on silver look.
2.  A little glitter and bling always makes things better.
3.  If DIY home projects are your thing, then you'll love this set up. Grab some paint and make your own unique focus piece or use the chalkboard to broadcast a message to create some love and joy.
https://www.instagram.com/p/BMmTZzlgjxQ
4.  Green, green, and more green! Bring the foresty feels inside with these great holiday wreaths.
5.  Get the little ones involved in creating this look. They'll love seeing good ol' Saint Nick stuck in the fireplace.
https://www.instagram.com/p/BNFb-AOj-j8
6.  Don't forget the stockings! Try adding a single initial or take it up a notch with Etsy's endless monogrammed options.
https://www.instagram.com/p/BNFZTLjDvcC
7. We love candles — they make a great addition to any fireplace set up. It's LIT!
https://www.instagram.com/p/BMhRdhyD-2A
8. If you're not in the mood to go all out this year, we understand and we've got you covered. Show off your inner Grinch this holiday with a super simple design.
https://www.instagram.com/p/BNFTI4kB4lY
9. Flowers are *always* the right choice.
10. For the minimalist.
11. Do you love Disney as much as we do? Decorate your fireplace with Mickey, Minnie, and the whole gang.
Our favorite mouse did just turn 88 — Happy Birthday, Mickey Mouse.
There you have it. We hope you've found some inspiration to make your holidays a little more beautiful!