11 beauty brands from the Indie Beauty Expo that should totally be on your radar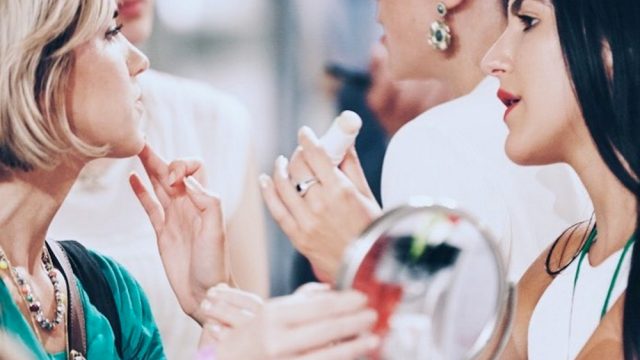 Walking into the gigantic and colorfully lit rooms of the Indie Beauty Expo feels like walking into a theme park for beauty lovers. Each room is a welcoming maze of indie makeup brands, nail art, vegan and cruelty-free skin care brands, inventive hair care, and pretty much any beauty concoction you could wrap your brain around.
This year's Indie Beauty Expo in NYC featured over 220 brands — and that's not even counting the brands that weren't able to make it this time. That is to say, the expo has grown exponentially since IBE first launched in 2015, and, honestly, it will only continue to thrive as the demand for independent and ethically made beauty products increases.
https://www.instagram.com/p/BWa0smXFCxA
While it was near impossible to fully experience each brand present, HelloGiggles was able to sample and chat with a handful of imaginative brands.
Here are just a few of the brands we recommend you check out!
https://www.instagram.com/p/BYMASPoF4ty
Reshma Beauty is a family-owned business that operates out of a collection of farms in India and focuses on using natural ingredients that have been prized in the Middle East for decades. Their offerings include Classic Henna, 30 Minute Henna, Skin Care, Oils, Soaps, and a new Henna Infused Deep Conditioner. We recommend the popular Turmeric Face Mask ($7.99).
https://www.instagram.com/p/BUi2b96lqXO
Petite Amie Skincare is basically a buffet for people who love sheet masks. They have themes ranging from the milky way to popular cities. If we had to pick a favorite, though, it would be the emoji-themed sheet masks ($10-$12), which turn you into an actual emoji when you apply them to your face.
https://www.instagram.com/p/BYKKte9FGAX
Le Prunier is a plum-powered skin care brand founded by three sisters on their family farm in Sutter County, California. The brand focuses on the underrated beauty benefits of organic plums, which contain loads of antioxidants, essential fatty acids, and polyphenols. Their Plum Beauty Oil ($72) smells like a dreamy walk in an orchard.
My Magic Mud is a vegan, cruelty-free, and fluoride-free toothpaste brand that sources activated charcoal, coconut oil, essential oils, and bentonite clay to make formulas that keep your teeth white and happy without damaging enamel. There are four flavors of toothpaste: spearmint, cinnamon clove, peppermint, and wintergreen, $10 each. We recommend you start with peppermint and take it from there.
Lük Beautifood is an Australia-based brand that creates lip balms, lipsticks, and lip pigments completely out of safe and edible ingredients. So if you think the lipsticks look good enough to eat, you're not wrong. All of the lipsticks are vegan and cruelty-free, and while it's hard to pick just one, we recommend one of the eight shades of Lip Nourish ($22).
Source Vital is a one-stop shop for small-batch skin, body, and aromatherapy products powered by essential oils. While the line is enticing, its most impressive offering is the Customized Facial Cocktail ($44.95), which lets you pick your own base oil, two "care infusions" based on skin needs, and two additional oil shots to add glow, moisture, whatever you desire!
https://www.instagram.com/p/BWiBAU2DZvB
B'LIVINN is a vegan and cruelty-free nail polish company that pairs bright, beautiful nail colors with customized packaging. They use a 3D printer to etch out a variety of bright and lovely illustrations on their boxes, and customers get the option to choose and customize the illustration. We love the pink nail polish and Ballerina No. 1 Box($12) — and if you don't like the pink, you can pair that same box with other shades.
https://www.instagram.com/p/BYDGn6TnlyN
If you're a fan of K-beauty but often find yourself overwhelmed with its many steps and serums, Skin Forum has heard your cries and offered up a solution. The 6-step facial in a box ($20-$288) offers beauty lovers an easy multi-step routine that very clearly tells you what to do and when. Plus, the packaging is cute. You can choose between the 6-Step Single Facial Kit and the 6-Step Triple Facial Kit.
All of the illustrated packaging for A Beautiful Life products look straight out of a classic storybook. The brand offers up everything from dry shampoo and hair serums to texturizing spray. Their new Other Life perfume ($28) has notes of strong coffee, spicy cardamom, sweet honey, and lush brown suede. The best part? They split a $5 donation between The American Civil Liberties Union and The Southern Poverty Law Center for every 2 oz. bottle sold.
https://www.instagram.com/p/BWIfHEqDmTA
Moondani Naturals is the answer to those days where you're running around like a headless chicken with no time to buy gum. Their all-natural Mystical Mint breath spray ($8.50) is infused with cardamom oil, fennel oil, and ginger extract so it tastes good and doesn't kill the good bacteria in your mouth.
Osmia Organics offers up a full range of natural skin care options, ranging from body oils to deodorant creams to facial serum. All of it smells like freshly plucked wildflowers. We are fans of the popular and effective Spot Treatment ($22) for gently treating blemishes.