11 stylish backpacks you can wear to school OR work
As much as we hate to say it, summer is starting to wind down. Which, among other things, means you might be in the market for a fresh backpack to carry your books, wallet, and all the other random items you haul around with you on an average day. But finding the right bag is no easy task; there are so many options these days—messengers, totes, those weird over-the-head, one-shoulder bags, and the list goes on. But today, we're talking about the classic backpack.
Because in case you missed it, backpacks are very in right now—regardless of how old you are.
And now, they're super convenient. They're big enough to fit your laptop, books, lunch, your phone, a water bottle, some snacks, an umbrella, keys…and anything else you might be hauling around on your person. According to Dr. Suken A. Shah, an associate professor of orthopedic surgery, backpacks might actually be better for your neck, spine, and posture.
"I like the idea of a backpack. It's more balanced, doesn't tip you off to one side or another, and it's more ergonomic," he said.
When you're looking for a new bag for work or school, you're really just trying to find a reliable friend who'll always have your back…and hopefully incredibly cute.
Here are 11 backpacks to consider:
1S-ZONE Genuine Leather Backpack
Made from genuine leather, this backpack is an organization-lover's dream. The main compartment easily fits a 14″ laptop, and you'll also find a hidden zipper pocket, designated compartments for your cellphone, wallet, and an exterior pocket for other small items you use every day at work or school—like your chapstick, pens, and keys. It comes in black, blue, and red wine.
2Kenox Vintage PU Leather Backpack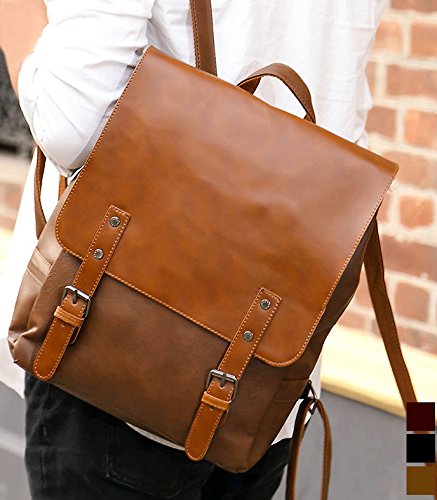 We're kind of obsessed with this vintage backpack. If sporting real leather isn't your thing, then this brown faux-leather beauty may be right for you. Stow your essentials away in its spacious interior and buckle the stylish straps.
3Kenox Vintage Backpack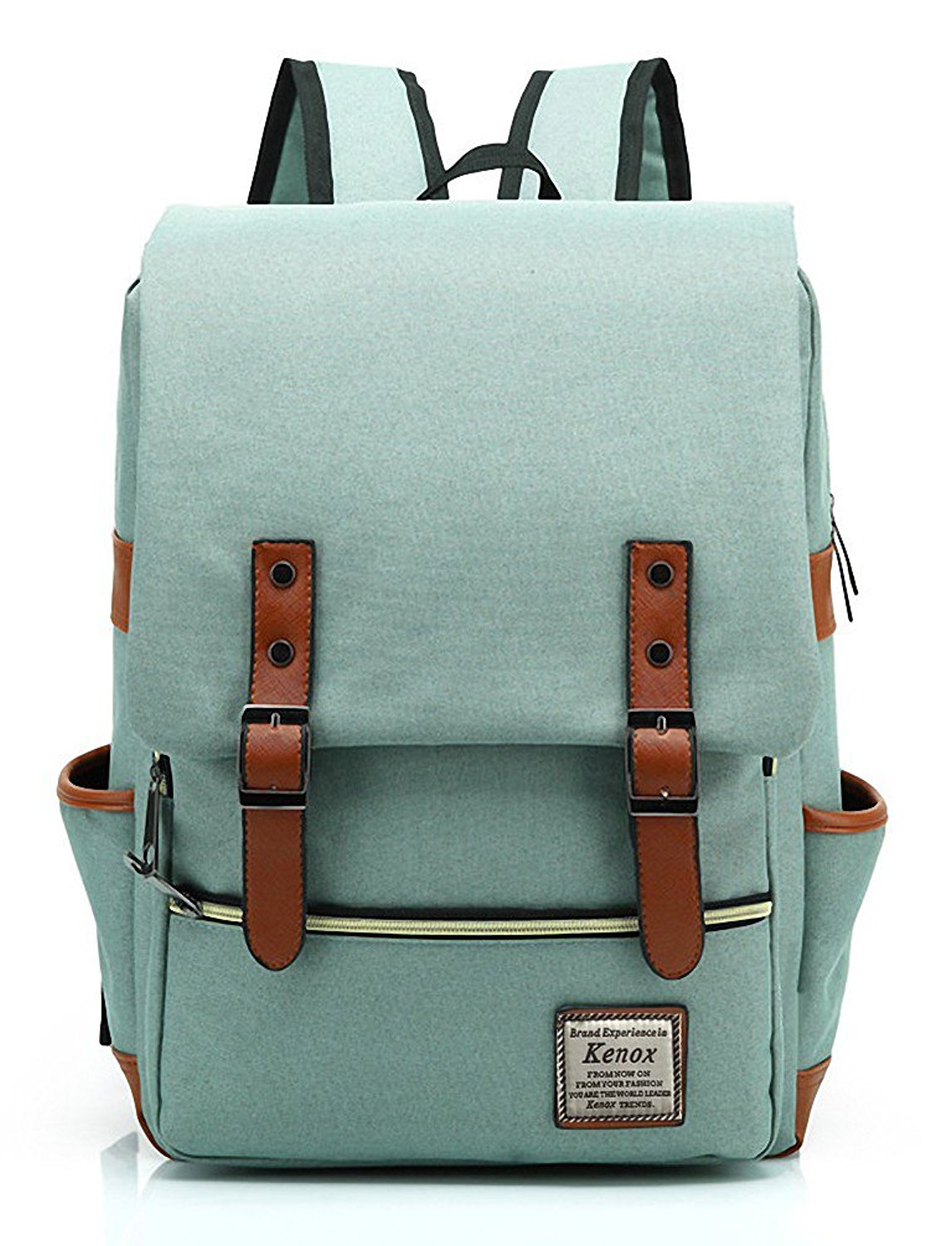 If your work laptop or school textbooks are on the larger side, then this vintage Kenox backpack might be ideal for you. There are tons of compartments and adjustable padded straps to make carrying around that extra weight a little more comfortable.
4Herschel Supply Co. Classic Multipurpose Backpack
On the outside, Herschel backpacks are clean, classically styled, and hold all the makings of a minimalist's dream. On the inside you'll find the brand's signature striped lining, as well as a padded fleece-lined laptop or tablet sleeve that'll keep your electronic devices protected. If you're looking for a little refinement without all the extra stuff, this is the backpack for you.
5Abshoo Canvas Dot Backpack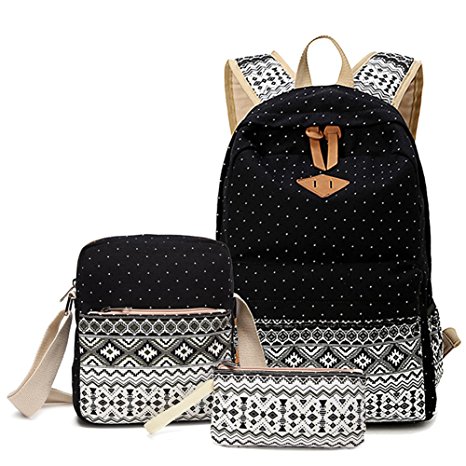 If you want the minimalistic look of the Hershel without the price tag, you'll love the Abshoo backpack. Plus, this one comes with an extra shoulder bag and a pencil pouch.
6Nike Sport Backpack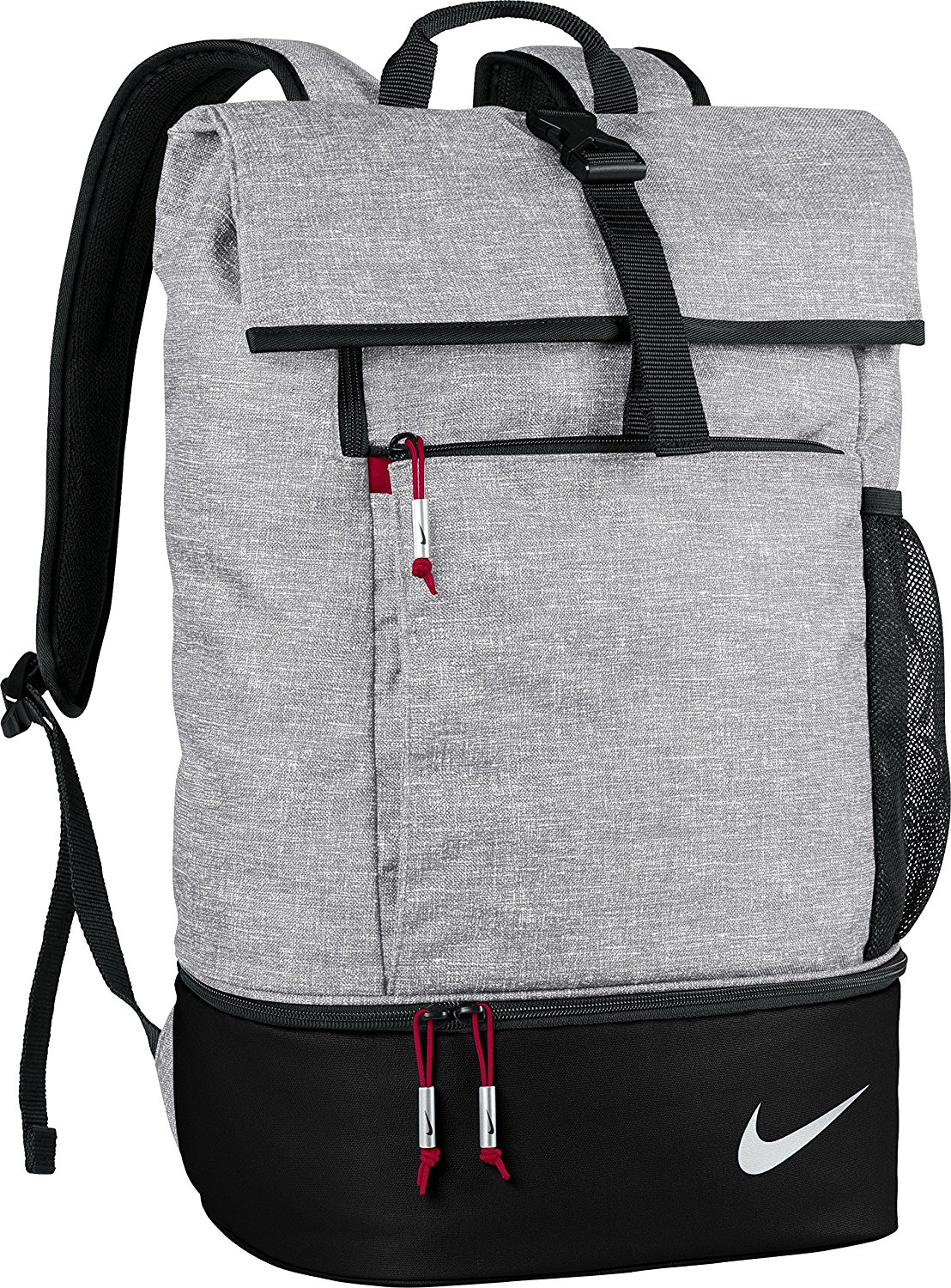 Do you like to hit the gym after work/school? Then the Nike sport backpack might be your jam. Not only does it have space for all your work and school items, but there's a discreet compartment underneath to store your workout gear.
7Vans Calico Patchwork Backpack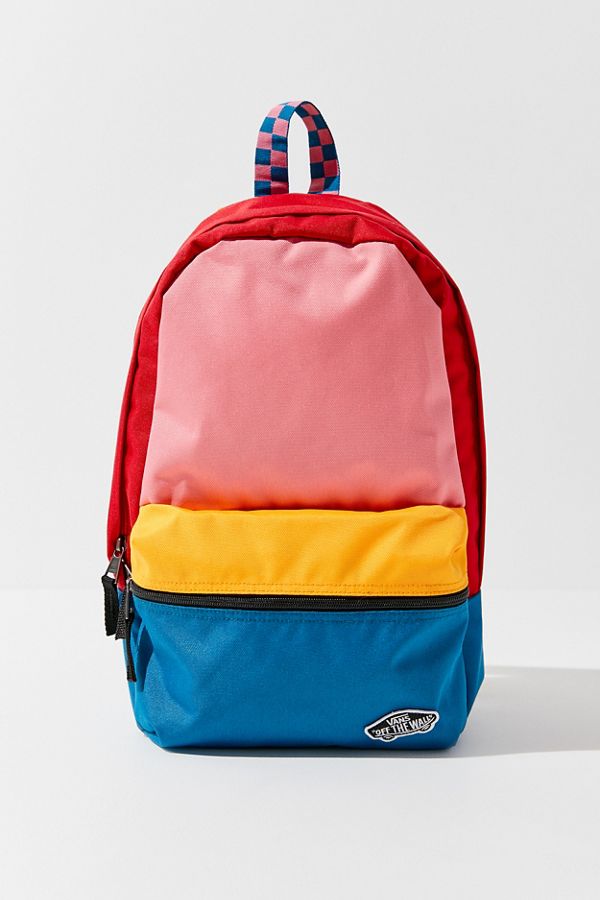 By far one of the cutest on our list, this one is for days when your load is a bit lighter.
8Matt & Nat Vignelli Backpack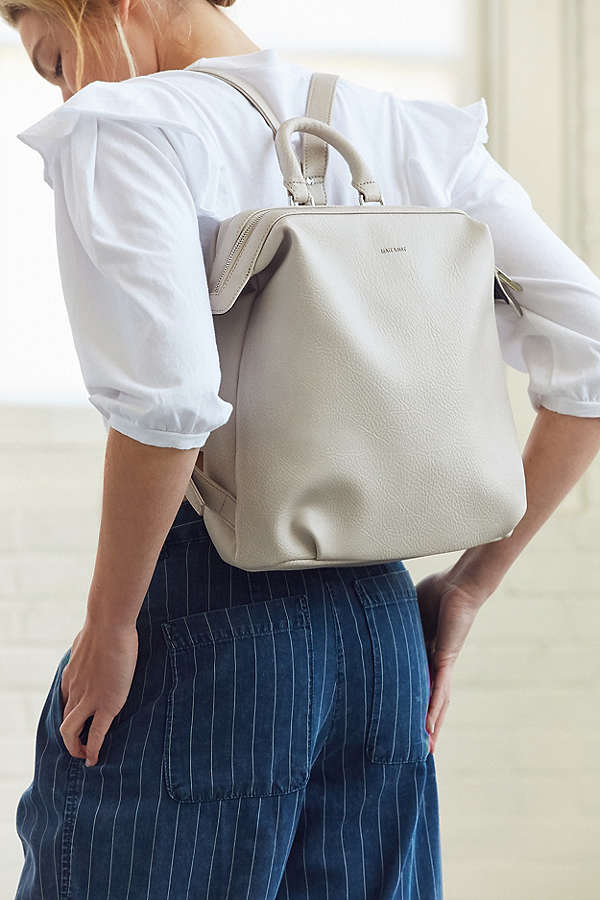 The Matt & Nat Vignelli backpack may be on the pricier side, but hey, treat yo' self! It's made of sleek vegan leather and lined with 100% recycled nylon. So it's not only a treat for you, but it's also animal- friendly and easy on the environment. We especially love the top carry handle, in case you want to give your shoulders a break.
9Fjallraven Kanken Backpack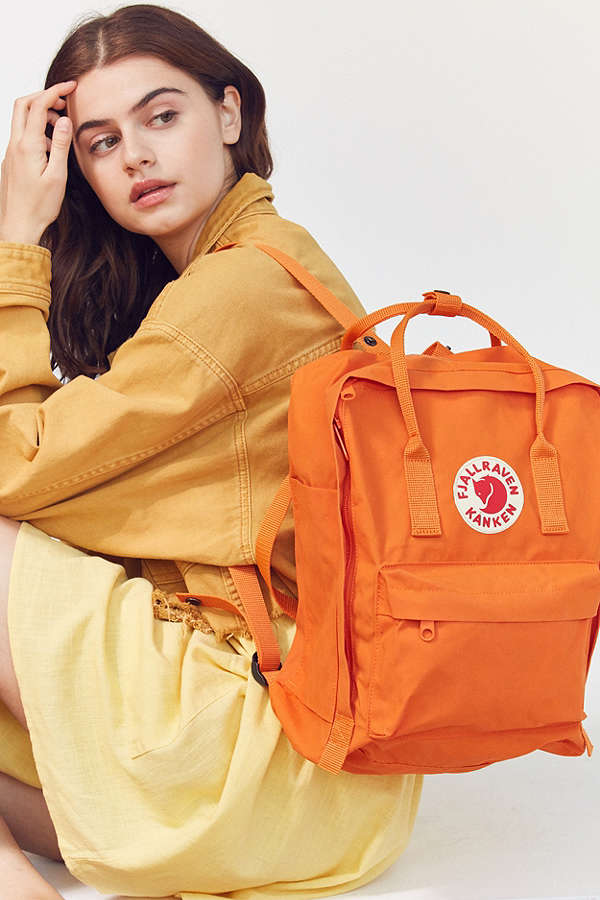 The design of the Fjallraven's Kanken backpack might actually be older than most of us, but it has managed to stay effortlessly cool and stylish. It's made of durable polyvinyl, and has a roomy main zip compartment with easily accessible front and side pockets, complete with adjustable woven shoulder straps.
10JanSport Right Pack Expressions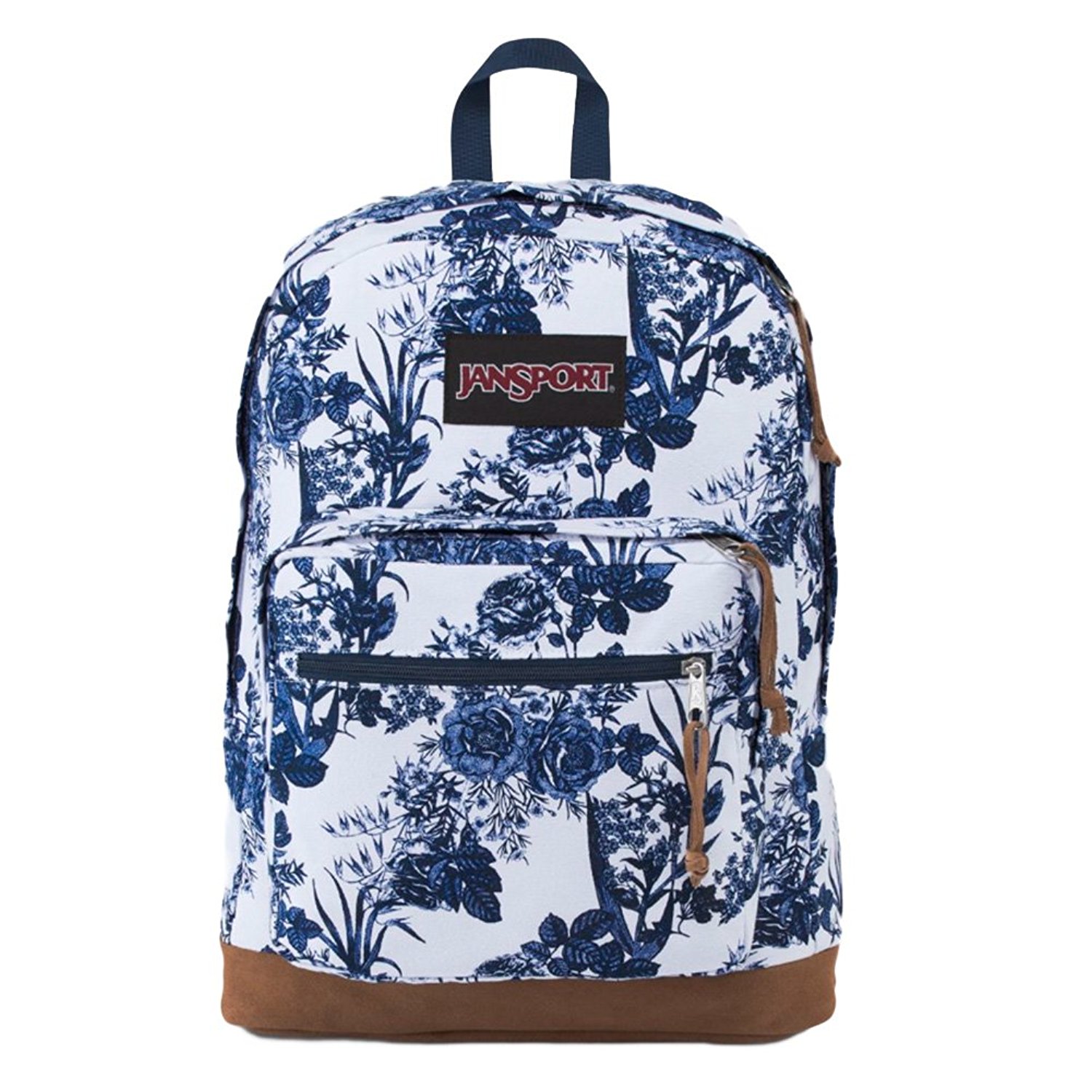 We couldn't make a list of backpacks without including JanSport. It's probably the most popular backpack brand out there—and for good reason. JanSports are affordable and reliable. There aren't too many compartments, but for the price, you won't find anything better. And JanSport backpacks now come in a variety of super cute patterns, like the blue and white floral print pictured above.
11LeSportsac Voyager Faux Patent Backpack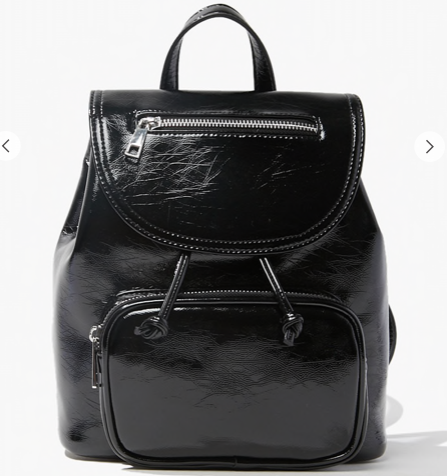 If you're looking for something a little flashy, look no further than this sleek design. While we're mostly in love with the shiny sleek finish, we can appreciate the many compartments and the spacious lined interior…and we think you will too.
Whether you're hitting the books or climbing the corporate ladder, we hope you'll find something that fits your taste, lifestyle, and budget. And as always, we have your back (see what we did there?).