11 actually cool matching tattoos that you can get with your boo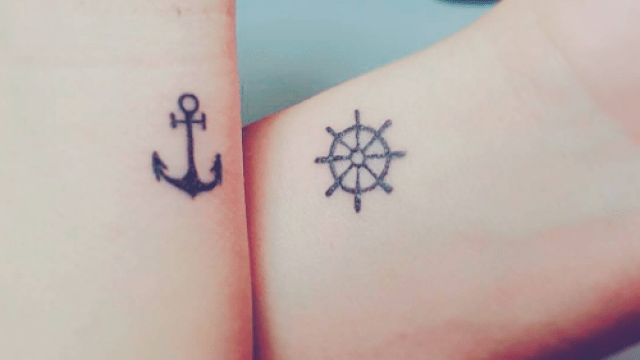 If you just realized that Valentine's Day is upon us and every romantic date spot in town is booked solid, don't fret — why not try something a little different this year? If you and your partner are both cool with getting inked, there's no time like the present to get matching tattoos with your significant other on Valentine's Day.
Don't worry, we're not suggesting anything cheesy (and potentially super awkward in the unfortunate event of a breakup) like getting each other's names tattooed on yourselves for all eternity.
But there are plenty of options that are both meaningful as a couple's tattoos and beautiful as a solo tattoo.
Need some ideas? We've got you covered.
1 Planet & rocket
The planet and rocket tattoo is perfect for couples who share a love of all things celestial.
2The Grateful Dead dancing bear
https://www.instagram.com/p/BQRGHtfjWJf
If you and your significant other bonded over your love of one of the best rock bands of all time, why not get matching dancing bears?
3Anchor and wheel
https://www.instagram.com/p/BP2jZOSA0lX
This is a beautiful way to express the sentiment, "guide me in your truth and anchor me in your love."
4Lucky in love
https://www.instagram.com/p/BPmORXGBMdX
These simple four-leaf clover tattoos are a subtle way to express your gratitude for that special someone.
5Move forward
https://www.instagram.com/p/BPkBAyDAl52
Can't wait for what the future has in store for you and your significant other? Get inked with these matching arrows.
6Hearts
https://www.instagram.com/p/BPiDfQcA-g2
These edgy tattoos prove that matching heart tattoos definitely don't have to be saccharine.
7Bow and arrow
https://www.instagram.com/p/BPQQAyoFyYJ
Cupid struck you both with his arrow, and these bow and arrow tattoos complement each other perfectly.
8Chess pieces
https://www.instagram.com/p/BPO9nwpA3RP
We love the sentiment behind these tattoos — each member of the couple is strong and independent, but they'll protect and defend one another.
9King and queen
https://www.instagram.com/p/BO8i3VqlSSY
Perfect for the ultimate power couple.
10Mountains
If you and your significant are outdoorsy (or you just love a good view), these mountain tattoos are seriously stunning. Plus, as The Proclaimers once sang, love can move mountains.
11Gazelle couple
There's nothing cuter than an animal couple, am I right? If these adorable gazelles don't strike your fancy, there are plenty of other animal duos that make great couple tattoos.
So, if you're bored with dinner, a movie, and a box of chocolates, head to a tattoo parlor and express your love and devotion by getting inked.