How the costumes in "10 Things I Hate About You" depicted the duality of the '90s girl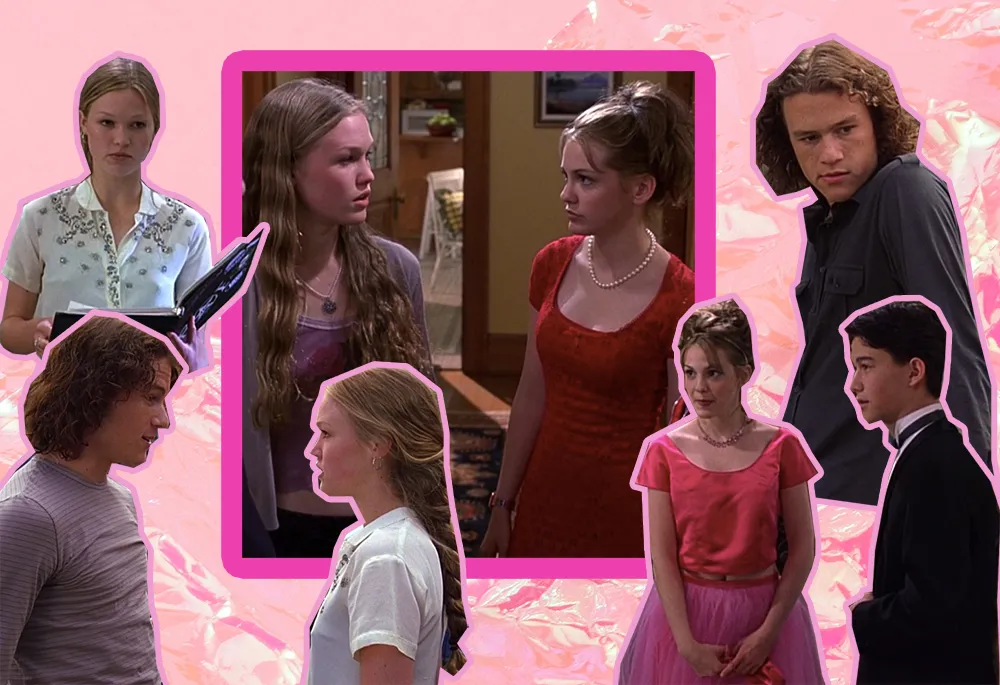 The year 1999 was important for teen cinema, as evidenced by the countless movie scenes etched in our memories from those twelve months. There was Laney Boggs, (Rachael Leigh Cook), walking down the stairs post-makeover in She's All That. There was Rose McGowan opening up the trunk of her car to discover that she "killed the teen dream" in Jawbreaker. And who could forget that scene in Cruel Intentions when the haunting violins of The Verve's "Bittersweet Symphony" accompany the big reveal of Kathryn (Sarah Michelle Gellar) and her cocaine rosary? 10 Things I Hate About You, which came out 20 years ago on March 31st, 1999, possesses a smorgasbord of unforgettable scenes. After all, it was the film that gave us Julia Stiles drunkenly dancing to Biggie's "Hypnotize" on a kitchen table, the fashion phenomenon known as Frankenflops, and of course, the young talent who was taken away from us too soon, Heath Ledger.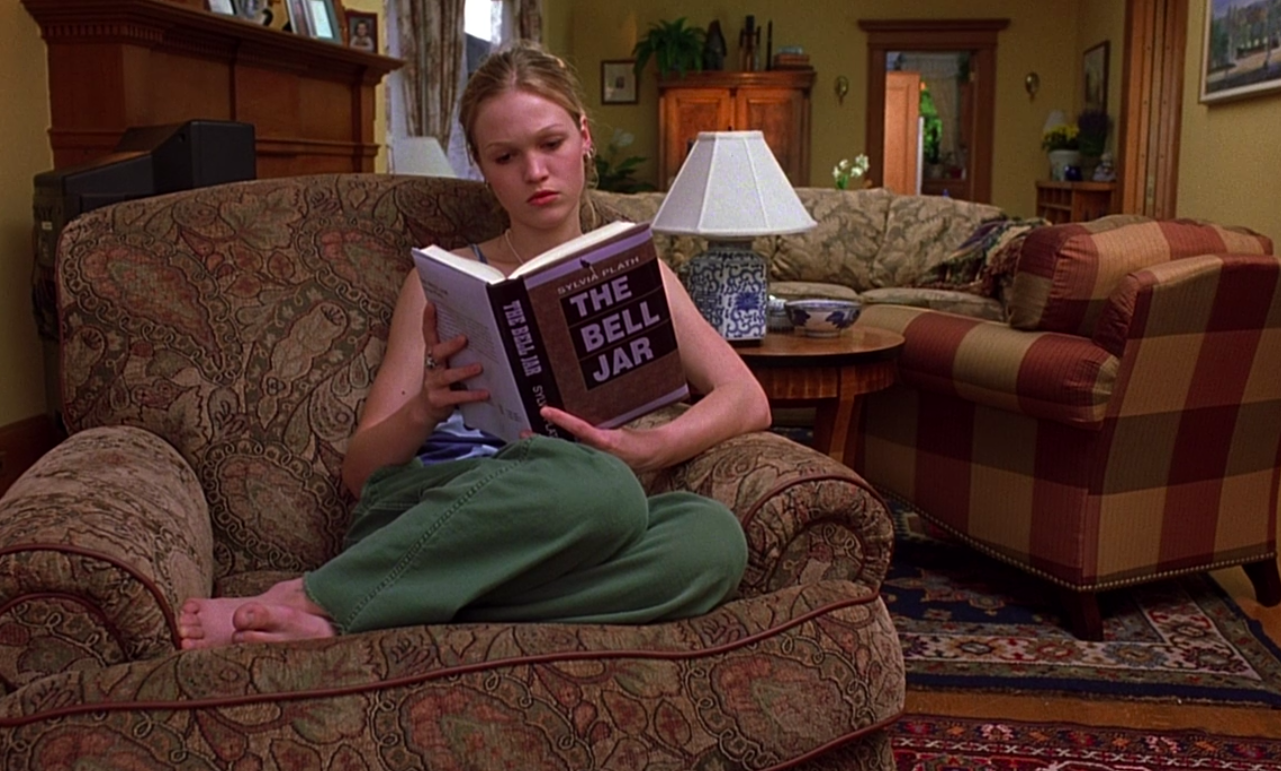 Loosely inspired by William Shakespeare's The Taming of the Shrew, the film stars Julia Stiles as Kat, an angsty, riot grrrl-adjacent teen who DGAF about the vapidity of high school and just wants to graduate and attend Sarah Lawrence College. Her sister, Bianca (Larisa Oleynik of The Secret World of Alex Mack), is her complete opposite. She's a popular, post-Cher Horowitz type who spews philosophical realizations such as, "There's a difference between like and love. I like my Skechers, but I love my Prada backpack."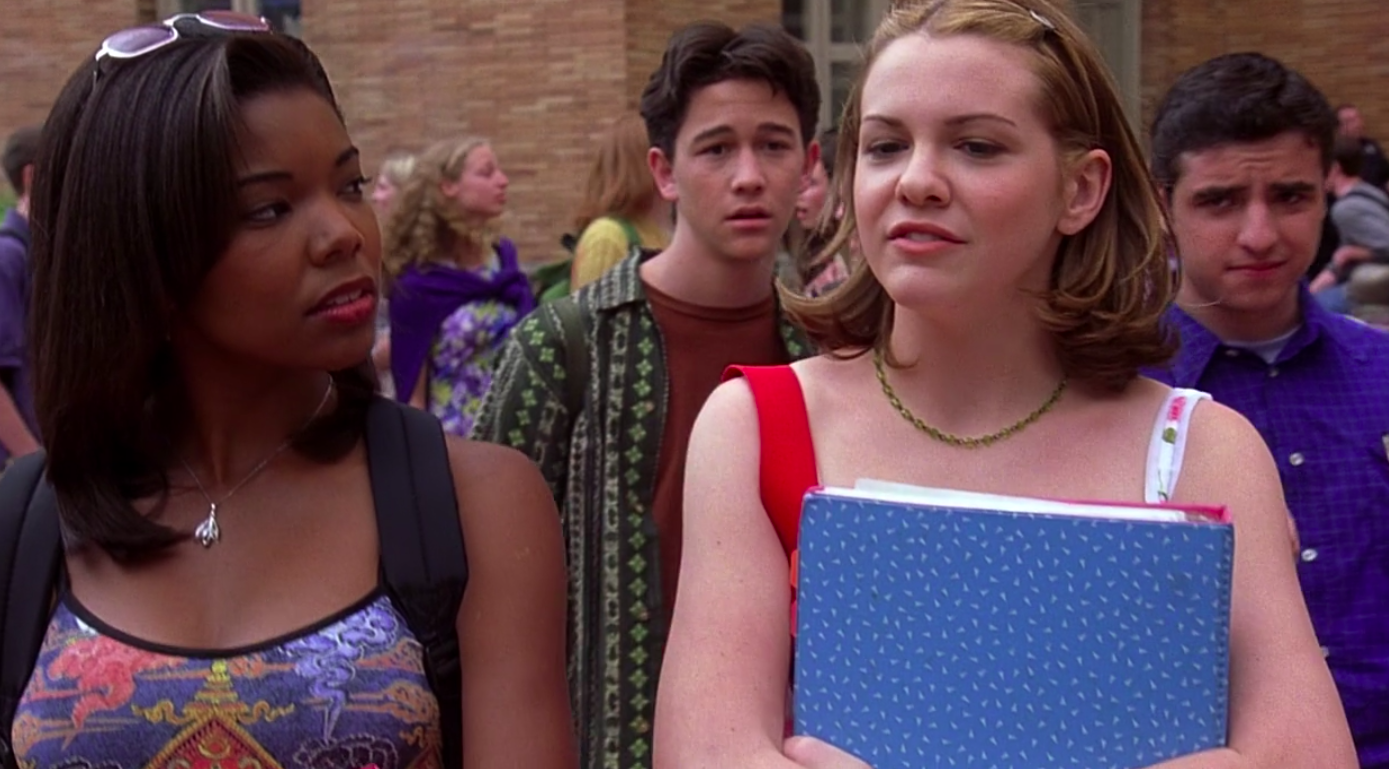 It's love at first sight for Cameron (Joseph Gordon-Levitt), who is determined to date Bianca even though she's not allowed—her father forbids her to unless her sister Kat dates. Much like She's All That, this obstacle makes way for a bet, which results in a transaction, and a hunky Australian bad-boy named Patrick (Heath Ledger) spends the duration of the film trying to convince Kat to go out with him. While it may not be unique in its plot, it's filled with charming moments like Patrick serenading Kat from the bleachers with Frankie Valli's "Can't Take My Eyes Off Of You." I think we all fell in love with Ledger after that.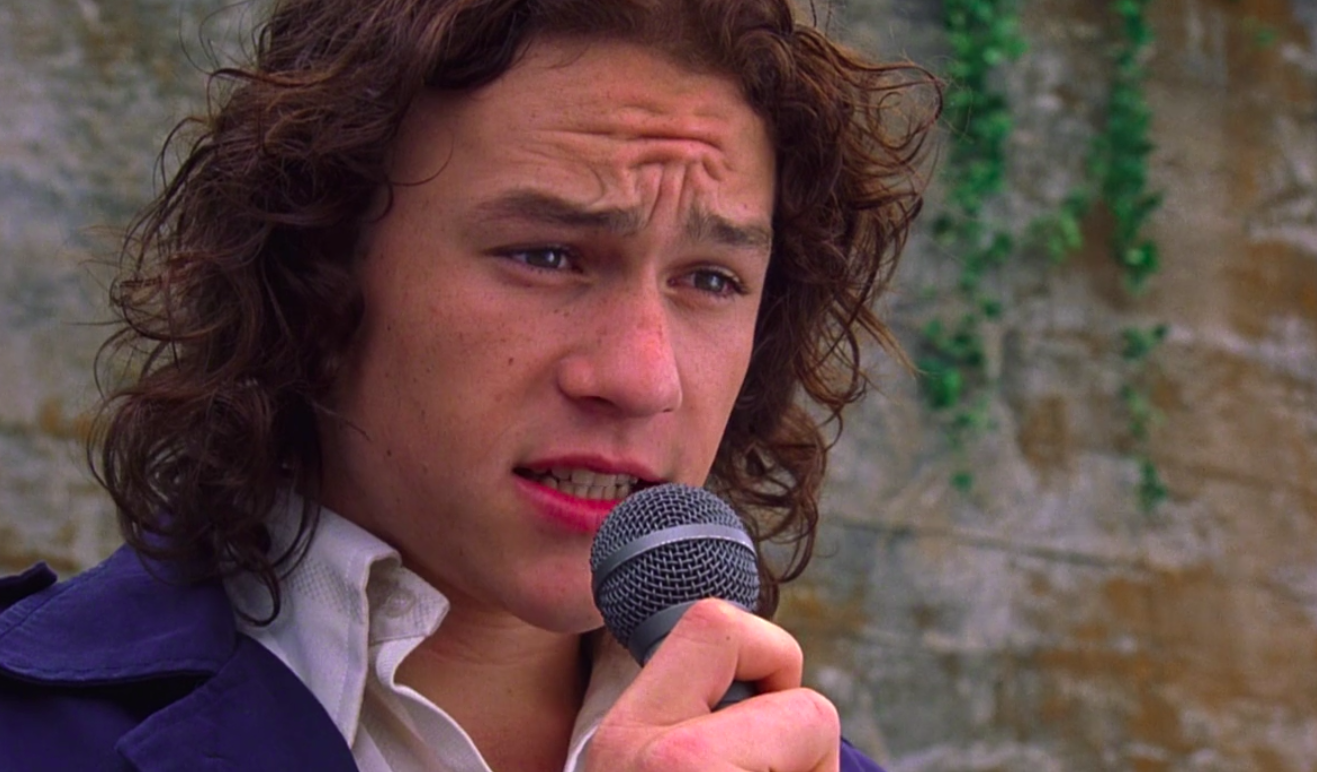 If you were in high school around this time, you'd agree that the film's fashion was pretty accurate. Unlike the colorful retro-inspired outfits in Jawbreaker or the seductive businesswear of Cruel Intentions, Kat's casual, cool-girl aesthetic and Bianca's girly garb were more of a reality for actual teens of the era. Kat wore flared pants, camo print, and belly shirts, all with a laissez-faire quality, while Bianca coveted pink floral dresses and other ultra-femme pieces.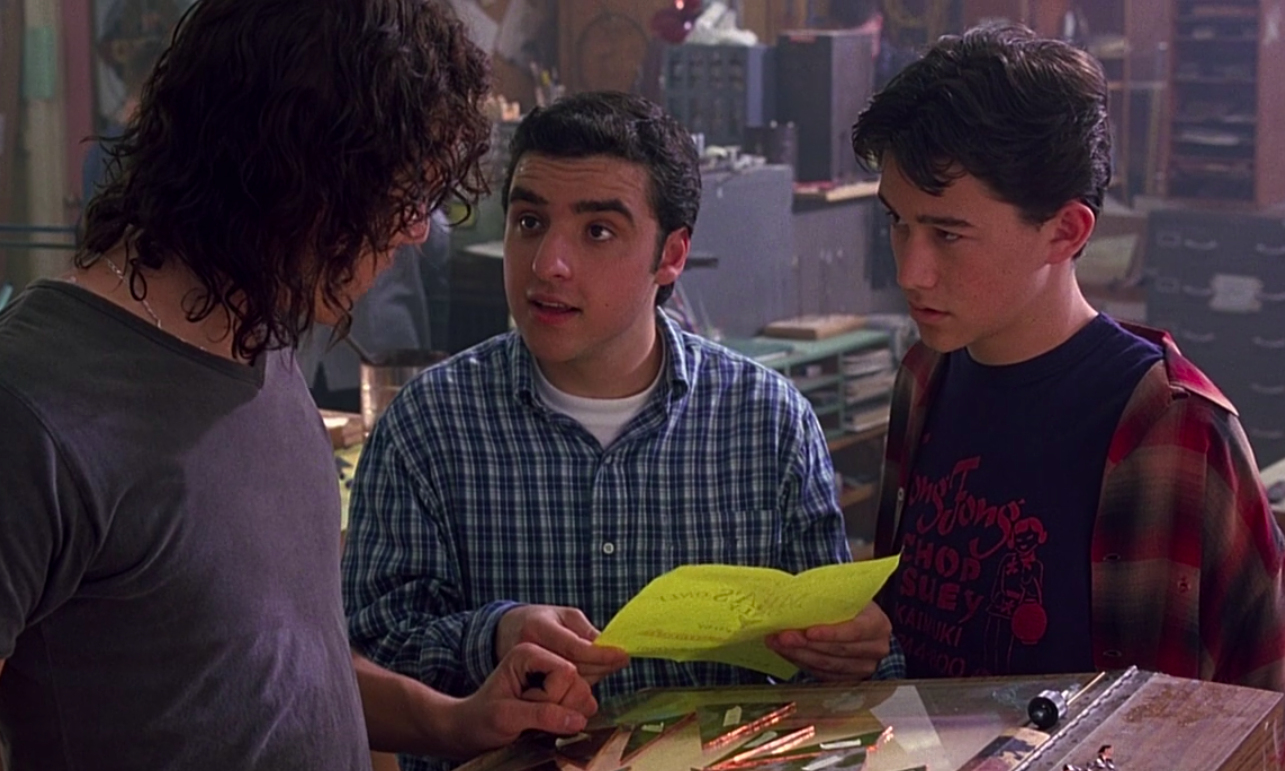 Cameron donned obnoxiously oversized flannels, while Patrick wore more sophisticated looks like fitted V-necks and even latex pants. "Heath's character was moody and comes from somewhere else, so I wanted him to be a little bit different, and Joseph's was cool and understated," 10 Things costume designer, Kim Tillman, tells HelloGiggles. "As far as Kat, she was artistic, and a bit rebellious, and kind of had to look a little bit like she didn't give a shit. She wore army pants. And then Bianca was very feminine, with the pink, and always [had on] the perfect lip gloss and cute, flippy hair."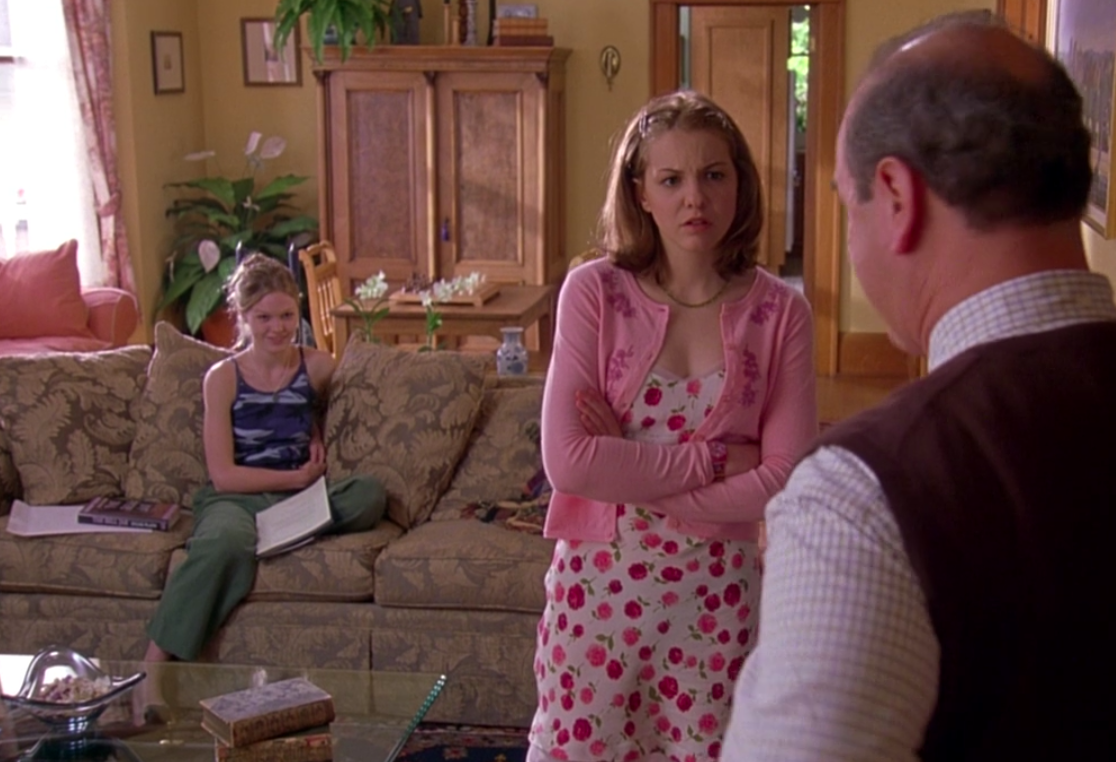 Since the film was shot in Seattle, Tillman was able to thrift a lot of the costumes on location, but she also sourced in New York and L.A., tapping vintage shops and costume rental houses. She dyed and altered most of the clothes while other pieces were built from scratch. "I try to get them from everywhere so it doesn't just look like I went to Nordstrom, and so that the characters look like they've bought their things over time," Tillman explains. She also makes sure the costumes complement each other according to what's happening in the scene. "If they're falling in love, it's going to be beautiful, or if the two don't get along, it will be a little bit discordant," she says.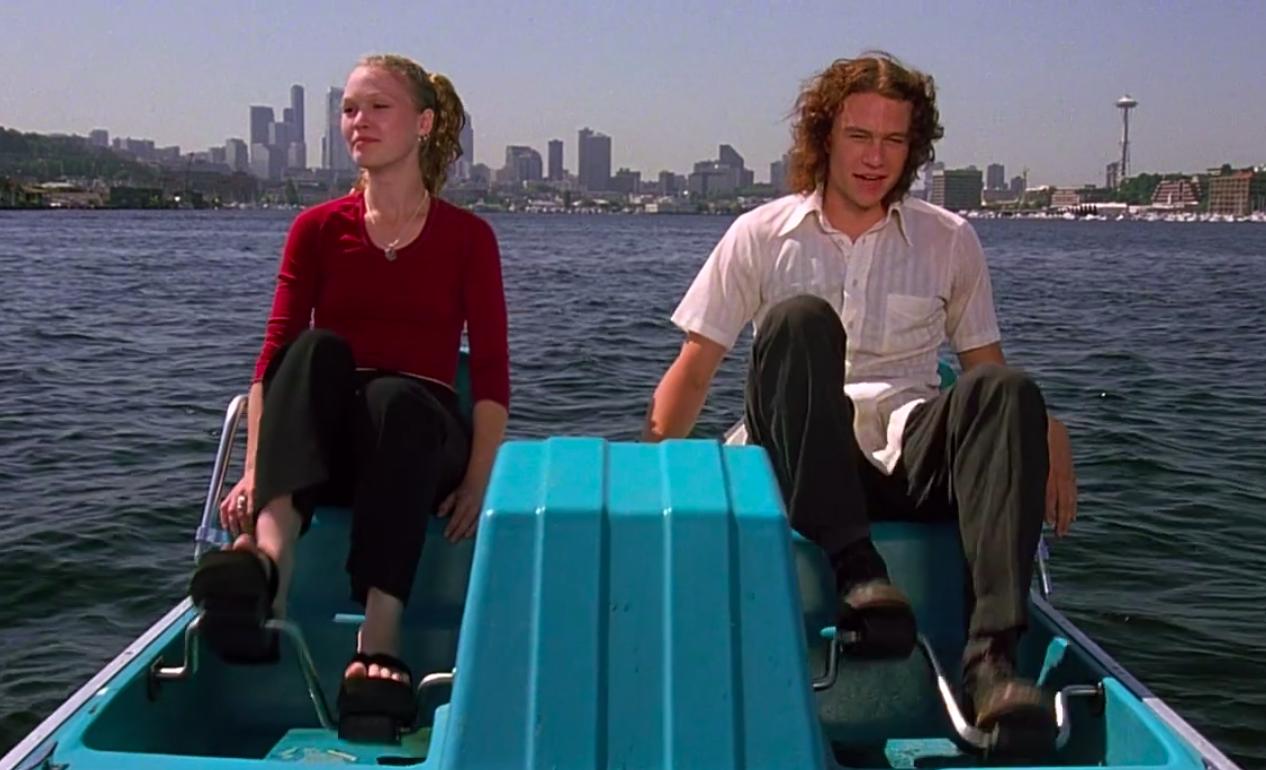 Two of the film's most memorable looks, which were the girls' prom outfits, were designed and made by Tillman. Kat donned a slinky, blue silk slip dress while Bianca wore a pink satin crop top and matching tulle skirt. "I felt really strongly about those [costumes] being the culmination of the romances, that they should look like their true, romantic selves," Tillman says. "Back then, slip dresses were in vogue. And Julia looks so gorgeous in that kind of steely blue, it was a perfect color for her palette. And Bianca continuing with the pink…Julia could handle that kind of sophisticated sleek, and she was a dancer in real life and very graceful in her movements. And I thought that was a sophisticated, simple look for a girl who'd been wearing army pants. She's not going to wear a big, puffy dress. And then with Bianca, that was just to have a lot of fun with layers of pink. She looked playful and sweet and just showed that tiny, tiny sliver of stomach. It wasn't too much."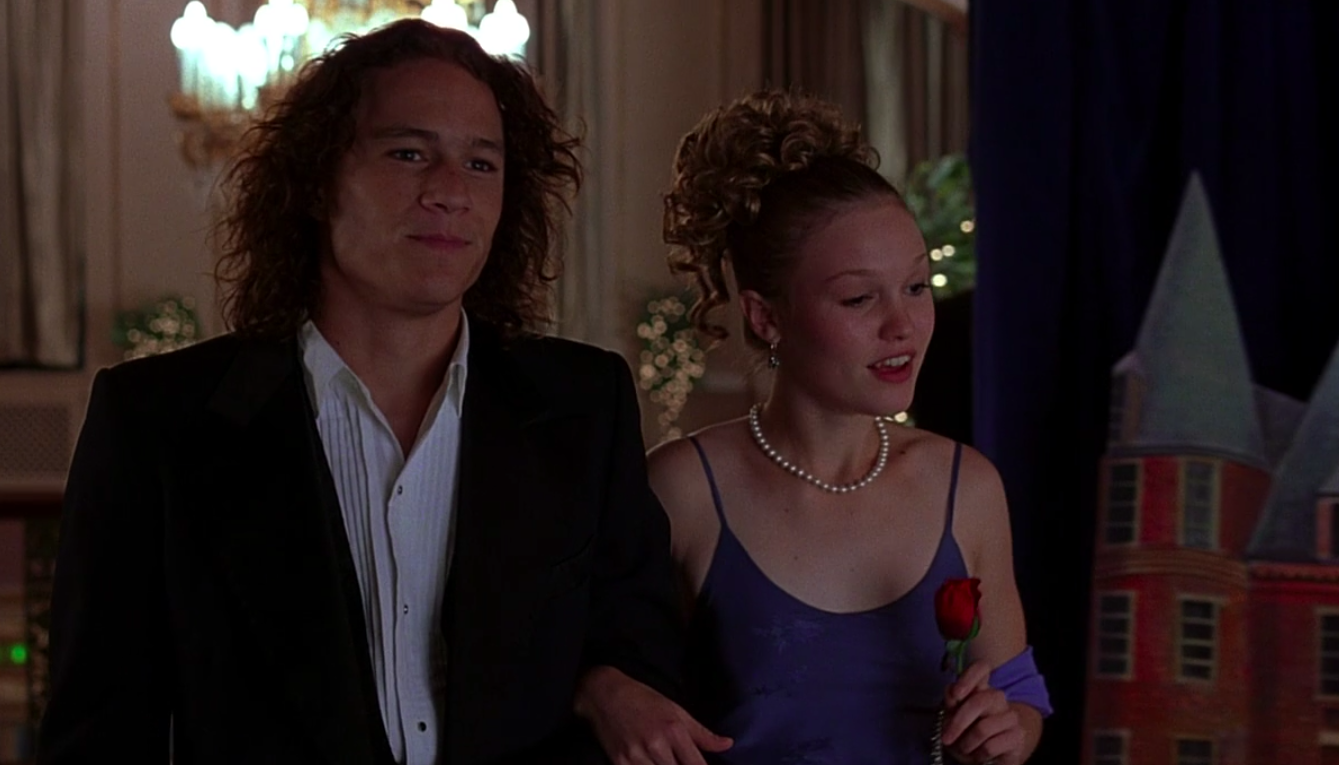 Tillman has one regret when it comes to Bianca's prom look: It had been shot despite the costume not being finished. "They were like, we have to, it's the only time we can shoot this in this house, and I was like, 'Oh my god.' I was probably in tears. So we did it and the top is too big. I wanted to take it in, but I needed to set it on her body because, as you know, it was made to order," she says. Tillman ultimately had to pin the top on Oleynik and hope for the best: "If you look at that scene, her top is baggy, and at the prom, it fits perfectly."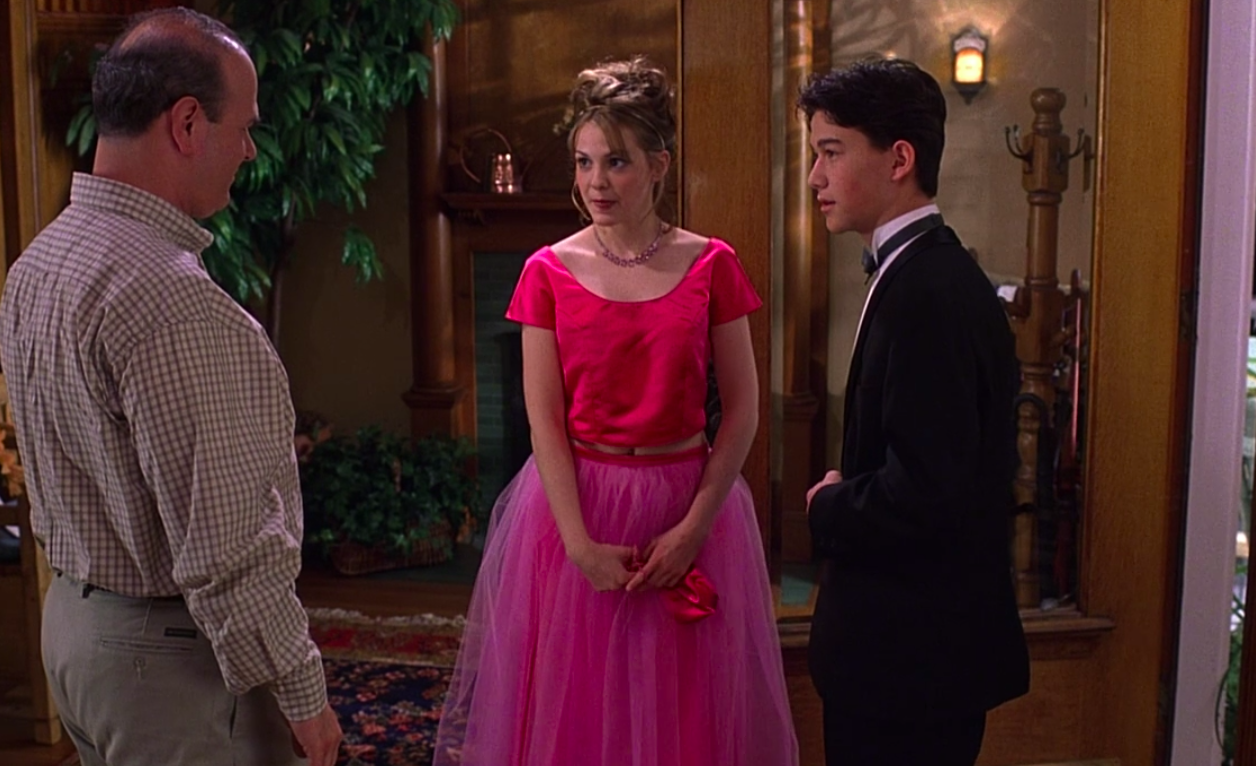 While Bianca's formal crop top undoubtedly inspired girls to show their bellies during proms of 1999, one of the movie's most influential costume pieces was a controversial piece of footwear. The platform flip flops worn by Kat throughout the entirety of the movie became a huge summer trend after the film's release, continuing in the early aughts. (Even Prince, who was 5'2, was known to wear the stacked sandals, affectionately known to me as "Frankenflops.")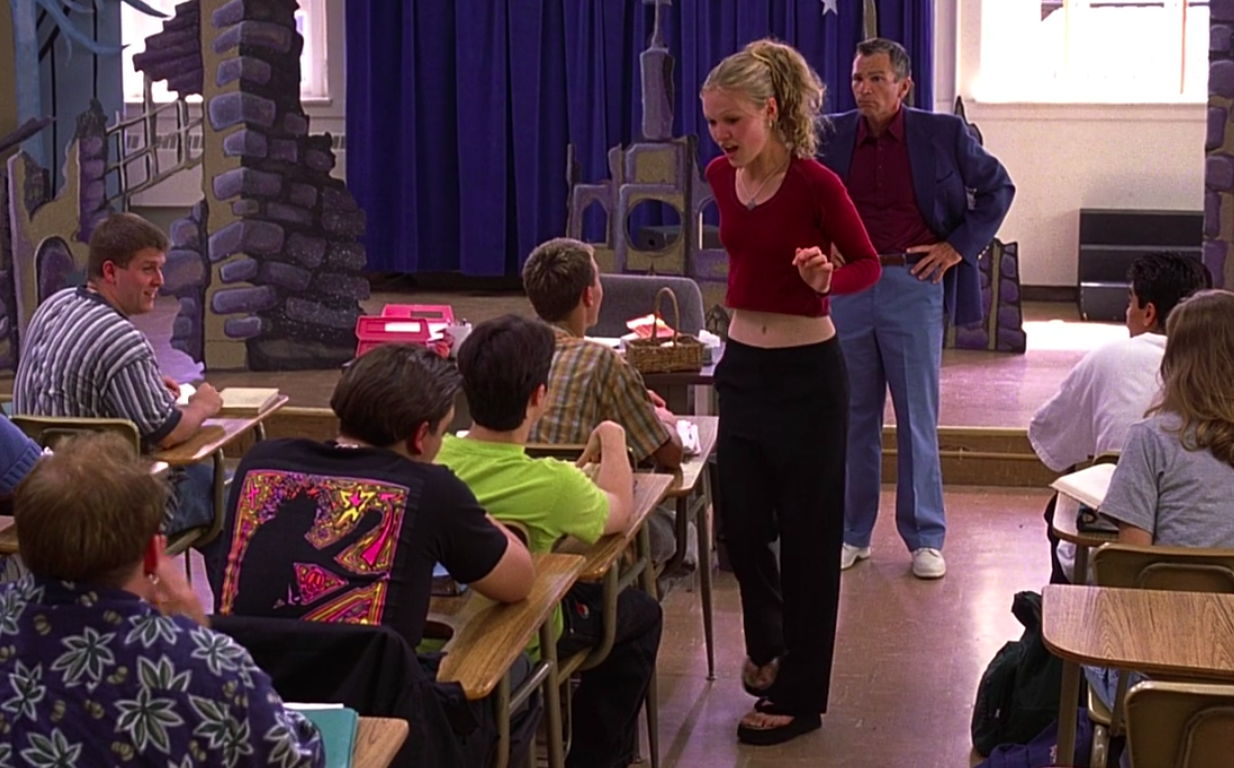 Tillman, who made Kat's sandals, said she got in trouble for them. "You get them at the Japanese stores. They're a flip flop with a bamboo bottom and then I added rubber to make them a platform for a couple of reasons. One, they wouldn't last if I didn't, and two, it just made it more comfortable to have the rubber and it made it look cool." Tillman says Stiles liked that her character wore the same shoes a lot, but the film's producers were not happy. "The director supported us, but, some studio people we're so sick of those shoes. But it made sense to us, so we fought for it. We did do a few others, some Mary Janes," she says.
Aside from the beloved costumes and iconic soundtrack, the thing that made 10 Things I Hate About You stand out was the camaraderie on set. Stiles, Gordon-Levitt, and Gabrielle Union (who played Bianca's BFF, Chastity) have all spoken fondly about their memories of filming. Tillman also looks back at that special time: "They were kids on the verge of stardom and that was sort of apparent. We all felt that there was kind of a magic amongst them."