10 signs your love of lipstick has become a lifestyle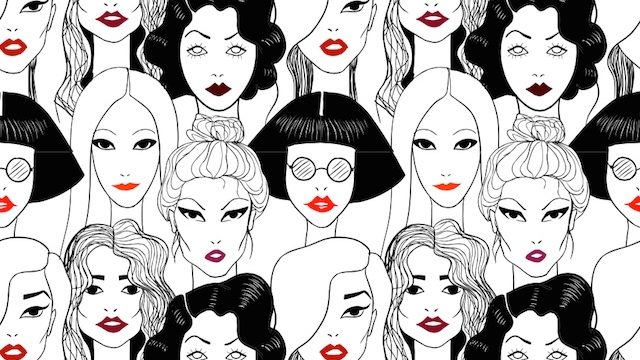 When it comes to makeup, I'm a lipstick gal. It's the lip that really completes a look, and no, I'm not talking about lip balm or gloss.
Whether I'm rocking a lavender hue or a fire engine red, lipstick is an essential part of my day. I love how fierce it can make me feel. I love the millions of shades there are to choose from.
I'm not embarrassed to admit, I have a slight serious obsession with lipstick. I certainly have more than 40 hues of lipstick; I have so many tubes that I don't have a lick of room in my makeup organizer.
What I'm here to chat with you about today is lipstick obsession, and how you know it's real. If you're as big of a lipstick fanatic as I am, chances are these signs will be all-too relatable to you.
1. Lipstick searches have become part of your social media routine.
If you're guilty of following multiple Instagram hashtags or creating a Pinterest board solely dedicated to lipstick, you know you can't get enough. Not to mention, you also know that social media is one of the best places to get lip color ideas along with hacks, trends, and tips. You utilize the Internet in every way possible, and there's absolutely no shame there.
2. You're enrolled in every makeup rewards program out there.
No matter if you're loyal to MAC, Sephora, or Ulta, you know that each one of these companies offers a pretty fantastic rewards program. If you're constantly buying makeup (lipstick or not), you won't want to miss out on all the perks you can get for each dollar you spend. Most are free to enroll in, and you really can't beat that.
3. You can't walk out of a makeup store without a swatched hand.
It's so hard to not swatch lipsticks when you visit the makeup counter. Before you know it, your whole hand looks as if you transformed into a human canvas. Bring on the cotton balls and makeup remover!
4. You prefer lipstick over any other present.
When it comes to your birthday, an anniversary, or holidays, you always have lipstick on your wish list. Whether it's a gift card for your favorite lipstick brand or that specific new shade you've been eyeing, you're always happy to add a new addition to your growing collection.
5. You have a literal rainbow of lip liners and lipsticks.
From blue to gold, you probably have every color in your lipstick arsenal. Not to mention a variety of lip liners to complete each look. Whether you're headed to a date or job interview, there's at least one shade on hand for each and every occasion. Only problem? Sometimes it's a pretty tough decision picking just one color for the day.
6. You understand what #lipstickproblems truly means.
Trying on clothes without transferring lipstick? Not getting lipstick on your teeth? Getting your lipstick hue all over your food and drinks? Just a few of the #lipstickproblems you're bound to encounter. But hey, it's all worth it in the end to rock a bold lip.
7. You get overly excited for a limited edition shade.
Two words: limited edition. That's one surefire way to get any lipstick lover feeling over the moon. You're ready and willing to get up at a ridiculous hour or wait at the mall before the gates open, if that means you're lucky enough to get your hands on that rare release. Add in unusual case designs or designer collaborations, and you've got a lipstick that's seriously hard to pass up.
8. You have doubles (or even triples) of some lipsticks.
If you wear lipstick often enough, you know it can be hard to find your favorite shade from time to time. I've definitely bought multiples of colors I don't always see on the market. The best part? You'll for sure have a backup if (gasp) you happen to lose one, or you want to leave one at home and take one out with you.
9. You have a dedicated makeup holder, just for lipsticks.
It can be pretty chaotic sifting through a huge makeup bag when you're getting ready in the morning. Investing in an organizer is definitely the way to go if you're looking for a solution. It's a great way to stay on top of what you currently have in your collection and allows you to quickly snag that specific lip color you're looking for.
10. You never leave the house without it.
It's near impossible that you'll ever catch me without a tube of lipstick in my purse or backpack. Even if I'm not sporting a shade that day, I'll almost always have one on hand. While some people prefer to always carry chapstick or gloss, we lipstick lovers know that it's crucial to always have a lipstick on hand.