10 sexting tips that will protect your nudes and take dirty talk to the next level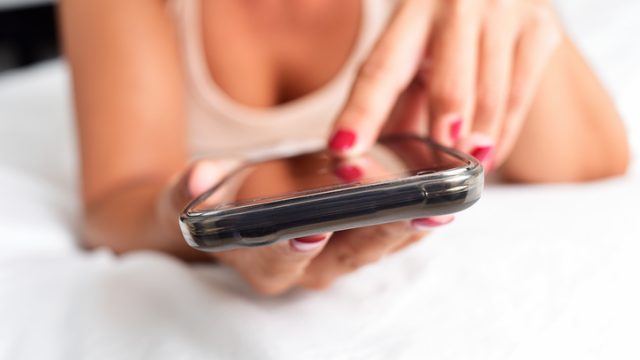 Sexting can be really fun, but it can also be so very, very awkward. Usually before you can even think about taking selfies, you have to get into dirty talk. And that can be almost worse than trying to find a great angle for your butt in a floor length mirror. But it's easy to feel stupid trying to tell someone what you want them to do (or what you're doing to yourself) via a text message. Even the boldest and the baddest could use a few sexting tips for keeping the pics private and their kinks on the down-low.
Sexting really all boils down to how much you really DGAF.
But being bold and sex positive doesn't mean that you don't care where your sexts end up. Even if it's your life partner, and you know your nudes aren't going to end up in their friends' inbox sometime in the near future (which is a very legitimate fear), being comfortable with sending pics and some NSFW sexting can take some getting used to. It's not something a lot of us are trained to do, encrypted photos or not. You should take precautions, but you should also have fun sexting.
1Which is rule number one: Don't force it.
The very first rule about sexting is to go with your gut. If someone is asking you for pictures, sending unsolicited pics, or even just suggesting things that sound just awful, shut that ish down. Really. You should be enjoying this. If there's not a huge smile on your face every time you're sexting, you're doing it wrong. .
2Protect yourself.
Listen, we're sure your partner is a freaking gem, but that doesn't mean they always will be, or that people around them are. You should ask whoever you're sexting if they have a passcode on their phone and make sure you do, too.
3Use an app if you're serious about this.
If you're really going for the full videos and shots of your body, you might want to look into using a different app. On an iPhone, there's one called Privates which actually lets you block screenshotting and set pics to expire. On Android, Signal allows you to disable screenshots, too (but not on an iPhone!). Bleep is another good one, available for both Android and Apple operating systems.
4Show and tell.
Now that you're protecting your pics, it's time to write some captions. "Savage Love" host and columnist Dan Savage often has the best advice when it comes to sex. His words of wisdom for dirty talk are to keep it straightforward: Tell them what you're doing, what you're going to do, and what you did. The formula works for pretty much any sexing situation.
5OK, back to business.
Ideally, you're sexting somewhere where you feel sexy, but we're busy human beings. Sometimes the sexting has to happen at work or when we're running errands. Take advantage of technology! If you insist on using your regular messaging app, and have an iPhone, choose "invisible ink" from the menu. That way, when your partner opens it up at the Starbucks counter, no one but them is getting full frontal. (But really, try to use an app for nudes.)
5Don't show your face.
Ugh, it's so annoying that someone might blast your sexts to the internet, but it happens all the time. Even if you're using an app and not backing pictures up, try to keep your face and identifying characteristics out of it, just in case.
6Check your settings!
If you're using an app to send messages back and forth, you can usually go into "settings" and turn on an incognito mode of some sort. This means that the app isn't backing up your pictures to the cloud. You can do this in most apps, and even on Facebook Messenger (find "Secret Conversation") or Google Hangouts (turn off "Chat History").
7Know how to hide in plain sight.
So, oddly enough, sending sexts and nudes can be a crime in a lot of states. It's called "distributing pornography," which often means that victims of revenge porn are in trouble for sexting in the first place (which is garbage). But it also means you don't want anyone to be able to track it back to you. On an iPhone, you can't do this without an app like Phone Investigator (if the deed is already done). Or go into your General Settings, select Privacy> Location Services > Camera and hit "Never." On Android phones, you can go into the Camera app settings and do the same thing.
9Save them properly.
Hey, everyone likes a good visual. If you want to save the pictures to a computer (which is your safest bet, since phones were made to be lost), it's simple. On a Mac, open the image in Preview, then under File>Export as PDF>Enable Encryption and make a password for the file. In Windows, right click on the Folder, then Properties > Advanced > Encrypt. You're going to have to make a password for this one, too. 
10Demand access.
If you break up with someone and it's a safe situation, you should make a specific request that they delete your pics or sex tapes or at least give you access to them, too. If you both have the masturbation material, you still have some control. People used to demand they get their record collections back — this is more important.
Don't let anyone you're sexting make you feel like you're being neurotic about sending sexts back and forth — especially pictures. In fact, you should school them on how to remove geotagging and safely save your videos on their computer themselves. Sext responsibly, people!