10 reasons Lane Kim from "Gilmore Girls" was the best friend we all wanted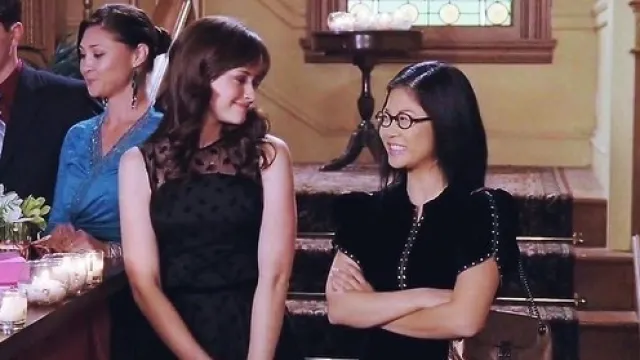 There's a whole lot to love about Gilmore Girls character Lane Kim. She was smart, funny, stylish, and totally fun despite being so grounded. It's safe to say that she was definitely one of the best underrated characters in Stars Hallow, and a true unsung hero of the show. She and Rory Gilmore were best friends since kindergarten, and were (understandably) inseparable since then. The duo honestly gave us so many best friend goals.
So this pretty much goes without saying, but Lane Kim was the best friend we all secretly wish we had. Here are the top ten reasons why Lane Kim makes the best #squad member ever.
1. She was so good keeping secrets.
No one could keep a secret like Lane Kim. Lane was brought up in a really strict household, and because of this was forced to live a double life. While she projected the image of the perfect Christian, straight-A student to her strict mom, she was secretly the indie music goddess with rock star dreams we all knew her to be. Lane was constantly calling Rory from her awesome tricked out closet filled with cool colored lights, a disco ball, and stereo, all perfectly hidden from her mom in her totally unassuming bedroom. She had an intricate system of floorboards where she hid her perfectly catalogued music and anything else that was considered taboo in the Kim household. No one in the world was as slick as Lane Kim. If you had a secret, she could guarantee it wasn't going anywhere.
2. She was always just as excited about Rory's life as Rory.
Lane was always as pumped for the milestones in Rory's life as Rory. From Rory getting into Chilton, to her first boyfriend, to landing her first big job, Lane was always there cheering for Rory. Even when things weren't going so great for Lane, she never wavered in her enthusiasm for Rory and her accomplishments, which is such a great best friend move.
3. She had the best taste in music.
Lane was basically a walking encyclopedia when it came to music. Not only did she know every band out there, but she had an informed opinion about them, and she'd let you know about it. From her secret music collection to her rocking band Hep Alien, Lane was the ultimate best friend authority on music.
4. She was very rebellious when she needed to be.
Although Lane was forced to live a double life for a good portion of the show, she still knew how to be completely brash and rebellious when she needed to be. Whether it was secretly orchestrating a double date with Rory and Dean, sneaking the band out to play a last second show at CBGBs, or that time she dyed her hair pink (then quickly back to black again) Lane had spunk and she knew how to get stuff done.
5. She always had Rory's back.
No matter what was happening in the world of Gilmore Girls, Lane was always fiercely team Rory. Whether it was yelling at Jess when he got Rory into an accident, or sticking up for her during her time away from Harvard, Lane was always there for Rory no matter what was going on. That's one of the greatest qualities to have in a bestie, the fact that no matter what is happening they just always want what is best for you.
6. She wasn't afraid to look silly.
Whether it was running around town in her band uniform, trying out for the Stars Hallow High cheerleading squad, or manning Bible-themed games at one of Stars Hallow's many fairs, Lane was never afraid to stick her neck out. That kind of strength in her identity, no matter what everyone else was thinking, is part of what makes Lane such a fab best friend.
7. She was incredibly principled.
As rebellious as she was, Lane had her principles and she'd stick to them. Lane was a big believer in telling the truth above everything else. No matter how many times she honestly tried, she could never lie to her mother or the people around her. She also stuck to her beliefs when it came to losing her virginity, and having children. Lane was always completely herself, through and through.
8. She could always find a solution.
Your mom doesn't approve of your boyfriend? How about you guys pretend he is a church musician so he can come visit all the time? No matter what obstacle Lane faced, she always came up with an incredibly creative and scrappy solution. She was truly a character who could make lemons into lemonade!
9. She always knew how to be a good friend.
Whether it was postponing her sacred band practice for girl talk, or waking Rory up with morning coffee when she was crashing with her at Harvard, Lane was always the perfect friend. She always knew how to best comfort and be there for Rory, while encouraging her and not letting her get away with anything Lane wouldn't do.
10. She was a ~forever~ friend.
No matter where they were at in their friendship, Lane was always there for Rory. Even as they got older and had more responsibilities like children and jobs, they always were sure to make time for each other, which is what true friendship is made of! We could totally see them being friends way into their old age.
 So there's our ode to Lane, the greatest TV best friend of all time! We can't wait to see her back in Stars Hallow on November 25th! So curl up with your own best friend, fire up Netflix, and get ready to watch some Gilmore Girls.