10 Fun Careers That Don't Feel Like Work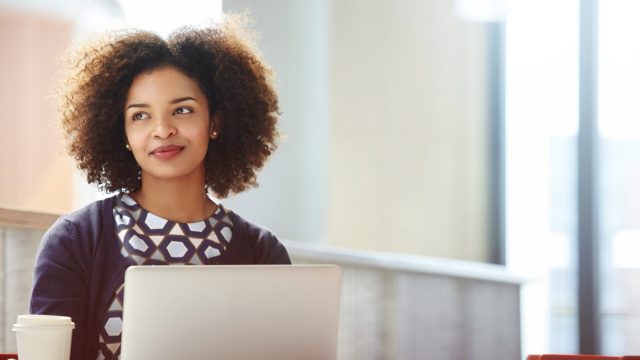 When I was really little, I wanted to be a movie star. Not to get down on myself, but that ship has sailed, and I'm totally OK with the fact that I'll never grace magazine covers, dodge the paparazzi or marry Leonardo DiCaprio. It's quite possible to have a wonderful life and fulfilling career without getting your childhood dream job. There are lots of exciting and rewarding professions available to you, so in honor of International Fun at Work Day (April 1st), here are 10 fun careers that don't feel like work. No job is perfect, and even the great ones below have downsides, but if the benefits outweigh the negatives for you, you're set for life.
10. Writing
What did you expect from a HelloGiggles contributor? Though I loved the prospect of acting as a child, writing was and always will be true love, and you don't need to work for online or print publications to do it either. Whether you draft business documents, work on marketing campaigns, travel write, blog or pen books, your writing is a reflection of your creativity and inner self. Writing can be tough, especially when you're feeling uninspired or stumped, but when that million dollar idea presents itself, you're reminded why you chose this profession in the first place.
9. Performing arts
I know, I know: I lamented earlier that we can't all have four mansions and tie the knot with Leo (for what it's worth, he's never gotten hitched, so not even stunning A-list actresses can sway him). But you don't need to be a famous or wealthy performer to thrive in this field. If you love to dance, look into studios and theaters in your community to participate in shows and maybe even get scouted in the process. The same goes for acting, and if you'd like to share your talents with similar-minded people, you may consider teaching or coaching your craft full or part-time. Dance instructors earn $40,000 a year on average, and acting coaches in Los Angeles can expect to take home $70,000 annually. Being a struggling stage actor or performer doesn't sound all that glamorous, but it beats making cold calls forever.
8. Wedding planning
You don't need to see Matthew McConaughey's 2001 stinker to know wedding planning is a stressful line of work. When you're not dealing with demanding bridezillas who won't shut up about their "special day," however, weddings can be fun. Vows are made, tears are shed, love is in the air and everyone gets to dance. There's a lot of work that goes into another person's nuptials, but at the end of the day, you play a role in the happiest day of someone's life. What's more fun than that (aside from your own wedding, of course)?
7. Interior Design
This is another career driven by the satisfaction of others, and when your customer is happy, you will be too. Interior designers have an eye for style, so when someone asks for an apartment or house redecoration, the designers pick out different colors, pieces of furniture and artwork that will make the living space shine. Interior designers may also work on offices, and this can be really fun if the work environment is laid back or creative.
6. Working with kids
With five nieces and nephews and a longer babysitting resume than I'd like to admit, I know children can zap you of all your energy. I also know they're hilarious, adorable and stoked about simple things, and working with them is a great way to bring that same enthusiasm back into one's own life. Though tiring, teaching and watching kids can be an adventure, as coloring, games, music and dancing might be part of your job description. You'll be overwhelmed and burned out some days, but you'll never be bored or have a shortage of funny stories about work. I don't know about you, but I wouldn't mind making watercolor masterpieces on the job, and New Girl's Jessica Day can always sell me on this area of work.
5. Foreign service
In the 2009 film Julie & Julia, Chris Messina's character wisely points out that "Julia Child wasn't always Julia Child." It's true. Before she was a world-renowned culinary queen, she was the wife of a foreign service officer whose work took them to Paris, which inspired Julia's Mastering the Art of French Cooking. This isn't the norm for foreign service workers and their families, but it's telling of the adventures the profession invites.
Some of the careers I've included are easier to pursue than others, and the foreign service has pretty high standards for candidates. Working as a diplomat is undoubtedly challenging, but it provides officers the once-in-a-lifetime opportunity to live in different parts of the world and promote positive relations between the U.S. and other nations. If you didn't study abroad, this is another way to really experience other cultures and adapt to different environments. It's not for the faint of heart, but it's a life-changer.
4. Television
TV is insanely difficult to break into. I should know because I've been trying to get any sort of job in TV for nearly six months. Because it's better to have a good attitude than a bitter one, I'm going to go ahead and say I'll eventually land the "right" position someday, and when I do, this will all have been worth it because television is universally embraced, especially today. Whether you take the scripted or unscripted route, you have an amazing opportunity to flesh out characters and people, work on storyboards and produce entertaining content. The hours might be long and the pay isn't always good, but you get to make TV, and very few things sound as cool as that.
3. Social media
Businesses of all sorts are starting to understand the value of social media, and if you know how to effectively share content, you could make bank managing different social media platforms for companies. While it may sound simple, there's a lot more to social media than posting to Facebook a couple times a day. You study analytics and trends, conduct research on SEO keywords and have to collect strong social media habits and strategies to stay ahead of competition, but as a Twitter fanatic, very few things sound more appealing to me than getting paid to tweet, even if that's just a minor part of the job.
2. Study abroad adviser
If you long for your study abroad days but lack the resources or true desire to live outside the country permanently, this job could be an amazing fit. You'd be instrumental in a life-changing experience for a young student and also have the chance to hang around a college campus again. Some folks never really want to leave higher education behind, and they don't have to with a position like this.
1. Bakery owner
I don't know about you, but I still maintain hope that I'll turn out like Meryl Streep in It's Complicated and run a bakery someday. The obvious drawback to whipping up desserts for pay is the temptation to scarf down the high-calorie treats, but if you have more self-control than me, making them like a work of art is satisfying enough for you. Indulging is all right too if you don't mind carrying a little extra baggage.
As earlier stated, no job is perfect or free of flaws, but if you're having fun for the most part, the negatives aren't so bad.
What did I miss? Share other fun careers in the comments section.
Featured images and GIFs via, via, via, via, via, via, via, via, via and via.