The 10 Best horror movies on Netflix right now, in case you're already done with holiday cheer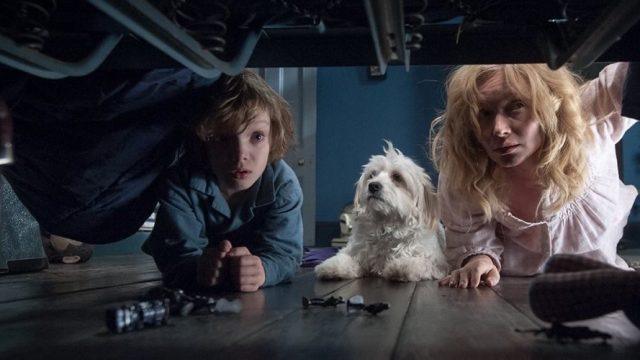 It usually starts at the end of November but every year it seems to be happening earlier and earlier. The non-stop Christmas music on your local radio stations, the over-the-top decorations, and the never ending crowds everywhere you go. It's happening — the holidays are here! For some this truly is the most wonderful time of year but for others, it can feel like the makings of a horror movie classic. There's only so much holiday cheer one person can take before they find themselves suffering for a case of "If-I-hear-another-Mariah-Carey-Christmas-song-I'll-just-explode" syndrome.
If the warm and fuzzies of the holiday season are getting you down and you're just over it, we recommend you check out these wonderfully terrifying horror movies on Netflix, right now!
https://www.youtube.com/watch?v=dTmMiueFHb8?feature=oembed
Taken from the pages of a Stephen King story, this movie is about a young couple trapped in a tiny town where the children believe everyone over 18 must die.
https://www.youtube.com/watch?v=VoPiepIzdBY?feature=oembed
We seriously recommend you watch this movie with a friend. In this terrifying thriller, a mother must protect her son from an evil supernatural entity that has escaped the pages of a children's book.
https://www.youtube.com/watch?v=zuZnRUcoWos?feature=oembed
Insidious tells the story of a young boy who falls into an unexplainable coma and his parents' struggle to bring him back before evil spirits take over his body.
https://www.youtube.com/watch?v=akFUWf5xe6k?feature=oembed
"When you hear that song you run, and I mean run! 'Cause that song means something terrible for you, something so terrible you couldn't dream of it…not in your worst most terrible nightmare!"
https://www.youtube.com/watch?v=0piFZXT8Zxo
There are some things in life you can't unsee, this is one of them. Consider yourselves warned.
https://www.youtube.com/watch?v=Q_P8WCbhC6s?feature=oembed
A wicked game of cat and mouse!
https://www.youtube.com/watch?v=c5Maq9H1lZ8?feature=oembed
A family moves into their new home only to realize that it's already inhabited by something not of this world.
https://www.youtube.com/watch?v=8b_HVtHmK30?feature=oembed
Ventriloquist dolls can be creepy AF…especially when they're alive.
https://www.youtube.com/watch?v=EpLWaNVyRcY?feature=oembed
He's back! You know the saying, you just can't keep a good doll down.
10 The Devil Inside
https://www.youtube.com/watch?v=OyT7xMPurgw
It looks like "mentally ill or demonically possessed" is the name of the game. A daughter struggles to understand her mother's reasons for committing 3 brutal murders.
Stay strong, guys. We hope these movies will bring some comfort as you struggle with the excess holiday cheer.